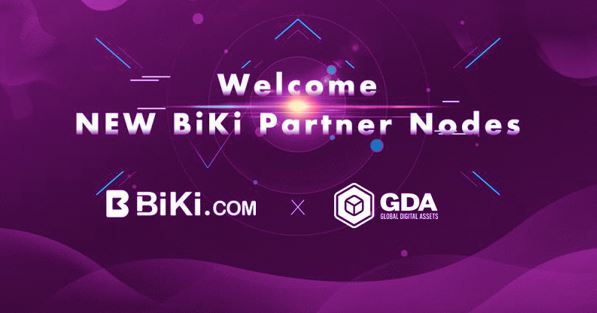 5th September, 2019, Singapore, Singapore – Gaining momentum with the BiKi Partners Node Program, BiKi.com is proud to announce another strategic partnership, this time with Global Digital Assets (GDA), a global blockchain & digital assets focused merchant bank. Based in Toronto, GDA offers a full-suite of services spanning from ventures and capital to markets and liquidity, providing end-to-end solutions to disruptive and cutting-edge blockchain projects.
In line with BiKi's globalization aspirations, BiKi Southeast Asia CEO Ethan Ng said, "As we make our mark across the globe, attracting BiKi Partner Nodes in Romania, Singapore, and now Toronto, we hope to expand our network and resources to grow BiKi's industry circle, making it richer and more diverse. We plan to continue our globalization efforts across Malta, South Korea, Japan and more, gaining a foothold in these regions with local partners who become BiKi Partner Nodes and who will help us penetrate each region."
A global-facing company constantly looking to provide their clients with regulated and reliable on-ramps across the different geographical jurisdictions, Global Digital Assets is entirely on the same page. CEO of GDA, Michael Gord, explained, "Being a BiKi Partner Node provides our clients access to a world class digital asset exchange that is more invested into the offering than the majority of other large exchanges and adds additional value to the launch process by helping the team scale and expand in Asia. We appreciate how BiKi is positioning themselves in the market and we are excited to work with the BiKi team to expand their node network across Western markets to provide digital assets access to more global markets."
Indeed this partnership will see both parties broadening their networks globally, helping clients on both sides reach a wider audience, drive adoption and positive brand associations as well as adding more liquidity.
GDA will kick off this partnership by sending a list of upcoming token offerings, starting with Kinesis which has just completed a USD 200 Million fundraiser. GDA is also able to facilitate international banking relationships that will help expand project services into new operating regions.
The BiKi Partner Nodes Program prioritizes quality project referrals and incentivizes partner nodes in a number of ways. As a BiKi Partner Node, GDA will enjoy priority project listings, referral incentives and a pipeline to BiKi's industry circle and resources. The GDA profile will be posted on the official BiKi.com website as a referral for BiKi's clientele.
"Working with Biki through their Partner Node Program brings immense value to us and our clients. We are very aligned with BiKi's vision and support their efforts in Western markets to offer new exciting services to our clients," said Zachary Friedman, COO of GDA.
The GDA team is a joint venture between MLG Blockchain and Secure Digital Markets, respectively a leading blockchain advisory firm as well as a leading brokerage and market maker firm in Canada. Two of its co-founders, Zachary Friedman and David Shafrir are both serial entrepreneurs with extensive experience running companies in the fin-tech sector. For the last 18 months they have scaled Secure Digital Markets to over USD 1 Billion in deal flow YTD. Third co-founder Michael Gord is a serial entrepreneur in the blockchain space and has advised on over USD 200 Million in raises through digital asset offerings and private placements with accredited investors. His company MLG Blockchain has deployed multiple million-dollar marketing and activation campaigns on behalf of clients.
Together, the three founders have merged their services to create Global Digital Assets, a vertically integrated firm to launch digital assets. GDA has the capabilities to take digital assets through the entire offering process from seed to liquidity. One of the first businesses in Canada to fully integrate and launch a brokerage using an Electronic Communication Network (ECN), GDA's current assortment of clients include token projects and founders, exchanges and miners, family offices and accredited investors, as well as enterprise and government organizations.
About BiKi.com
Headquartered in Singapore, BiKi.com is a global cryptocurrency exchange ranked Top 20 on CoinMarketCap. BiKi.com provides a digital assets platform for trading more than 150 cryptocurrencies and 220 trading pairs. BiKi.com is focused on providing the safest, most stable and most effective cryptocurrency trading platform. 100% of the transaction fees are used in buyback and burning of platform token, BIKI. Since its official opening in August 2018, BiKi.com is considered one of the fastest-growing cryptocurrency exchanges in the world with an accumulated 1.5 million registered users, 130,000 daily active users, over 2,000 community partners and 200,000 community members. BiKi.com has received investments from Huobi co-founder Du Jun, Genesis Capital Zhu Huai Yang, FBG Capital, ChainUP and others totaling approximately 10 million USD.
Company Contact:
Chang Jie Lin, BiKi.com
+65-94556702
Media Contact:
Cecilia Wong, yourPRstrategist
+65-91826605
Blockchain: 0x729e2b8ad504aead07229161a88020ecfd5cf130817432e85f99e189a89fd033