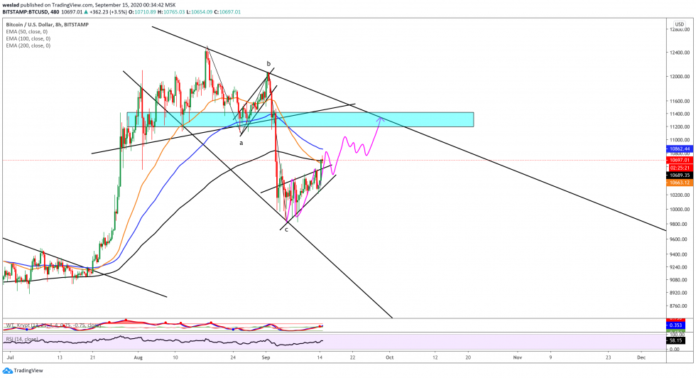 A rebound in the Bitcoin price this week lifted its short-term bullish sentiment, especially after it broke above a string of crucial technical resistance levels.
Nevertheless, the benchmark cryptocurrency might be walking into a bull trap, as per independent trading consultancy WCSE. In an analysis published right before the BTC/USD retracement on Monday, the firm's front analyst anticipated that the pair might undergo an upside move, only to correct sharply at a later stage.
BTC/USD surged higher during the New York session Monday, closing above $10,700. The pair's jump came almost in line with what WCSE indicated with its chart setup: a widening Falling Wedge with an immediate expected rise target lurking above $11,500.
At the same time, the WCSE analyst expected BTC/USD to lose the $11.5K breakout opportunity in favor of bears. He said that testing the higher level would trigger another round of sell-off. That might take BTC/USD back into the four-figure region. Excerpts:
"The market priority right now seems to be favoring short as the likely wave cycle seems completed after price got rejected towards $12,500. We should focus more on our immediate support [of] $9,700-10,000. Any break below it will activate [a] massive drop. That should lead us towards shorter immediate targets."
Rising Wedge Target: $6,000
The WCSE analyst broadened the chart to show the exact downside targets.
As shown in the graph below, BTC/USD could continue its rally until the upper trendline of the widening Falling Wedge. After that, the pair risks plunging lower to $10,000-support, followed by an extended breakdown towards the "immediate expected drop target" of $7,840.
At the same time, WCSE discussed the possibility of a further plunge towards $6,000. The level coincides with the lower trendline of the widening Falling Wedge. It also matches shoulders with the breakout target of the now-active Rising Wedge setup.
Conflicting Bitcoin Setups
The rest of the Bitcoin market didn't share WCSE's concerns. Traders expected the cryptocurrency to rise against supportive macro fundamentals. They include the US Federal Reserve's open-ended stimulus policies and commitment to raising inflation rates beyond its benchmark target of 2 percent.
Su Zhu, the CEO/CIO of Three Arrows Capital, said Bitcoin's long consolidation period following its correction from $12,500-high showed its resilience to enter a bearish territory. The analyst added that the BTC/USD exchange rate could surge higher, setting $15,000 as his primary target for the pair.
"Reality is that markets frequently pump 50% in bull [markets] after local bottoms," he tweeted. "BTC 15k and ETH 500 are perfectly healthy targets and your trading plan needs to incorporate nonzero probabilities to these levels."
More bullish news came from the US market as MicroStrategy, a public-traded firm, decided to spread its exposure in Bitcoin beyond its $250 million stakes. That further signaled a promising growth for the cryptocurrency in traditional markets, especially as the US dollar loses shine as a reserve asset following a massive drop after March 2020.
PlanB, the creator of Bitcoin's Stock-to-Flow model, said that BTC/USD is on its way to hit $100,000.
Bitcoinist.com is author of this content, TheBitcoinNews.com is is not responsible for the content of external sites.