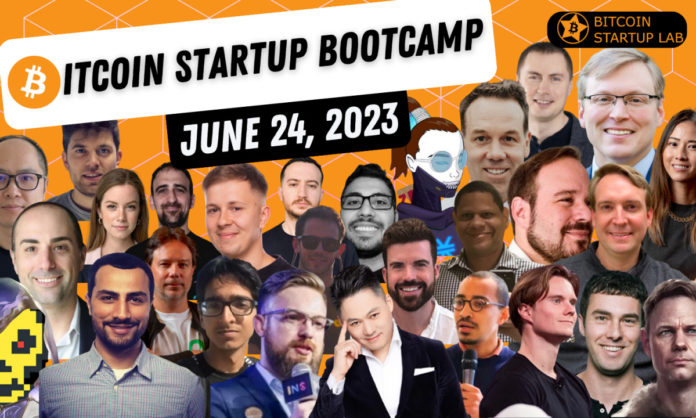 San Francisco, United States, May 26th, 2023, Chainwire
Bitcoin Startup Lab, an industry-leading part-time startup training program and community for founders, is enabling the advent of the sustainable Web3 Bitcoin economy with its comprehensive mentorship-guided startup program beginning on June 24th, 2023. Bitcoin Startup Lab enables talented founders to become the champions they are meant to be by training founders with the necessary tools, skills, and knowledge they need to transform their ideas into investment-ready Web3 Bitcoin startups.
Below are testimonials from previous founders who graduated from the Bitcoin Startup Lab:
Robin Obermaier, a first-time startup founder shares his firsthand experience, "The Bitcoin Startup Lab has played a pivotal role in our development. In just eight months, we transitioned from an idea fueled by passion, to a well-funded and rapidly growing business, largely thanks to the valuable guidance from Albert and his team. Their assistance in finding our current CTO Peter Giammanco, (a computer science graduate from the University of Penn, Elon Musk's alma mater) through the startup program has notably strengthened our team. We greatly appreciate the Bitcoin Startup Lab for their invaluable support… Without the Bitcoin Startup Lab, I wouldn't be where I am now!"
Anatoly Kozlov, a former graduate of the Bitcoin Startup Lab, raved about the invaluable experience and support he received during the program. "As a founder with two exits and vast experience with various acceleration programs, I can confirm that this is the best program I have ever seen. We have successfully gotten into the accelerator and raised seed funding in a short amount of time."
Trevor Owens, Managing Partner of the Bitcoin Frontier Fund, one of the most prolific early-stage investors in the Bitcoin space, emphasizes the readiness of founders who graduate from Bitcoin Startup Lab bootcamp, said: "I personally love fast-tracking entrepreneurs who graduate from the Bitcoin Startup Lab because they are ready to hit the ground running at our accelerator and raise capital." 
The team believes that the reason why talented founders like Robin, Anatoly and top investors like Trevor praise the Bitcoin Startup Lab is that this top-notch program offers a no-nonsense curriculum that empowers founders to develop skills in applying Bitcoin tech and market advantages. The program guides you into learning and applying AI tools for Web3 startups, market-entry, customer discovery, pricing, user traction, Web3 marketing & community building, developing killer features, user experience, Web3 business modeling, Tokenomics and incentive mechanisms, network effects, various technologies that enable Bitcoin applications, how to get to product-market fit, effectively pitch product value to get into an accelerator, get seed funding, and fast track their startup.
In addition to the curriculum, the program offers mentorship, co-founder matching, live startup assignments, and tools that require teamwork to complete, so founders can battle-test new team members before taking the startup plunge together.
The program mentors are a strong community of experienced Bitcoin founders and investors, who have built successful Web3, crypto, and blockchain startups themselves. "We are committed to developing talented founders into champions, so we bring together the leading Bitcoin technologies to make sure the founders who go through our program not only create the highest level of innovations in Bitcoin, but also build healthy businesses that create sustainable value for its users. Fellow founders going through our program have access to mentors, community partners, and top Bitcoin technologies that include, but are not limited to, Ordinals, Lightning, Stacks, Rootstock, DLCs, etc." said Albert Liang, CEO of Bitcoin Startup Lab.
About The Bitcoin Startup Bootcamp
The Bitcoin Startup Bootcamp is now open for applications, with a deadline of June 10th, 2023. Founders interested in building startups on Bitcoin and becoming an important member of the sustainable Web3 Bitcoin economy can apply on the Bitcoin Startup Lab website: btcstartuplab.com
Application link: https://btcstartuplab.info/USA
More program details, timeline, and syllabus will be revealed on May 26th, 2023
Contact
Head of Community for Web3 Bitcoin Founders
Tom Lab
Bitcoin Startup Lab
[email protected]