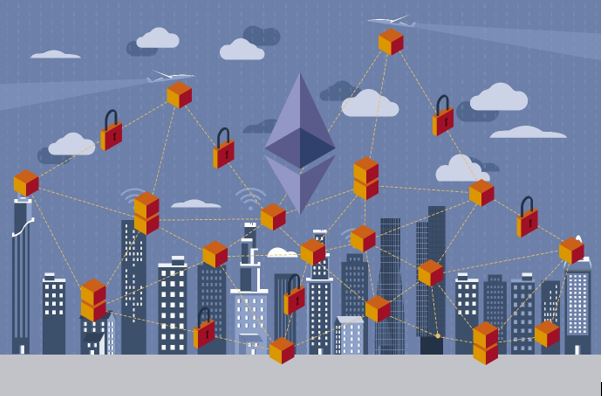 A blockchain technology is not a new one, but due to its revolutionism has completely changed the rules of the game, thanks to the efforts of cryptoanarchists. It embodies the dream of a decentralized network, in which a resource is owned by not one, but all users at once.
Now blockchain is at the peak of its popularity. Headliner of the trend are, of course, cryptocurrencies, but blockchain is being used in a variety of spheres: the electoral system, urban infrastructure, file sharing and even the breeding of chickens.
Enormous growth of blockchain market
So, there are certain industries with which blockchain technology and cryptocurrencies have been able to connect on a deeper level, and iGaming is one such industry. Malta, a country that is known as a pioneer in the iGaming industry, is planning to legalize the use of Bitcoin and other cryptocurrencies at online casinos, and is currently exploring the best options to do so.
Adam Vaziri, Partner at Diacle, blockchain legal consultancy: "Bitcoin was born for gaming. Buying Bitcoin, Ether or any cryptocurrency is a gamble in itself, couple it with a platform to gamble that Bitcoin with, and you double the speculation. So you would think this is a match made in heaven but the uptake of cryptocurrency in traditional iGaming is somewhat slow".
The market of cryptocurrencies on March 15, 2018 is more than 332 billion dollars. Market analysts predict that the global iGaming market will be growing by 13% CAGR (Common Annual Growth Rate) until 2026. For a better understanding, the 5-year investment will be roughly doubled after 5 years. A study by SuperData Research found that mobile iGaming was up 75% year-over-year, and that it now accounted for over 25% of all iGaming. It is expected that revenues from the online iGaming market will exceed $ 68 million by 2026.
These data are verified by the results of ICOs. According to the cryptotraders magazine Autonomous NEXT, for the first two months of 2018 iGaming projects attracted 391 million dollars. This is 71 million more than for the entire previous year and 65 times more than in 2016.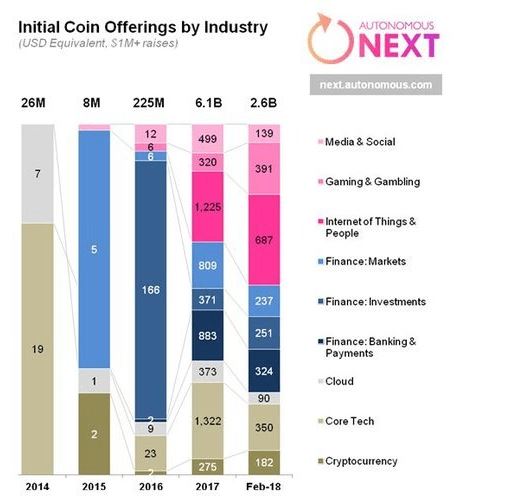 Talking about iGaming's structure, we mention that it differs through online and offline projects. In offline projects, casinos (37%) and lotteries (31%) are most popular. In online projects, 51% of all amount are sports bets. The casino takes second place with 30%, the lottery — third with 13%. The reasons for lower indicators are the users' distrust of the program's algorithms, as well as the legislative and technical difficulties with obtaining the winnings. I personally came across cases when I could not get a win just because the casino did not want to contact the laws  of my country.
Therefore, using cryptocurrencies for iGaming has become a widely popular solution for casinos, either as a main payment system or as an alternative to fiat-based ones. There are a lot of advantages:
Using cryptocurrencies allows user to gamble by providing a minimum of documents: verifying age and location.
Every transaction can be verified and a gambler can be sure, his funds came to the platform.
Providing a low entry barrier for new players and allowing them to circumvent iGaming regulations that apply to fiat only. Most governments today are still not referring to Bitcoin as to real currency. Therefore any regulations around fiat currency shouldn't be applied to cryptocurrency iGaming platforms.
Evgeniy Ryabov, a Russian blockchain-lawyer says that the state regulation of block and cryptocurrency may differ from state to state, but the principles of cooperation with blockchain startups should be the same as with any other IT-business — the availability of guarantees and the alpha version of the product.
Transparency of blockchain
There are 2 types of iGaming games:
Non-Blockchain (Central Database) iGaming.
Blockchain (Decentralized) iGaming.
Non-Blockchain (Centralized) iGaming
This is a standard type of iGaming game. It works the same as an exchange service. You send your funds to the game owners. They record your balance in their own database. You see it as some numbers in your own account. The updates to your betting stats are done centrally, by the game owners. This is faster than a blockchain. But you have to trust the game owners.
So there is a trade-off here. You get a faster database, but you risk losing your money. Also, a centralized database is not public, like the blockchain. So you have to trust that the site owners are not playing games with their database, to rip you off.
Blockchain (Decentralized) iGaming
As we mentioned, there are problems with the lack of transparency in online casinos.  However, cryptography has made it possible for iGaming platforms to prove that they are indeed honest. Although this concept didn't become possible by blockchain technology itself, but rather by cryptography, blockchain technology and smart contracts have taken it to the next level, allowing for more complex systems.
There are no databases from third-party owners. You don't send your funds to anybody. There are no accounts. Instead, you play directly from your personal cryptocurrency wallet. You always control your funds and don't need to trust database owners. You send funds directly to a smart contract, on the Ethereum blockchain. The smart contract processes the bet and returns the win directly to your wallet. The smart contract is public, verified code, that works on the public Ethereum blockchain, so you can always check the truthfulness of a deal. There are no limitations to the amount or minimal threshold of transactions.
Eddie Travia, CEO of Coinsilium, an investor in blockchain tech startups: "There are many ways blockchain can help iGaming business. On the date and auditability side blockchain creates immutable data records which can help tracking all operations by a client and/or per game for example. It makes it easier to assess a client's real contribution to the business, analyze any iGaming patterns, prevent fraud and exploits, reward clients, provide audit reports. In terms of the business logic of the games blockchain can bring transparency and provable fairness of the game. This should create more trust between clients and the game operator as usually operators have a 'black box' attitude where the game logic is obscure".
An important pros of blockchain iGaming is creating of services' internal ecosystem. Smart contracts give a possibility to integrate almost everything. There is no need to play with legal restrictions or different payment systems.
Let's take an example why smart contracts (and blockchain) are cool. I am playing a video slot game in an ordinary fiat platform. I took part in a promotion which promised free spins for a number of games. I played these games but didn't receive spins because of an internal system error. I was forced to write a ticket to support, give them all personal information and, finally, receive my spins. A waste of time and efforts (my and support's) say nothing of need to disclose personal data. With blockchain and smart contracts it will be as follows: taking part in the promotion, I sign a smart contract, in which code there is a statement "give free spins to a user after nth games in case of meeting the requirement". It's just a condition which activates on trigger. Information about our deal writes into a block and sends to an enormous number of blockchain users. Now it's public deal and casino can't say I don't meet requirements. After nth game condition activates and data about my newfound spins is also written into a block and sent broadcast. No possibility to make a mistake, no need to involve support. Faster, cheaper and more transparent.
Solving blockchain iGaming problems
So we made sure that being both fair and functional can really help the blockchain iGaming movement disrupt the traditional market. However, when it comes to the settling of values, the decentralized nature of blockchain means there are both cost and delays. Microtransactions have become more and more problematic on some of the major blockchains, like Bitcoin. Fees sometimes can reach 0.01 BTC, which can be more than winnings. Deposit time is not instant and it would be a lot of tickets to casino's support with request to return disappeared money. Another thing is many iGaming platforms provide only one or a couple of games. The reason is that the blockchain iGaming is still a small part of the gaming market, it's a free niche, so companies are slow to risk opening new directions. One who can offer a finished product, gets a market. Such a conclusion can be made by observing the amount of ICO in the online iGaming sphere.
A possible candidate for this role is Luckchemy. Guys already have a working MVP with lotteries, scratchers will be implemented in the near future. As a blockchain platform Ethereum is used. As experts mention, Ethereum is the most perspective system, so we can be sure it can be scaled not only with Luckchemy games but with games of third-party providers. Authors say 99% of lottery sales revenue will go to prize fund.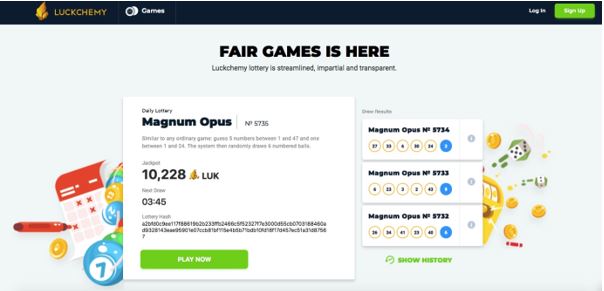 On it's website developers promise to finally finish a platform to the end of ICO. Working MVP is a must-have thing in case of ICO, because 59% of 2017 ICO were failed. Many raised zero; some raised a couple of thousand dollars; and a handful raised over $10 million. In each case, the end result was the same though: no MVP, no alpha release, and no contribution to the decentralized web for the betterment of humanity. White papers for most of the projects are full of cliches that attract inexperienced investors, but don't say anything about the essence of the project. In most projects, there is no reason to use blockchain and cryptocurrency. Projects that still submit the planned product often begin to accept the currency, reducing the value of their token. In the light of these trends, to follow up Luckchemy's ICO will be a rather good idea.
TheBitcoinNews.com – Bitcoin News source since June 2011 –
Virtual currency is not legal tender, is not backed by the government, and accounts and value balances are not subject to consumer protections. TheBitcoinNews.com holds several Cryptocurrencies, and this information does NOT constitute investment advice or an offer to invest.
Everything on this website can be seen as Advertisment and most comes from Press Releases, TheBitcoinNews.com is is not responsible for any of the content of or from external sites and feeds. Sponsored posts are always flagged as this, guest posts, guest articles and PRs are most time but NOT always flagged as this. Expert opinions and Price predictions are not supported by us and comes up from 3th part websites.
Advertise with us : Advertise