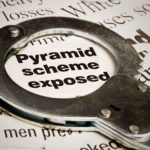 Russian authorities have apprehended the alleged founder of a crypto pyramid scheme from Kazakhstan who had an international arrest warrant issued for his capture, according to a report made by Russia's Ministry of Internal Affairs (MOI) on May 28.
The unknown scammer faces accusations of deceiving investors by promoting a crypto scam that promised them substantial profits from crypto investments.
"Russian policemen helped colleagues from the Republic of Kazakhstan to track down a suspect in the organization of a financial cryptocurrency pyramid" – read the description titles of the video posted on the website of the Ministry of Internal Affairs of the Russian Federation.
The MOI has allegedly connected at least 300 fraud cases to this pyramid scheme, with one of the victims being conned out of 14 million Kazakhstan tenge ($36,700).
The founder of the scheme escaped from Kazakhstan in early 2019 after which Interpol issued an international warrant for his arrest. When the criminal was apprehended by the Russian police, the alleged scammer told them how he illegally, and very creatively, managed to sneak into the country. Apparently, the man crossed the Russian border on a… horse.
The culprit trying to escape inconspicuously(Source: Allthe2048)
According to the MOI report, the authorities are still pondering if they should send the man back to Kazakhstan for his sentencing. It seems that this wild crypto cowboy was not able to ride into the sunset with his steed with the investors' money.
Regulators and authorities all over the world have started to unmask more and more crypto scams. The United States Securities and Exchange Commission sued a Californian resident for operating a multimillion-dollar cryptocurrency pyramid scheme.
Featured Image: CNBC

coindoo.com is author of this content, TheBitcoinNews.com is is not responsible for the content of external sites.