A suspicious crypto site has wrongfully appropriated the identities of several people, including the bio of one of CoinDesk's writers and the testimonial of an SEC chairman.
Mr. Palmer was informed of his new position as "advisor" to a cryptocurrency project called "US Veteran Token" (USVT) via an email this week. While the name of the project markets itself as an ICO which will help US veterans that have fought for their country, the entire things is actually a sham.
The entire team of the fake project comprises of stolen bios stolen and photos which have been posted on the site to give it some semblance of legitimacy.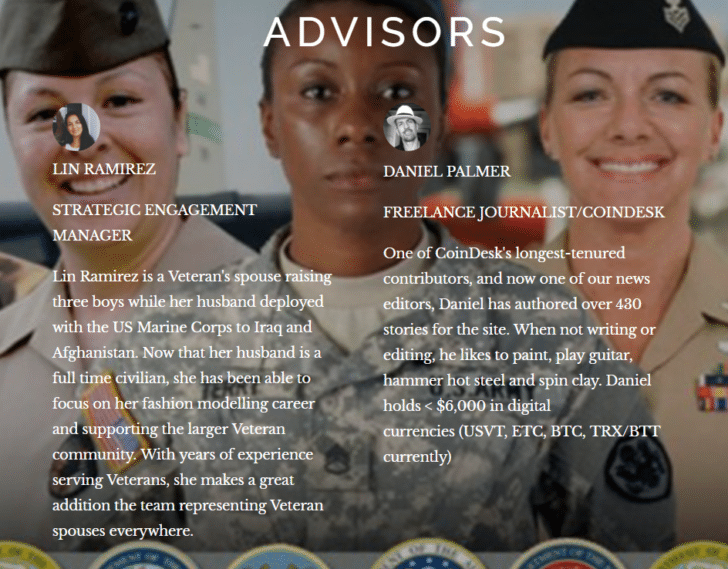 Source: CoinDesk
The scam site took Mr. Palmer's bio, image, and verbatim, from CoinDesk's website. They also took some liberties by adding USVT to the list of Mr. Palmer's crypto holdings. The writer obviously denied having any USVT or associations with the project.
The person that alerted Palmer of the situation also stated that the site also copied the design of a genuine military-focused service he had been developing, which is currently on hold.
The site also posted fake testimonials, including one from the chairman of the U.S. Securities and Exchange Commission Jay Clayton.
Regarding the matter, an SEC spokesperson said that:
"Neither the SEC nor the Chairman endorse or approve securities offerings, including initial coin offerings (ICOs) or cryptocurrency offerings. While SEC staff reviews filings for compliance with disclosure obligations, the SEC does not evaluate the merits of any offering nor does it determine if securities offered are good investments."
The other people that have been featured in the team section have also posted on social media denying their association with the dubious project.
Sorry to interrupt all the fun Libra tweets, but I just want to say I am not affiliated with this project: https://t.co/EGFWLUB1E5 This must be a scam if it is listing people like me who have never even heard of it as part of the team. It seems some people have already lost money

— Laura Shin (@laurashin) July 17, 2019
When you scroll down at the end of their front page they also list a number of projects that support them:

Source: official site
It is yet unknown if any of these projects are affiliated with USTV, but considering their track record so far…
The site currently shows the 404 error when you go to the team page section.
There are many red flags when it comes to the US Veteran Token ICO, so we advise users to refrain from investing in such token.
Featured image: Crypto Slate

coindoo.com is author of this content, TheBitcoinNews.com is is not responsible for the content of external sites.