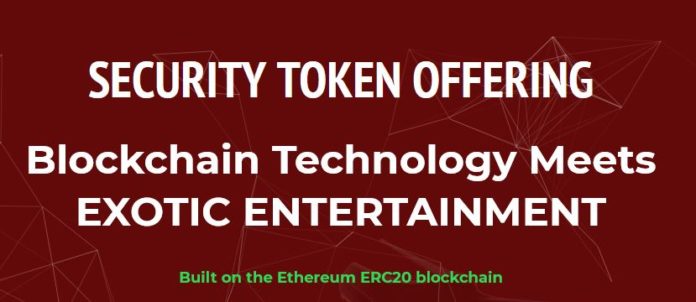 Launching one of the very first Security Token Offerings (STO) – with a twist.
Casper, Wyoming, June 4th, 2018, Cryptocurrencies have made their way into almost every niche of the business world. It was only a matter of time before some forward-thinking team would bring it to the world of Adult Entertainment. The time has come, and a U.S.A. founded and based company called CryptoStrip, Inc. (CS), started April 2018, has developed a new crypto token for the Exotic Dance Club industry: EXotic Coin (EXC). It is a pre-mined Equi security token to capacity, which operates on the Ethereum Blockchain ERC-20.
EXC's purpose would be to function as the first token of which is intended to be used globally as a form of payment in any EDC, (Exotic Dance Club), through payment methods such as: point of service (also known as POS) systems, wristband, debit card, Q-Code, or ATM Machines.
Through Club contracts, ATM Machines, Metal Debit Cards, Cold Wallets, Philanthropy Projects, Marketplace, Passive Income Investment Opportunities, and Customer Service providing complete transparency makes CryptoStrip, Inc., unique in the entire Industry.
The company reports that they have set strict timelines for themselves and have accomplished more in the first few months of existence, than most companies could in one year. From its inception, company registrations, Whitepaper and Smart Paper, website, development of company and its team, it is easy to see why they are destined for success.
CryptoStrip's current team consists of George Leroe – CEO and Co-Founder, Robert Kenemer – COO and Co-Founder, LaRon Hough – CMO, Peter Metell – CTO, and Alfonso Clark – CFO. There is also a team of Support staff in place as well as a team of world recognized industry leading Advisors on board.
Timeline:
2018
Qtr. 2:
Form Company / Form Team / Legal Advisor / Advisors

Apply to SEC for REG A Tier 2 + Exemption

Obtain Credit Card Processor
REG A "TESTING THE WATERS"
Marketing and Whitelisting – will last until the NOE is received from the SEC
Qtr. 3:
TESTING THE WATERS continues until sale begins upon receiving NOE from the SEC
EXC sale begins
Qtr. 4:
Auditing of all the funds and accounts from STO
Exchange applications are completed (see Potential Exchanges)
Tokens transferred to CS Ewallets & investments made to PIIO
Debit cards issued
2019
Qtr. 1:
Open on Potential Exchanges
PP and PIIO payouts begin
During a recent interview, George Leroe, CEO and Co-Founder, made these comments: "We believe that cryptocurrencies are here to stay. With that, we've decided that besides servicing a niche in the adult entertainment market, that we want to make a difference through our Philanthropy Projects not only domestically in the US but have a presence Internationally. How contradictory that might sound. Then, we intend to have a Passive Income Opportunity for all token holders who have purchased tokens during the STO. The company wants to create an environment for investors to invest in an STO and not have to worry about being scammed or being involved with a fly by night company. At the same time, we want to show the crypto community the correct way of having a completely compliant US Security Token".
CryptoStrip, Inc., has a clear Mission Statement: "To bring the use of cryptocurrency to life with the EXC token, with the intention for its use worldwide in Exotic Dance Clubs." A complete discussion about this STO can be viewed in their Whitepaper here. CS intends to have Webinars over the next few weeks. For times and information please check the website. This will be an open Q&A with the CEO and a different Team member for each session.
For complete information, please visit: https://exoticcoin.io
Join The Discussion:
Reddit: U/CRYPTOSTRIP
Medium: https://medium.com/@CRYPTOSTRIPINC
Steemit: https://steemit.com/@cryptostripinc/
LinkedIn: https://www.linkedin.com/company/cryptostripinc/
Telegram Room: https://t.me/cryptostripinc
Telegram Channel: https://t.me/exoticcoin
Media Contact:
CryptoStrip, Inc.
Attn: George Leroe, CEO
Casper, Wyoming USA
866-256-2119
PLEASE NOTE:
If you call and it is not Urgent, then please do not expect a return call as this is not a support line. The CEO intends to answer all calls for which there is only one of him and many of you. If he spent his time returning every call, then it would take him away from the ability to complete what is stated in the WHITEPAPER as is CS intentions.
Press Release Writing and Distribution by professionals for the Cryptocurrency industry. Steve Stanley, has written thousands of Press Releases and countless Articles spanning every industry and niche. It is easy to find his work on Google News and hundreds of other news outlets. There is no doubt that he is one of the only experts in his field when it comes to I.C.O: You can learn more about him and his services at http://ico-prmarketingservices.com