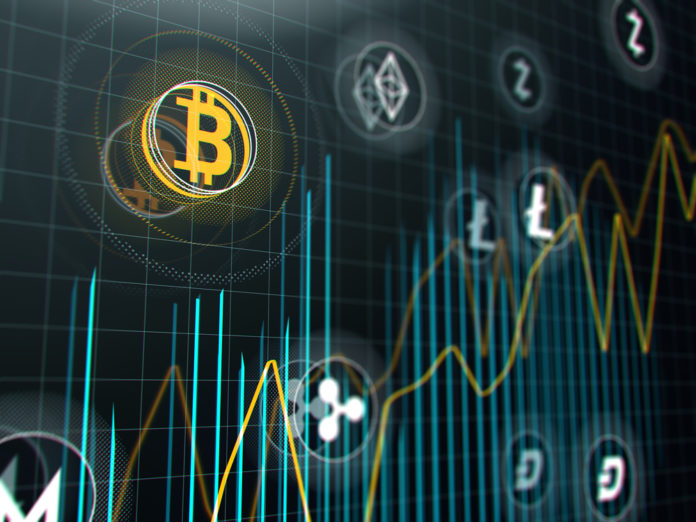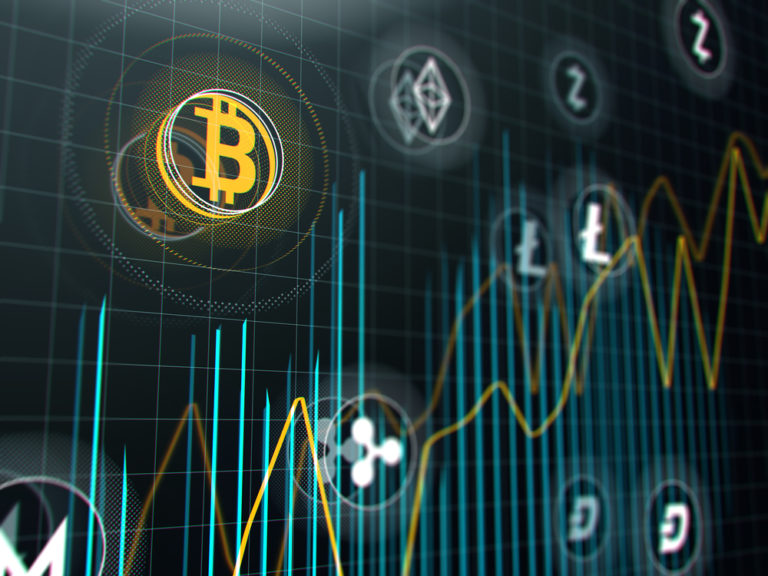 Recently, one of the main topics of the technology space has become the issue of privacy and data security, while their experience and history show quite "negative" results. After a significant number of cases of leaks, burglaries and other elements related to the personal data of millions of users and the level of their protection, were launched various services with an emphasis on security, offering classic P2P transmission and encryption options, but almost did not change their basis and global situation in general.
At this point appeared one attractive project, which decided to tap the full potential of encryption, decentralization and blockchain technology together in one messenger. This is about the relatively young (aged a year and a half) blockchain-messenger ADAMANT with a few interesting basic chips of its complex cryptosystem that continue to surprise users and professionals more and more against the background of other products.
ADAMANT — Let's take a closer look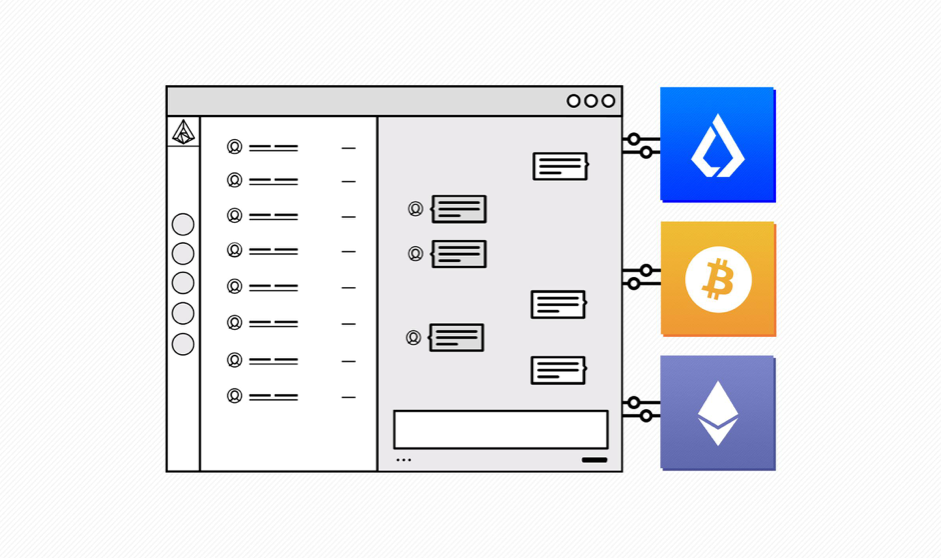 For starters, remember the simple work of the Bitcoin's blockchain—simplifying, it's a network consisting of code, nodes, and miners. The nodes cooperate, store and process the information about the blockchain, while the miners help to remain protected (encrypted) and decentralized due to the huge number of different owners of sequencing machines around the world. Because of these parameters, we have a safe, decentralized and free crypto-currency, with full openness and trust in users, not inferior in reliability to any bank in the world due to the elementary mathematical accuracy of the technology.
And now imagine that with this powerful system you can start exchanging messages. Each character will be really encrypted and recorded in a decentralized blockchain network, from which no one else can receive it except as the sole recipient. Decryption or hacking is not physically possible, and it will not be possible to replace encryption methods or sending systems due to distributed management rights and open source.
This is exactly what the team of developers in the ADAMANT Messenger project implemented, keeping performance parameters exclusively on complex, decentralized system and secure network of the blockchain, which everyone can start to support, by running their own node or delegate (miner).
Each sent bit will be strongly encrypted and stored in a decentralized blockchain, from which only the intended recipient can get it. Nobody else. Hacking, interception or changing encryption is physically impossible, while the open source retains the trust.
Behind this project with real blockchain application stands ADAMANT Tech Labs LP Team, registered in Ireland. Important note that it is a rare kind of project with more than 15 developers. The whole team counts of 26 members now.
That's why the ADAMANT Project has a strong tech kind of Whitepaper, describing in deep how blockchain messaging works.
Here one of the key moves was made in the matter of the autonomy of the network and the guarantee for users. To ensure full financial independence, stable work and self-maintenance, in the center was set the ADM token.
ADM Token
ADM token is used as an internal currency for standard transfer of funds (like any other cryptocurrency), but also for payment of commissions for sending messages, which are received by holders of computing powers. Thus, paying an almost unnoticed amount of ADM for messages, you maintain the working capacity of the entire network and independent, decentralized miners who will be able to exchange it in the future on exchanges, like the other token holders. Also, to improve the quality, ADM is used not only as a coin but also as a project token, which gives the impetus for the maintenance of the blockchain and just investors.
This is a new, absolutely anonymous way of communication, hiding the IP and providing internal security with the full strength of the blockchain-network. The best existing protection systems protect data from interception or incursions of third parties and will be improved in the future to an even better respect of privacy.
For additional convenience, as we can learn from the documentation, a number of global updates will soon be carried out, including support for different cryptocurrency wallets, while the Ethereum wallet is already fully operational for each account.
The development team is working and has already released several simple applications for Web (browser) and released an iOS app in the App Store, which is already available and actively gaining popularity among users of crypto-community and outside. By the way, registration requires only one click and no personal data. This is done in one click—a random passphrase will be generated for you, and will be requested to enter in the future, like in most convenient crypto-wallets. This method is much more reliable than binding the entire account to a phone number or email and remains fully anonymous. IP is always hidden. Android version is in development and also available.
Transferring Ether and other cryptos right In-Chat
Many words spoken by other projects on this feature, but the ADAMANT is the only one which implemented it.
Now Ether transfers are supported, and others are in development.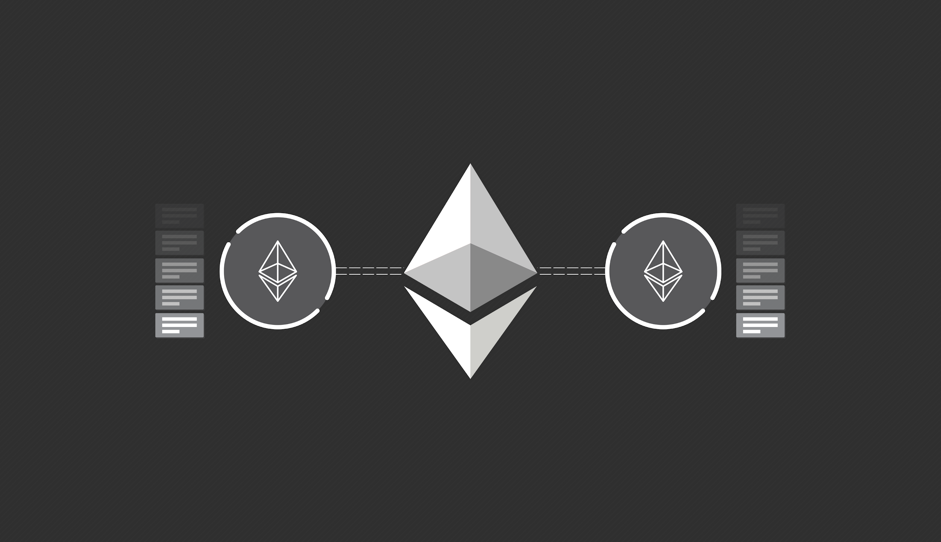 The Ethereum cryptocurrency has attained a new level of financial value, ranking as the second highest cryptographic currency in the world, becoming one of the most widespread and commonly used tokens amongst the entire crypto-industry. Assimilating the Ether token into an extensive array of decentralized-applications (DApps) brings even more value to the token as a currency. To add to this growing list, the ADAMANT Messenger team have created a feature specifically for the use of Ethereum tokens, allowing Ethers to be sent and received within chats.
Some examples of this use, include:
A platform for financial transactions.
An e-commerce application to sell personal goods and services.
A private communication platform for buyers.
Such a large market in today's world can add to the ever-growing list of use-cases for the Ethereum network, dApps that utilize the Ethereum token and increase it's real-life utility, creating and adding value as the technology becomes further adopted and easier to use. The simplicity of the ADAMANT Messenger is likely to bring true-worth to the adoption of the token-economy, and cryptocurrency technology alike.
Web application
As stated on the Project's website, "No need to install anything — use any modern browser on your smartphone, tablet or desktop to start messaging!". That's the true thing, it is very convenient to have Messenger with you all the time on huge amount of devices with no installation. Just start messaging right now: https://msg.adamant.im/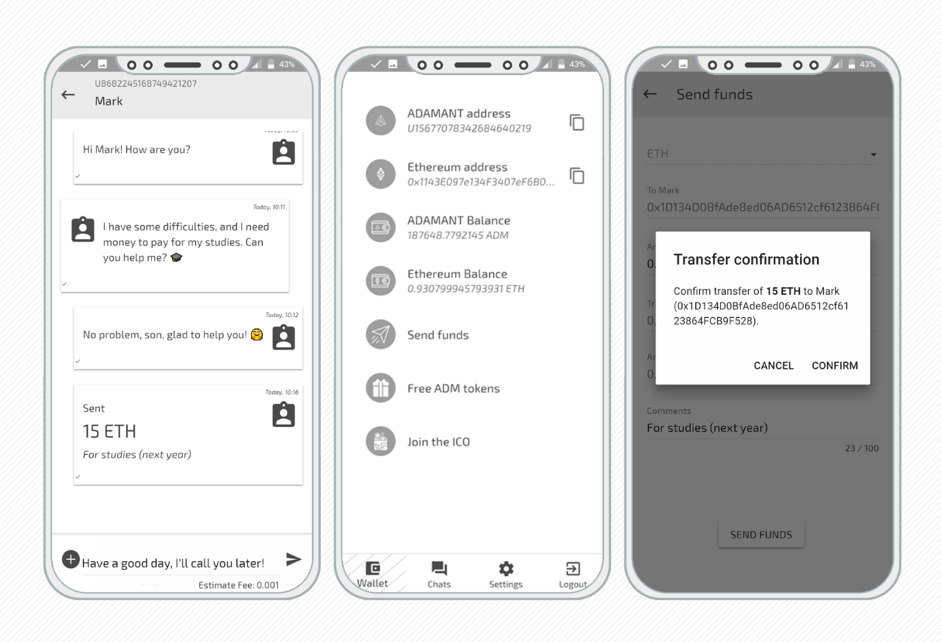 Last week ADAMANT Messenger Web applications were updated with new design, which looks more convenient.
Web version, besides from messaging, support Ether transfers and voting for delegates.
Here are a few important features of the ADAMANT Messenger (relates not only to Web version):
No access to the user's address book;
All chat history is stored in the Blockchain;
No access to the user's location information;
No user identifications — the complete anonymity of use;
Messages are encrypted on the sender's device and then decrypted on the recipient's side.
The client app never transfers a user's Private Key or mnemonic phrase (your password) over the network. All work is done locally on the user's device; therefore no Private Data is transferred;
Message history is never stored on a machine and is directly loaded from the Blockchain;
Unlike P2P-Messengers, it is impossible to obtain the user's IP-address;
ADAMANT Code and Blockchain is Open-Source;
ADAMANT accounts cannot be closed, blocked or limited by anyone, including the developers.
ADAMANT Messenger goes to Apple Store
ADAMANT Tech Labs LP Team has released the official Messenger— the application is now available for download in the Apple Store.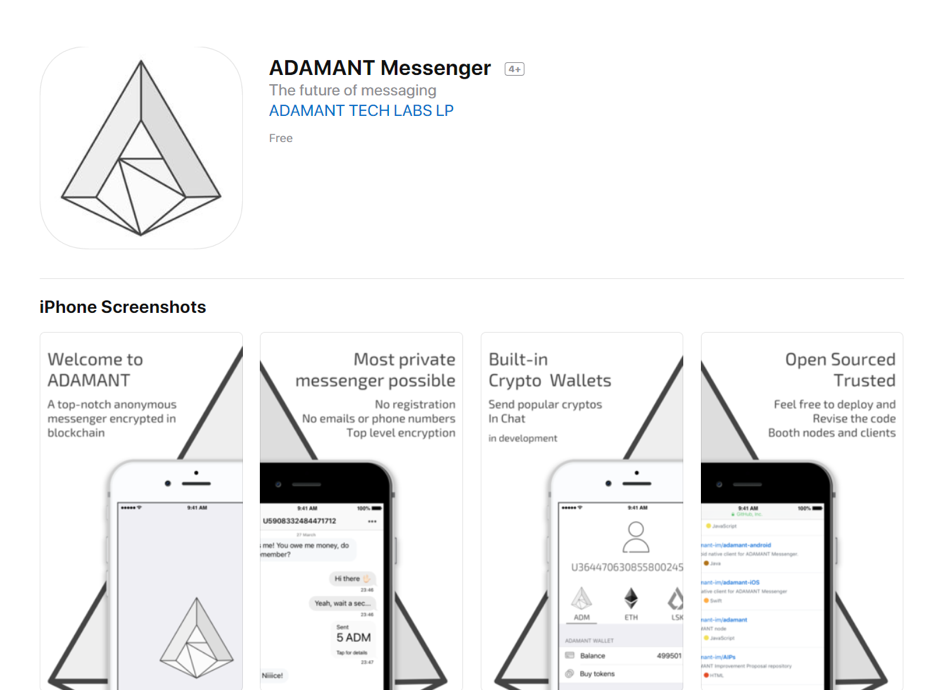 iOS-version is faster and more convenient compared to the classic Web app, as it should be. It supports contacts naming already, but crypto transfers to be implemented yet.
If you are an iPhone user, iOS version of ADAMANT is your choice.
Brand new dPoS for decentralized messaging
The real decentralization is a complicated thing, because of many factors. To fit Messenger's needs, ADAMANT Team did a huge work to improve consensus system.
Though dPoS has many implementations, in the real world they have its weak parts. ADAMANT has improved dPoS, to consider the Node Productivity and Number of user's votes and call it Fair dPoS Delegate System.
As a result, the impact of «thick wallets» reduced to reasonable, and the entry point for forging will become much more attractive. Impact of Productivity motivates delegates to run nodes on more powerful machines, rather than cheap ones. No less important is the dynamics — buying and selling ADM and delegates' Productivity will regularly rebuild the list of 101 forging delegates, and each delegate in waiting (Standby) is more likely to return to forging when rebuilding the network's votes.
Invest in ADAMANT
Though the ADAMANT ICO is successfully finished, now you can still buy ADM tokens with the best price of 0.0006 ETH, support the Project, and probably find a profit in future. You change your BTC, BCH, ETH, LTC, DASH, LSK and even DOGE for ADM.
According to Roadmap, the token planned to be listed on exchanges on Q3 2018, so you have to hurry up to get cheap tokens now.
Investment of 0.7 BTC can be considered as it is enough to run a delegate and vote for it to start forging and get rewards. It is possible due to Fair Delegate System, which allows a relatively low-cost entrance.
The future
Blockchain technologies offer many possibilities is different applications, and ADAMANT is a good example of how it can protect your privacy and get into real secure messaging.
We recommend reading further ADAMANT's posts on Medium, discovering much information on security, messengers industry, and privacy.
Disclaimer: This article should not be taken as, and is not intended to provide, investment advice. Global Coin Report and/or its affiliates, employees, writers, and subcontractors are cryptocurrency investors and from time to time may or may not have holdings in some of the coins or tokens they cover. Please conduct your own thorough research before investing in any cryptocurrency and read our full disclaimer.
Image courtesy of Pexels
The post Decentralized Messenger ADAMANT gets enough investments and converts them in a real product appeared first on Global Coin Report.
Read more at https://globalcoinreport.com/adamant-gets-enough-investments-and-converts/