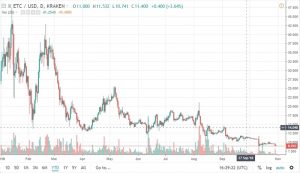 Even though the latest Dash (DASH) price charts haven't set the crypto world alight, there is still plenty of potential in this emerging cryptocurrency. Tracking the price of DASH since February, the coin's value has consistently tracked below its 20-week exponential moving average (EMA). In real terms, this means the DASH price in dollars has been hitting lower lows than we'd expect to see this year.
However, despite the bearish trend, there are still reasons to buy Dash in the current climate. As a crypto project, Dash has a lot of strengths. Compared to Bitcoin (BTC), which is still the gold standard in many respects, DASH coins are more secure. Indeed, with anonymity being an integral part of the blockchain, cryptocurrency purists have long had a soft spot for Dash. Additionally, Dash transactions are a lot faster than Bitcoin and Ethereum (ETC). As researchers at Imperial College have suggested, cryptos will only replace fiats when they demonstrate true real-world utility.
Dash Has the Potential to Usurp Bitcoin
By offering a safe, secure and efficient payment system, Dash is bidding to satisfy that requirement and, in the process, usurp BTC et al. In support of this aim, the company recently signed a deal with Uphold. After going live on the cloud-based currency platform in January, Dash has now created a mobile wallet. In practice, Uphold users can download the new wallet to their Android or iPhone and buy DASH coins using their credit/debit card or by bank transfer. Once the purchase is complete, the coins can be sent or spent as required. In essence, the platform will perform a similar function to PayPal and, therefore, make it easier for crypto novices to spend DASH tokens.
While that innovation is yet to have a bearing on the price of DASH, there is already a real-world use case to support its potential. With Venezuela's currency on the brink of collapse, Dash reported a surge in interest over the summer as business owners looked for a stable way to protect their assets. By assuming the role of unofficial currency for Venezuelan businesses, Dash showed that it can function on a large scale, something that Imperial's experts have said is necessary for mass adoption.
DASH Price Charts Belie Coin's True Value
Performing a technical analysis on the Dash price charts this year doesn't inspire much confidence. If the value can break out of its overhead resistance at $229, it has a chance of surpassing the $300-mark in the coming weeks. However, for those that are willing to move beyond a purely technical perspective and consider the price of Dash in holistic terms, things look a lot more positive. Assuming the blockchain can continue offering an efficient and anonymous payment system, businesses and casual users are more likely to use it. If that happens, Dash could become the first crypto outside of Bitcoin to go mainstream and, in turn, see a surge in its value.
*Information in this article should not be taken as investment advice.
The post Don't Let the Latest Dash Price Charts Fool You into Thinking this Crypto is Worthless appeared first on The Independent Republic.
source: https://theindependentrepublic.com/2018/10/31/dont-let-latest-dash-price-charts-fool-you-into-thinking-crypto-worthless/
TheBitcoinNews.com is here for you 24/7 to keep you informed on everything crypto. Like what we do? Tip us some Satoshi with the exciting new Lightning Network Tippin.me tool!