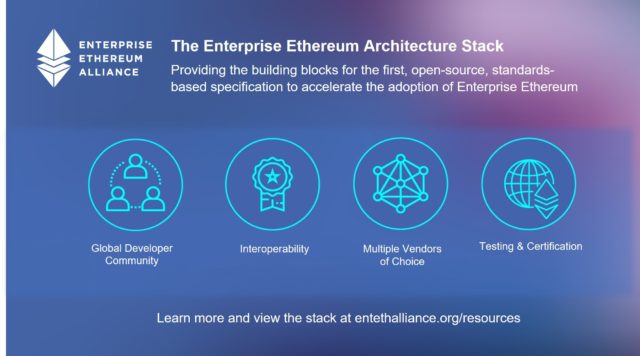 Since its foundation nearly 18 months ago, the Enterprise Ethereum Alliance – a connection of Fortune 500 enterprises, startups, academics, and technology vendors with Ethereum subject matter experts – has been quiet. Until now.
---
The EEA Ain't Goin' Nowhere
The Enterprise Ethereum Alliance (EEA) has officially unveiled its Enterprise Ethereum Architecture Stack, which acts as the next portion of its Enterprise Ethereum specification strategy.
In essence, the Enterprise Ethereum Architecture Stack puts into place the specifications required to usher in the Web 3.0 era of decentralized, connective intelligence, as well as the next generation of Enterprise Ethereum applications. The EEA notes that these applications will, like the internet, work anywhere, while running smart contracts without third-party intermediaries.
The stack is available as a free public document to download.
Stated EEA Executive Director Ron Resnick:
With the public release of the stack, the EEA is on its way to delivering a world-class standards-based specification for Enterprise Ethereum solutions with a TestNet and certification program to follow. The EEA's standards-based approach enables enterprises to deliver a superior customer experience and create new, and innovative solutions. Plus, having multiple vendors of choice will likely mean competition will drive down costs.
Prominent members of the EEA have voiced their positivity in regards to the Alliance's latest development.
Julio Faura, chairman of the EEA, and founding EEA member from Santander Bank, and head of R&D for Innovation Initiatives at Santander Bank stated:
The Alliance's mission from day one has been to build the framework that could be used to meet all the needs of its members. The public release of the Enterprise Ethereum Architecture Stack enables enterprise members to collaborate and collectively contribute to, and benefit from, the global Ethereum effort and the EEA's forthcoming specification.
Likewise, Joseph Lubin, a founding EEA member from ConsenSys, co-founder of Ethereum, and founder of ConsenSys, stated:
The EEA is rebuilding business infrastructure from the bottom up. By solving the universal collaboration needs of its members, the Enterprise Ethereum Architecture Stack can now serve as a critical framework element of the world's decentralized operating system – an EEA specification that will facilitate more valuable interactions, more efficiently, between the enterprise and its customers. I look forward to seeing how sectors and industries build shared collaborative infrastructure on the EEA stack, and how such networks forge interoperation amongst one another and how each begins to use public Ethereum as part of their comprehensive, blockchain-based IT infrastructures.
David Treat, a founding EEA member from Accenture, and managing director and global blockchain lead at Accenture, also voiced his delight, stating:
Defining the Enterprise Ethereum Architecture Stack is an essential step for creating a standards-based, enterprise-ready approach. Ethereum is already one of the broadest developer user bases across industries. The architecture and coming specification will make Ethereum applicable for enterprises and corporations. We are very pleased to be part of this important initiative and look forward to working with everyone involved.
What do you think about the Enterprise Ethereum Alliance, its new Enterprise Ethereum Architecture Stack, and the future of Ethereum? Be sure to let us know in the comments below.
---
Images courtesy of AdobeStock, Enterprise Ethereum Alliance
The post Enterprise Ethereum Alliance Reminds Everyone It's Still Active, Unveils New Architecture Stack appeared first on Bitcoinist.com.
Bitcoinist.com is author of this content, TheBitcoinNews.com is is not responsible for the content of external sites.