In today's article, we will be analyzing various factors and forecasts to determine an Ethereum Classic price prediction for 2019.
What is Ethereum Classic?
Ethereum Classic is a crypto which resulted from a fork from the Ethereum chain. The fork took place on July 20, 2016, in order to restore the funds lost due to a vulnerability in the DAO smart contract code.
You want the latest news about Crypto? Sign up to our weekly Newsletter!

In June 2016, a hacker exploited the DAO smart contract and stole 3.6 million ETH from the fund, which had a value of $55 million at the time.
The Ethereum community was divided between supporting the new chain and the old one. Those that remained on the original chain resulted in the birth of Ethereum Classic.
In terms of code, Ethereum Classic and Ethereum are not all that different. ETC also supports smart contracts and it uses the same Ethash mining algorithm like ETH. Other technical aspects are also shared by the two blockchains.
The major differences are seen in the financial and community sector. Most of the community and developers moved to the new chain, with ETC losing a majority of users and creators.
Because of this, ETC is fewer DApps and a much lower hashrate.
51% attack on Ethereum Classic
In January 2019, a double-spend attack on the ETC blockchain was recorded. This attack requires 51% of the network hash power to be controlled only by one entity.
This led to $1 million worth of ETC being spent twice. Many exchanges then froze all ETC transactions of Ethereum Classic. This led to a small drop of 7% after the attack was confirmed by the development team.
Even though a 51% attack is pretty hard to perform, the low hashrate of the coin facilitated the necessary conditions. There were no significant consequences for the network or its maintenance, and the hashrate and market cap of the coin didn't drop as well.
Ethereum Classic Price Prediction 2019
In terms of development and updates, the ETC dev team is very busy in this period. Such updates might impact the Ethereum Classic price prediction this year.
In the first quarter of the year, Ethereum Classic working towards developing embedded SVM, that would enable the EVM (Ethereum Virtual Machine) and SpitnikVM to be used in applications that are embedded.
Later on, in the third quarter, they plan on upgrading the ETC JIT compiler, which will aid in translating byte code into their native code and as a consequence will diminish the time of program implementation by 3x to 4X.
Also, the ETC developers intend on developing EVM backend objective for LLVM, which will allow developers to expose EVM to the LLVM community.
There is also the impending Atlantis upgrade which will strengthen ETC and help it prevent attacks or hacks.
Price Analysis
Ethereum Classic went through some surges in the month of June, reaching $9.75 on 4th of June, 2019, surpassing its highest value of this year which was in April.
In May there were six major peaks, with $8.01 being the highest value of that month, that was reached on May 20, 2019.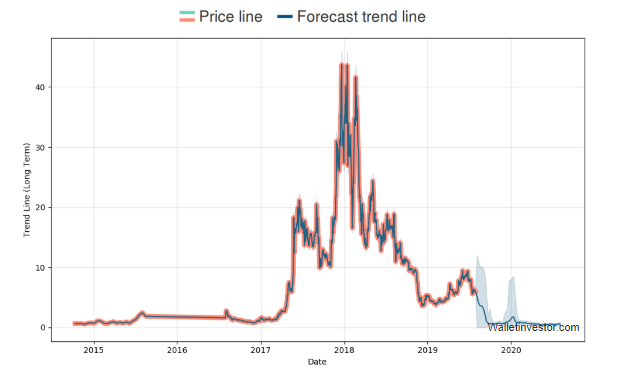 Source: walletinvestor
Since the beginning of the year, Ethereum Classic has seen an increase of 1.5X until the middle of June. The price of the coin was recorded around $5 at the start of 2019, and today is trading at $5.95 after it dropped down from a few highs.
Ethereum Classic currently ranks 21th with a market cap of $668,421,272 USD, with a 24- hour trading volume of $418,757,869 USD. The coin experienced a rise of 0.84% in the last 24 hour period.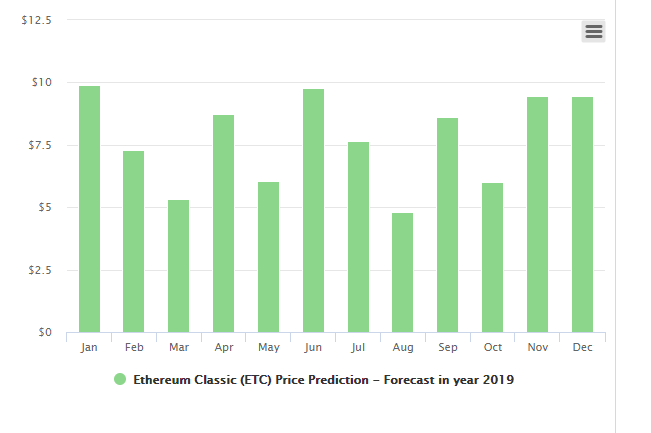 Source: DIgital COin
Market Opinion for Ethereum Price Prediction 2019
The market analysts and websites have mad their own Ethereum Classic price prediction for 2019. Let us examine what various websites have predicted about ETC price for this year.
Bein Crypto
The Bein Crypto crypto prediction website forecasted that ETC might increase in value 10X more than its current value by the end of the year, reaching $50.
Long Forecast
Long Forecast gave a bearish Ethereum Classic price prediction, stating that ETC might decrease to around $2, half of its current trading value.
Digital Coin Price
Digital Coin Price predicted that by the end of 2019, ETC might have a trading value of $9.47, which is pretty possible considering the coin's evolution so far.
Trading Beasts
Trading Beasts was more reserved in its predictions, expecting Ethereum classic to reach the maximum of $6.87, minimum price $4.67.
Wallet Investor
Wallet Investor went full bearish on their Ethereum Classic price prediction, expecting that Ethereum Classic might go down as low as in $0.272 towards the end of 2019.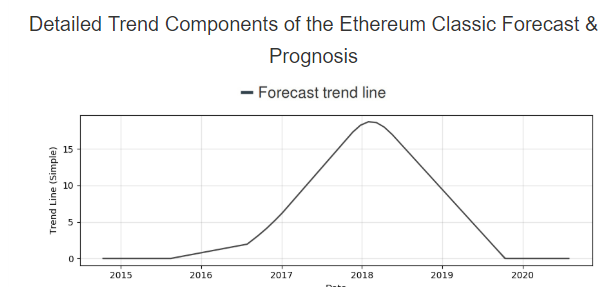 Source: walletinvestor
Coinpedia
The Coinpedia website forecasted that ETC might go up to $34.252 by the end of the year.
Coinswitch
Coinswitch based its prediction after it analyzed the development plans of ETC, expecting the coin to rise to $34.252 by the end of 2019.
Coinpredictor
Coinpredictor's event-based forecast algorithm came up with the following Ethereum Classic price prediction which saw ETC dropping with -2.4% reaching $5.83 by 10-12-2019.
"There's 1 pending occurrence that was valued while forming this Ethereum Classic forecast. The system has scanned 6887 global events that happened in the cryptocurrency world in the past to measure the correlation in price change connected with every event classification."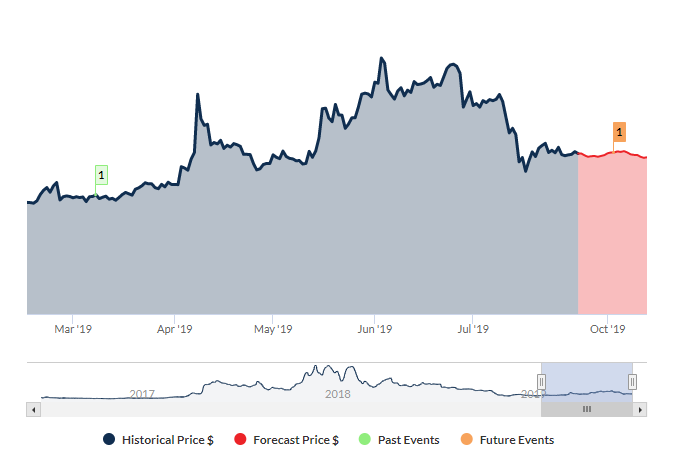 Source; Coin predictor
Their forecast was calculated based on the 30 past Ethereum Classic events.
CryptoNewz
Cryptonewz predicted that ETC might hit the $10 mark by the end of the month and maintain its value, and by the end of the year it might even reach $20.
tokenMantra
Token Mantra's Ethereum price prediction is also bearish, estimating that the coin will be trading at $0.0187 at the end of 2019 and not passing the $0.3 mark in 2020.
Verdict
When it comes to ETC's future trading price, the market sentiment is rather divided. Some are brutally bearish in their Ethereum classic price prediction, while others are buoyantly bullish.
It is true that Ethereum Classic does have many updates and upgrades in store for this year, which could increase the number of projects that partake in creating dapps on the network.
Featured Image: The Merkle Hash
source: https://coindoo.com/ethereum-classic-price-prediction-2019-what-price-will-etc-hit-this-year/
TheBitcoinNews.com is here for you 24/7 to keep you informed on everything crypto. Like what we do? Tip us some BAT

Send Tip now!