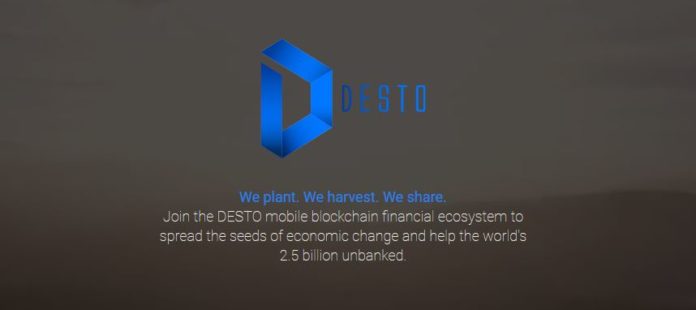 DESTO, the global mobile blockchain financial technology network, announces details of its end-to-end vision to widen financial access for 438 million unbanked people in Southeast Asia.
Wilmington, Delaware, April 13, 2018, DESTO has announced practical details of its extensive roadmap for bringing financial solutions to the 438 million unbanked individuals within Southeast Asia. It aims to deliver a new rubric using cryptocurrency, blockchain technology, and a carefully crafted network of agents on the ground to implement and execute a focused overhaul of economic behavior for a forgotten demographic of millions of people in need.
Having demonstrated that it is "not just another ICO," DESTO is poised to make actionable changes to the way people, within Southeast Asia, receive and send money — using blockchain technology.
The DESTO team shared its feelings about the current blockchain market today, describing this as "oversaturated with speculative investment products that exclude laypeople with confusing jargon and an over-focus on bombast and competition."
This statement acknowledges the widely held truth that cryptocurrency and blockchain hold a reputation for being inaccessible; a contributory factor to the surprisingly low market cap of cryptocurrency worldwide of around USD 300 billion. This is in stark contrast to the 2.5 billion unbanked across the world, representing a significant shortfall from the projected possible market cap of USD 5 or 10 trillion if those individuals were also extended access to participate within existing cryptocurrency and blockchain instruments.
On the subject of the 2.5 billion unbanked worldwide who are financially disenfranchised by traditional banking and economic options, as well as most blockchain offerings, a spokesperson for DESTO said:
"These people have a genuine need for accessible, alternative economic solutions. And yet they are ignored. DESTO will change this. We are here to give these individuals access to the infrastructure that they need and deserve. DESTO is not just another ICO, and our coin, DEO, is not just a cryptocurrency token for an ICO.  More valuably, DEO is also a vote for the people, by the people, and the families whose futures depend on DESTO bringing them blockchain in a way they can use, understand, and benefit from, in the simplest way possible."
The spokesperson elucidated further on the grassroots nature of financial problems in Southeast Asia, with reference to research and statistics:
"Poverty leads to economic migration, which in turn leads to "travelling incomes" as money moves. According to KPMG, in 2016, a mere 27% of Southeast Asia's population had access to a bank account. This is incongruous, given the high population of foreign workers within the region sending remittances home in between countries. For example, in Malaysia alone, the total remittance volume sent home by foreign workers in 2015 was RM 34.75 billion (USD 8.9 billion). In Bangladesh, in 2016, the number of migrant workers abroad reached 8 million people, with recorded remittances falling as banks fail to provide financial services to this growing populace across Southeast Asia. The money is there; the demand to send and receive it is there, and the need is higher than ever. But still — where is the technology and basic financial services infrastructure to send and receive this money?"
With the lion's share of money transfer services being undertaken by expensive international wire companies, DESTO asserts that the lack of basic financial services in developing countries is a serious barrier to overcoming poverty for the nearly half a billion within Southeast Asia who cannot borrow, save or send money through traditional banking services.
"DESTO has raised two crucial questions: The first, how can we fill this lacuna and improve the options for these people whose families depend on receiving these monies cross border, without access to banks? The second, how can DESTO apply blockchain technology to solve these grassroots financial problems?"
The answers to these questions lay firmly within the DESTO network, its accomplishments, capabilities and technological robustness. DESTO has developed its own in-house blockchain, with support for instant DEO transactions, ultra-high-security and Quark's SHA-3. It has end-to-end solutions in the form of its P2P mobile app, DESTO PAY, its coin DEO, and boasts advanced technical expert teams in Southeast Asia, Poland and Belarus, and crucial local partnerships and knowledge of Southeast Asia as its first target market.
With a diverse, international and technologically skilled team of specialists with years of combined high-tech industries expertise, DESTO's accomplished advisory team also have local and international experience to reach out to merchants and obtain the necessary banking licenses to maximize the coverage of its network and extend the full raft of services to the Southeast Asian market.
The strength of the DESTO network also stretches to Europe, Australia, and beyond. The team envisions extending the DEO offerings to reach as many of the world's 2.5 billion unbanked as possible, marking the dawn of a new era.
On the topic of the evolution of blockchain and what differentiates DESTO from the thousands of ICOs currently operating, the statement added:
"Blockchain has been around for a number of years now, and so has the problem of the world's underbanked having limited access to financial instruments to improve their quality of life. DESTO thanks the early pioneers of blockchain for their inspiration and giving us motivation to make a true change. But blockchain alone is just a portion of the DESTO model. DESTO and our coin, DEO, were built to operate not only as a decentralized cryptocurrency, but within a wider financial ecosystem consisting of a full network that completely integrates into the daily life of the average person who needs to send and receive money without banks."
DESTO will have its first beta version of the DESTO PAY P2P app towards the end of April, before pre-ICO. This is a testament to the commitment DESTO has to solving the access issues of the unbanked in Southeast Asia; it will begin with solving the challenging problem, by providing these people with mobile blockchain products first and foremost as its main focus.
To join the movement and help the world's unbanked in the simplest way possible, visit:
https://desto.io and join the Telegram group to find out more.
Like us on Facebook here.
Check-out our YouTube Channel here.
Media Contact:
Desto Blockchain LLC
Attn: Media Relations
913 N Market Street, Suite 200,
Wilmington, DE 19801
Phone: (302) 884-7669, Fax: (302) 884-7668
Citizens of the USA are not permitted to participate in this ICO.
Press Release Writing and Distribution by professionals for the Cryptocurrency industry. Steve Stanley, has written thousands of Press Releases and countless Articles spanning every industry and niche. It is easy to find his work on Google News and hundreds of other news outlets. There is no doubt that he is one of the only experts in his field when it comes to I.C.O: You can learn more about him and his services at http://ico-prmarketingservices.com