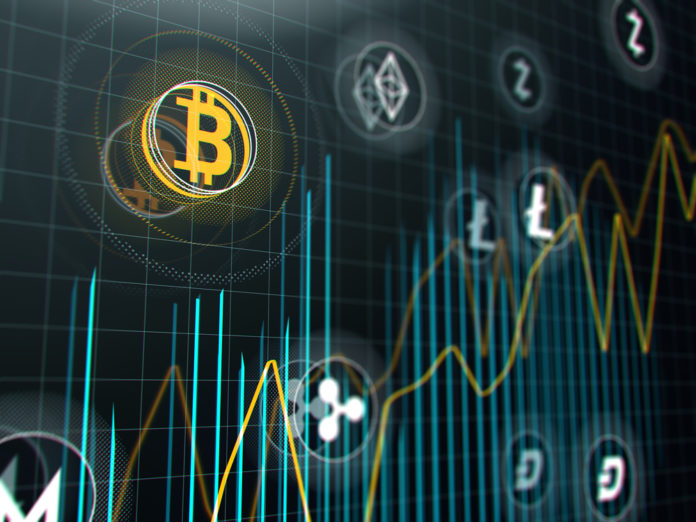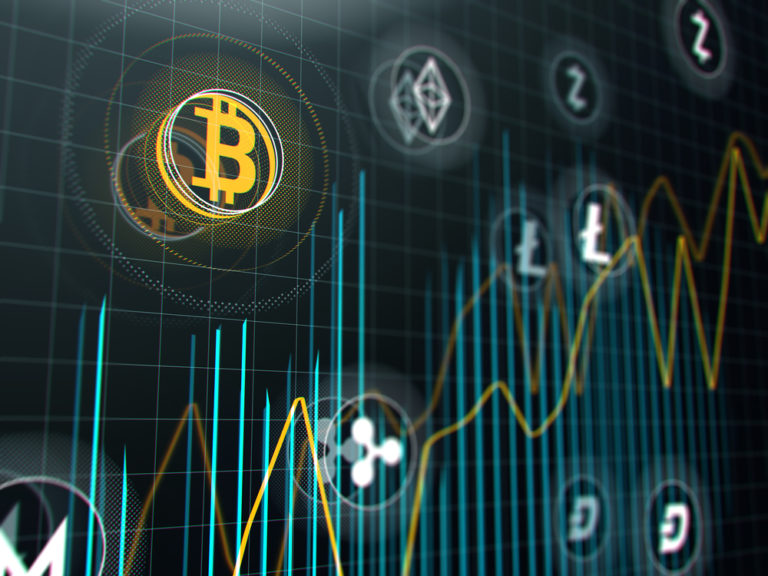 Manned flight has been a staple of modern transport and logistics for over half a century — but not without problems. Our current infrastructure for transporting people and goods in the skies has become strained with the rising demands of the globalized economy.
DEEP AERO is developing a foundation for a new type of infrastructure: a drone-based ecosystem, complete with an air traffic control platform, a drone marketplace for on-demand logistics and transport, and more — all securely stored and transacted on DEEP AERO's blockchain.
Here's how it works.
DEEP AERO's Vision
The rising globalized economy can no longer be dependent upon antiquated methods and technology that was designed for the 20th century. The skyrocketing demand for global commerce and travel is limited by our capacity to transport goods and people in a timely, cost-effective way.
Ishmeet Singh, Advisor to DEEP AERO, says,
"Historically, logistics have decided the fate of wars and today, logistics decide the fate of corporations across the globe. It is imperative to design solutions that can overcome the challenges being faced presently. Some of these challenges relate to rapid population growth resulting in congestion in cities leading to reduced mobility caused by traffic situations. Flight and logistics is the next frontier that must be explored to stay commercially viable in the times to come. DEEP AERO envisions commercialized drone fleets capable of extraordinary feats."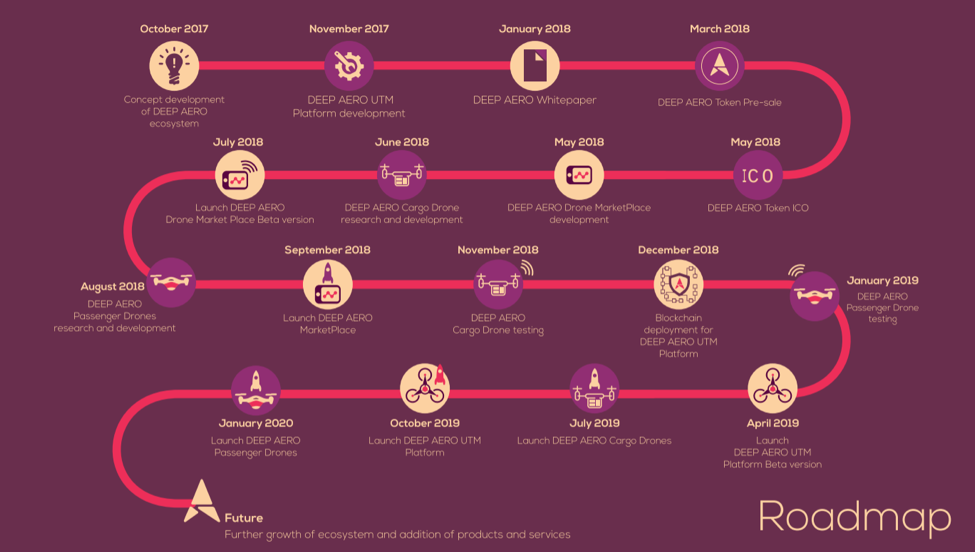 The solution is a fully decentralized drone economy powered by today's most disruptive and promising technologies: artificial intelligence, blockchain, and unmanned drones.
DEEP AERO's drone economy will be a fully-compliant rules-based air traffic platform (UTM) that will incorporate the very best drones for logistics and transport — all of which will be made available on-demand to the public and private sector.
DEEP AERO's drone traffic management platform (DRONE-UTM) will act as a secure and automated platform for managing drone traffic and aviation safety.
DEEP AERO's Passenger drones will serve as a new medium of transport, freeing people and businesses from the waste and inefficiencies of today's overcrowded highways.
The DRONE-MP, DEEP AERO's marketplace will administer the supply and demand of DEEP AERO's drone fleets to meet the demands of customers using DRONE tokens.
The Unmanned Air Traffic Management Platform
In order to maintain and manage a fully-functional and on-demand drone economy, there is a need for an effective air traffic control system that can handle thousands, and potentially, millions of drones simultaneously.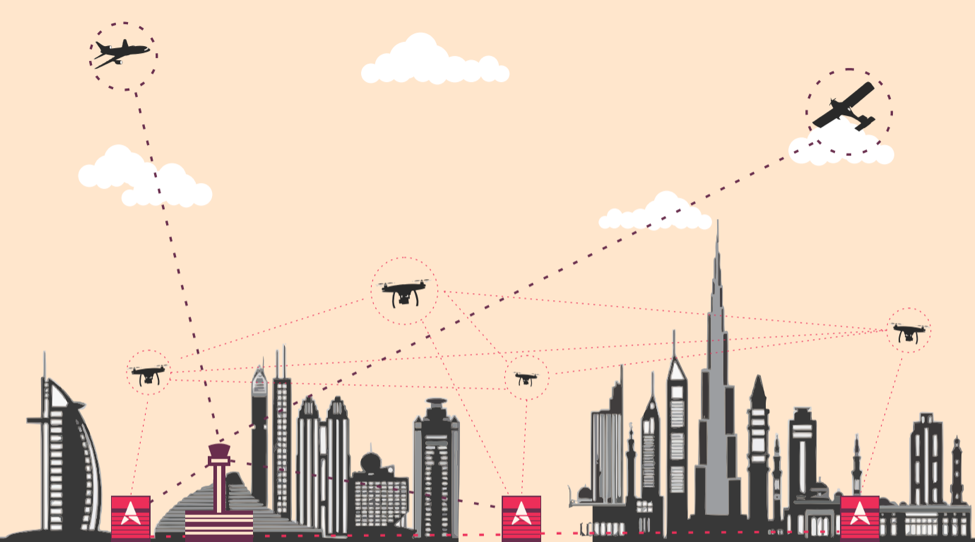 One of the biggest challenges today, according to DEEP AERO's whitepaper is that,
"At present there is no system to manage unmanned air traffic. Current airspace management and air traffic flow management systems don't have the capabilities to handle the type of operations relevant to drones."
DEEP AERO's Unmanned Air Traffic Management Platform is a cutting-edge aviation control system that will be:
Decentralized
Intelligent
Self-aware
Autonomous
The purpose of DEEP AERO's UTM system is to ensure the safety of unmanned and manned flights in a shared space. This UTM system will be based upon stationary and mobile platforms that will have global geographic coverage.
DEEP AERO is using Deep Chain UAS to register and secure all necessary UTM data on the blockchain. The Deep Chain UAS systems include:
Registration
Identity
Information
Flight Planning
Authorization
Geo-Fencing
Conflict Management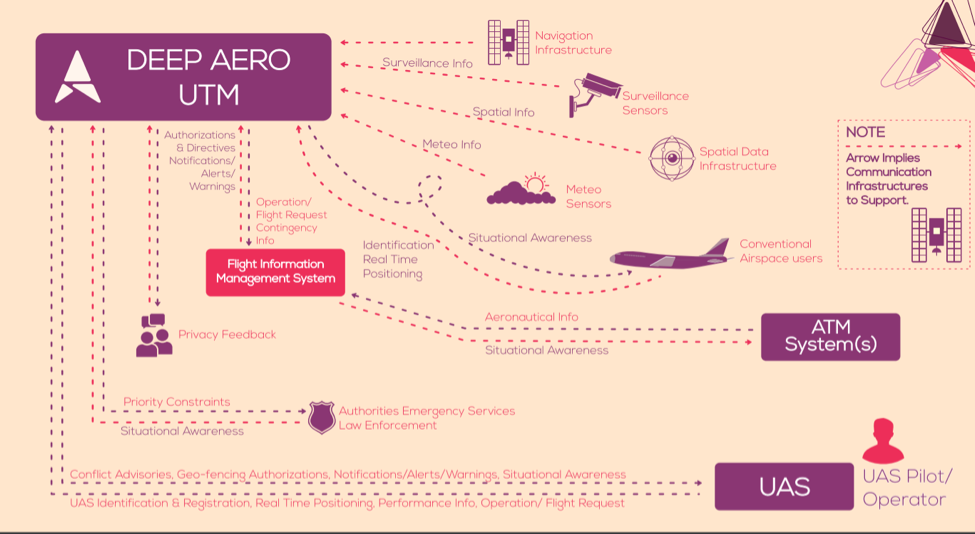 All of these systems, from drone registration to flight authorization, are to be put in place to ensure a fully-functioning air traffic management system that enables a seamless use of the DEEP AERO's drone economy.
Ishmeet Singh says,
"Any new and innovative technology when first introduced into the fabric of existing ideas seems disruptive. UAVs, AI, and blockchain are the necessities of present times. They represent the next logical steps towards growth in their respective domains. DEEP AERO will integrate AI and blockchain technology synergistically to revolutionize unmanned flight sector. Research and development of a cutting-edge Unmanned Aircraft System Traffic Management (UTM) for UAVs is underway."
Transport and Passenger Drone Fleet
Tomorrow's aviation economy is going to become less and less dependent on human pilots. As demand for transport and travel increases, unmanned flight will become all the more necessary to meet these demands while removing pilot error and waste.
Ishmeet Singh says,
"According to the Economist, 2 million recreational drones and 110,000 drones for commercial use were sold in 2016. These numbers are expected to increase exponentially in the coming years. A well-designed UTM will be quintessential to these drones in the civilian sector taking flight for their intended purpose very shortly. DEEP AERO is excited about the endless possibilities this UTM will unlock."
DEEP AERO is working with leading drone manufacturers to create two separate drone fleets:
Passenger Drones
Cargo Drones
DEEP AERO's Passenger drones will use Vertical Liftoff and Landing (VTOL) technology to enable the rapid transport of people. Passenger Drones will be used in cities and crowded urban environments to relieve congestion and traffic on today's busy roads.

A DEEP AERO Taxi Service is also in the works to serve as an Uber-like on-demand service for passenger transport.
DEEP AERO's Cargo Drones will be used for speedy delivery of packaged goods. Cargo drones will also relieve congested roads as demand for faster logistics and ecommerce delivery continues to rise. Consumers and businesses will be able to employ these drones on an on-demand basis using the Drone Marketplace.

The DEEP AERO Drone Marketplace
DRONE-MP, DEEP AERO's Drone Marketplace will act as an easy-to-use interface between DEEP AERO and customers to facilitate drone services for a wide number of use cases. The marketplace will be fully digital and decentralized and enable people to:
Rent Passenger and Cargo Drones
Buy Passenger and Cargo Drones
Buy and sell drone components
Exchange drone services
Buying, selling, and exchanging goods and services on the Drone Marketplace will be based upon the digital currency of DRONE tokens.
Let's take a quick look at some of the use cases for DEEP AERO's drone economy.
The Many Use Cases of a Drone Economy
Today's system of transport and logistics is plagued by human error, wasteful spending, and general inefficiencies inherent in a 20th-century system. DEEP AERO's drone economy will bring this system into the 21st century using cutting edge technology.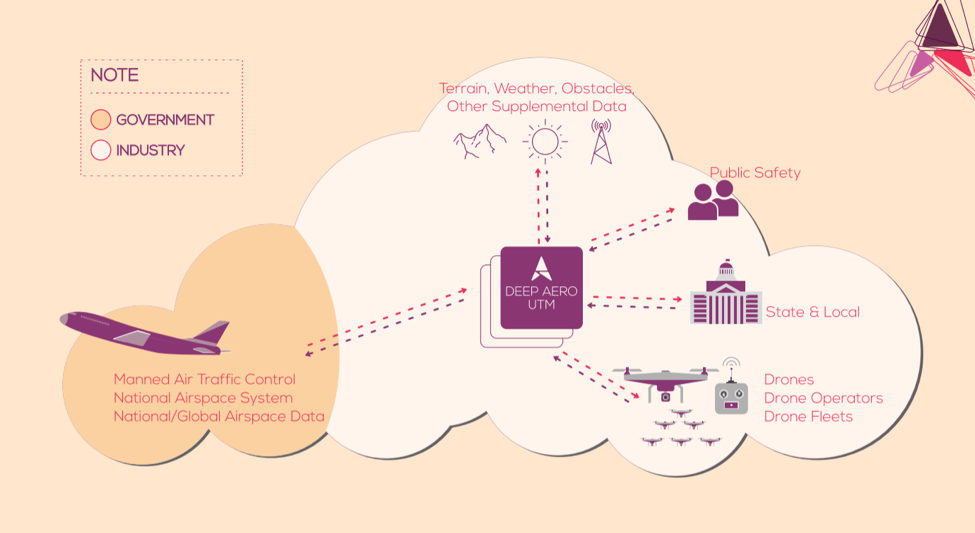 Here are some of the use cases for a drone economy:
Delivery of goods
Security and surveillance
Agriculture
Data collection
Emergency response
Construction
Drone taxis
Urban air transport
Hazardous material assessment
Infrastructure inspection and claim handling
These sum up some of the major use cases for a fully autonomous drone economy. You'll notice that there are many different sectors of the general economy that are ripe for revolution with the use of drones, blockchain, and artificial intelligence.
Ishmeet Singh says,
"The applications for drones are endless. DEEP AERO envisions them as rapid, reliable on-demand taxi fleets capable of vertical take-off and landing (VTOL) to travel within cities. This will reduce the travel time significantly by avoiding traffic congestion. In fact, DEEP AERO is collaborating closely with leading manufacturers like Volocopter, eHANG, Workhorse and Autonomous Passenger Drone to launch a drone taxi fleet on its marketplace."
DEEP AERO's ICO
For those wanting to get involved in DEEP AERO's project to revolutionize the transport and logistics economy, there's currently a public token sale underway that will last until June 1st.
Here are some of the details:
1 DRONE token = Approx $.05 USD
Total supply: 5b DRONE (5,000,000,000) tokens
ICO supply: 50% = 2.5b DRONE tokens
Founder supply: 25% = 1.25b DRONE tokens
Advisors: 10% = 500m DRONE tokens
Marketing: 5% 250m DRONE tokens
DEEP AERO is also offering bonus tokens for those that meet minimum contribution thresholds, which can be viewed on their ICO website.
As always, do your own diligence and research before investing. If you want to learn more about DEEP AERO, check out the following links below.
DEEP AERO Homepage: https://www.deepaero.com/
White Paper: https://www.deepaero.com/docs/DEEP-AERO-White-paper.pdf
Token Sale Document: https://www.deepaero.com/docs/DEEP-AERO-Drone-Token-Sale-Document.pdf
Disclaimer: This article should not be taken as, and is not intended to provide, investment advice. Global Coin Report and/or its affiliates, employees, writers, and subcontractors are cryptocurrency investors and from time to time may or may not have holdings in some of the coins or tokens they cover. Please conduct your own thorough research before investing in any cryptocurrency and read our full disclaimer.
The post How DEEP AERO's Autonomous, Drone-powered Logistics and Transport Economy Works appeared first on Global Coin Report.
Globalcoinreport.com/ is author of this content, TheBitcoinNews.com is is not responsible for the content of external sites.