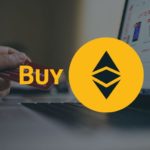 Ethereum is one of the most popular and most exchanged cryptos on the market. In today's guide, we will be explaining how you can buy Ethereum with your credit card.
Buy Ethereum with Coinbase
Coinbase is one of the top exchanges in the crypto world, which also supports Ethereum purchases via card.
To buy Ethereum, you first have to register for an account on Coinbase. You will also be required to provide your ID for KYC and AML purposes. After your confirmation, you will be able to select your deposit method, which in our case will be through credit or debit card.
After this, Coinbase will verify your credit or debit card by sending two small test payments and, after this, you will be able to buy Ethereum with your credit card.
The process of buying ETH from here is like with any other crypto; you enter the sum you want to buy and select "Card" as your payment option. After the process is completed you should have Ethereum credited to your account in just a few minutes.
Coinbase has a 3.99% fee applied to all credit and debit card purchases.
Step-by-step Instructions:
Go to Coinbase site and click on "Sign up";
Provide your name and email;
Select a credit card as a payment option;
Upload picture of your passport, ID or driver's license;
Access the "Buy/Sell" tab and select how much Ethereum you want to buy;
Click "buy."
Buy Ethereum with CEX.io
CEX is another well-established crypto exchange that offers users the possibility to buy Ethereum with credit cards. The service has a user-friendly interface in both desktop and mobile form and is available to users from across many nations, including some US states.
The company has both a brokerage service (buy directly from the exchange) and a trading platform (appropriate for more advanced users), but on the former, the fees will seem higher as they are already incorporated into the exchange rate, while on the trading platform you will have better exchange rates.
After you have registered and confirmed your ID on CEX, select your credit card as your payment option. CEX can take up to 48 hours to verify your credit card, and after that, you can purchase Ethereum right away. To confirm your card, you will have to provide a selfie with the card, but you have to be careful to provide an adequate one, or you will have to take another one.
CEX applies a fee of 3.5% + $0.25/£0.20 expenses for credit card deposits at a rate of $3.80/£2.90 for card withdrawals (in addition to 1.2% for Credit card withdrawals). Keep in mind that CEX also has a 7% administration expense that is added to the exchange rate of Ethereum offered on the site. You will have to pay attention, so the fees don't add up to more than you can afford.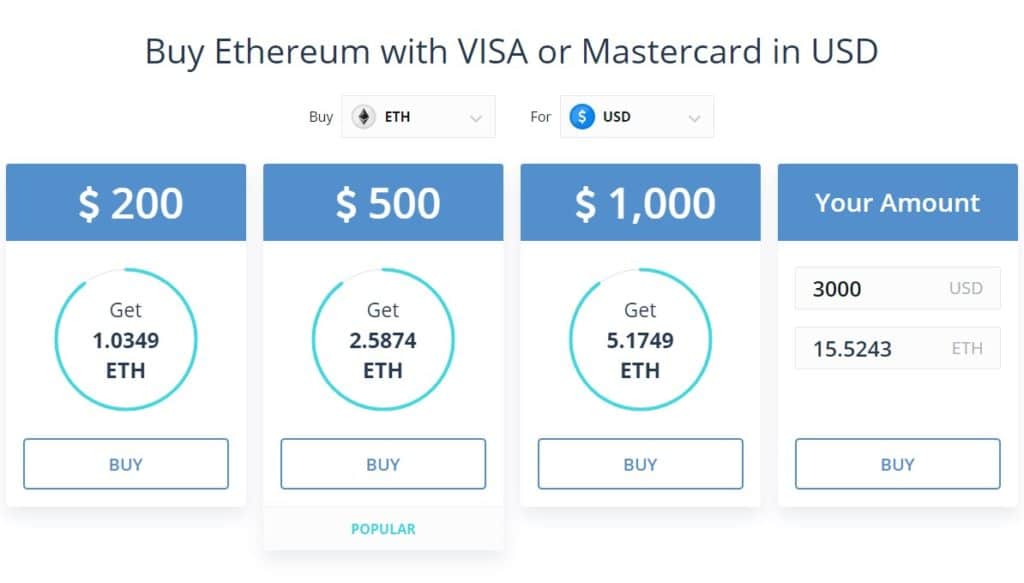 Step-by-step Instructions:
Go to CEX.io and open an account;
Select the credit card payment method;
Provide your card information;
Upload 2 photos to verify your identity: a selfie with your bank card and a photo of your bank card and ID;
Go to "Buy/Sell" and click on Ethereum;
Select the amount of ETH you want to buy;
Click buy.
Buy Ethereum with eToro
eToro is a crypto exchange that allows for easy purchases. You can buy Ethereum with your credit card in just a few minutes, as the signup process on eToro is easy and quick. Users that reside in the United States are not able to use the platform, so check first if your country is supported by the service.
To be able to trade on eToro you will have to complete the short Know Your Customer (KYC) and anti-money laundering (AML) requirements. You will have to provide a few documents that confirm your identity. Ether deposits via credit card without completing KYC and AML are possible, but when you will be required to prove your identity upon withdrawal.
When trading, you can also set up limits such as "stop losses" and "take profit", which enable you to stipulate at which value should the trade close.
eToro does not charge users any fees when they buy Ethereum with a credit card.
Step-by-step Instructions:
Go to the eToro page and Sign up for an account;
Deposit your funds with your credit card by going to the button on the left side of the screen;
Select how much you want to deposit and in what currency;
After your deposit has been made, you will have the funds credit to your account in an instant;
Select how much you want to spend and click "open trade" at the bottom;
Select how much ETH you want to buy;
Buy ETH.
Withdraw Your Ethereum to Your Wallet
Make sure that after you buy Ethereum with your credit card to immediately relocate the funds to your own wallet. Leaving the coins on your exchange wallet makes them vulnerable to hacks, or you may lose them if the exchange suddenly shuts down.
You will have to send your tokens to your Ethereum wallet address. There are multiple types of wallets that support Ethereum, be it desktop, mobile, hardware, etc. To find out more about Ethereum wallets, check out our article here. Your address looks like a long string of letters and numbers that you can generate from your Ethereum wallet.
Withdrawing Ethereum
Go to your exchange account and go to the Withdraw section;
Select the wallet that you will be withdrawing from (in this case your ETH wallet);
Select to withdrawal to your crypto wallet;
Provide ETH wallet address;
Enter the amount you would like to withdrawal (preferably the entire amount);
Click the withdraw button;
Wait for funds to be credited to your wallet.
Conclusion
This has been our guide on how to buy Ethereum with a credit card. It is not necessary that you use our suggested exchanges to buy ETH, but the overall process is the same if you should choose other trading platforms.
Featured image: congtienao.com