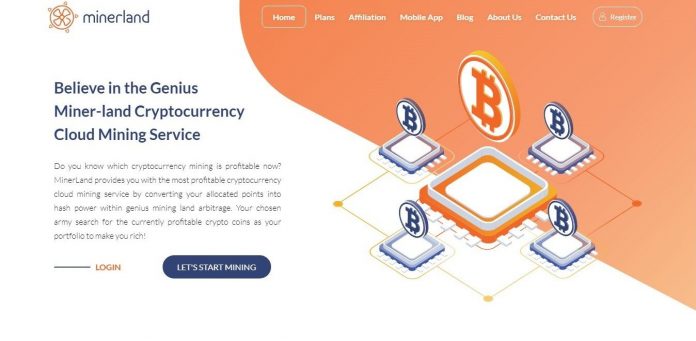 The most profitable method for making passive income through BTC and other cryptocurrencies is crypto mining. Bitcoin cloud mining is a much more secure method for investing in cryptocurrency. You can gain stable passive income from Cloud mining as an investment option. Mining uses the computing power of hardware devices to solve complex mathematical problems. The crypto miners also use the "proof of work" algorithm to validate the transaction to indicate the solution.
Cryptocurrency is moving to a higher position like fiat currencies. Also, the progress of cryptocurrency as a platform for other complicated monetary products has been quite extremely impressive. With these options, the chances for investment come. However, the unpredictable nature of cryptocurrencies means that investing and making a profit in cryptocurrency is an issue that changes rapidly.
An example of this is that the value of Bitcoin in the fall of 2017 was around $ 7,000 and then reached its highest level of $ 20K just by the end of 2017. So for those who invested $ 7, it had a 300% ROI.
Then, in early 2018, cryptocurrencies began to fall, and the price of BTC fell below $ 6,000. So this is a loss-making investment for investors who bought for $ 20.
You should know that not all cryptocurrency investments are "high risk, high profit", but there is a way to earn a steady and passive income, and that is to participate in cloud mining.
You can choose Minerland cloud mining as a safe investment way to invest in cryptocurrencies and earn a fixed passive income.
What are the types of cloud currency mining systems?
Mining is the computational process that generates as many bitcoins or other altcoins as possible, such as Ethereum and Litecoin. When complex calculations in blockchain algorithms to create a block are completed, the miners who succeed in confirming the work of block production before others by the algorithm will be rewarded with these coins.
Of course, as cryptocurrencies increase in value, the computational process of creating them also becomes more difficult. Because the energy and computing power that is required performing mining will be very high. Soon stable mining operation is going out from solo mining mode. It will go beyond individual effort, especially for those who have been mining it as one of the many ways to earn an income.
By participating in cryptocurrency loud mining systems you earn almost all of the company's mining profit based on how long your contract lasts with them. You are probably at risk if the company does not disclose its work and the profitability of the partnership. In this case, your capital in the digital market will be at risk. So try to use well-known companies like Minerland Company.
What kind of contract in Cloud Mining is in the customer's favor?
When you sign a contract with a cloud mining company, you should be aware of the maintenance costs because the contract can only be active as long as it can pay the maintenance fees. It is quite logical that when the daily payment is not higher than the maintenance cost, there is nothing left as a benefit for the subscriber. In some cloud miners, the subscriber's contract and the company are canceled if the fee is not paid for two consecutive months. In general, such cases are written in the contract and the subscriber accepts the contract by knowing it.
However, Minerland believes that the contract must be for at least one year for its profitability to be certain. The real Mining profitability cannot be calculated before the end of a year. In some transactions, it has been seen that the joint capital has tripled in just one year. If you only buy Bitcoin directly, it will make a good profit from raising its price over a year, but it must be said that for a Cloud mining investment to be more profitable than buying Bitcoin, the Minerland contract must remain in operation for only one year. For this reason, a contract of less than one year cannot be a logical method.
Minerland cloud mining utilizes mining through various algorithms such as SHA-256, Ethash, and Scrypt algorithms. So customers could have an interest in a wide range of cryptocurrencies. However, customers do not need to have cryptocurrency mining facilities. Bitcoin and some altcoins use the SHA-256 algorithm. Ethereum and the tokens which are created through Ethereum networks use Ethash. Scrypt algorithm is an alternative Proof of Work Consensus. Litecoin was the first coin that uses this algorithm.
Why is participating in cloud mining a way to earn passive income?
The main reasons for earning passive income are as follows:
· It's an easy way to invest. Anyone who wants to earn a passive income should not have to worry about buying expensive equipment and have to spend a lot of time managing and monitoring the data center in the mining project.
· By participating in cloud mining, the company will accept all the time-consuming hard work that you have to do. You only share your capital and use the services of cloud mining sites. That means you make a lot of money through your capital.
· Cloud mining subscriptions are easy to use for both crypto fans and non-technical smart people. Cloud mining subscribers no longer have to worry about working with technical equipment, renting space, and environmental difficulties.
· Besides, even a non-technical educated person who knows nothing about Blockchain algorithms but is interested in passive income can earn money by subscribing to cloud mining services supported by several cryptocurrency mining sites.
· There are several flexible investment options in cloud mining. Minerland Cloud Mining Investment Service offers you choices about which cryptocurrencies are more profitable to invest in. Subscribers can choose Bitcoin, Ethereum, and Litecoin, or even decide to split their portfolio. So you have the opportunity to not putting all your eggs in one basket.
· Because Cloud Mining Investment contracts of Minerland are binding, users feel more secure. Cloud Mining Investment contracts feel safe for both the savvy investor and the non-tech savvy. Because it makes them the least risky to invest in buying hashing power at different rates.
How Much Money Can a Customer Make Through Minerland Cloud Mining?
If we use the statistics from BlockchainInfo.Org, we found that about 1,800 bitcoins are mined daily. If we assume that 1 bitcoin is about $ 35,000, by multiplying these two numbers, we see that the daily efficiency of bitcoin mining will be $ 63,000,000.
Now if you calculate your profit using a cloud mining operating system, you will come to this conclusion. Suppose you buy an annual contract for 75 TH and invest $ 3,500. You must first pay all operating costs. After settling your account, you will see that you have got more than 1.7 bitcoins passively.
What is the wisest way to invest in crypto?
As mentioned, there are many ways to choose to make money from cryptocurrencies. Most of them are "high risk, high reward". Just as one can make a high profit at the top of a peak, one can also reach the lowest profit level.
However, it is recommended that you use the services of cloud mining companies like Minerland. If you are pursuing a legal source of fixed and passive income by expending money to achieve a profit in cryptocurrencies, then Minerland is a leading cloud mining company. Minerland wants to help people who do not have extra time for other work. So they can earn a steady and passive income in absentia by partnering with cryptocurrency mining without doing any extra work.
What are the services that cloud mining offers?
Many companies offer mining activities for Bitcoin and other cryptocurrencies. They are distributed in different countries of the world. The companies that provide cloud mining services are third parties affiliated with mining companies.
The cloud mining service companies like Minerland lease part of the processing power of devices from mining companies to users for a certain amount of money. Some of them also charge a fee for Repair and maintenance.
Ordinary people who are customers buy some of their mining capacities and receive their income from this mining service without any hassle.
What are the benefits of Cloud Mining in Minerland?
You can easily subscribe to cloud mining packages in Minerland. Minerland offers various methods for its subscribers to make you interested in investing in crypto. All you need to do is invest at least USD 15.99 or 50 Points to rent a mining device and get good efficiency. With a $ 15.99 investment in the Soldier plan, your reward will be calculated with one day of contract time. Minerland offers other mining plans with contracts for different periods and various rewards. The other plans are Major with 69.99 USD or 200 Points, Captain with 599.9 USD or 2,000 Points, and Lord with 2,499 USD or 8,000 Points.
More investments for longer periods will lead to more rewards. For more information on the various Minerland plans, visit Miner-land.com. On the website, you can check mining plans and start earning passive income from cloud mining.
How do affiliate programs work in Minerland?
Everyone wants to have extra income in addition to their daily activities. Some Crypto Minerland programs offer points to their subscribers in appreciation. If a subscriber attracts more users to the Minerland platform, he will get points. This includes points and discounts for new users who have been introduced to the Minerland system by you.
If you use social media, you can attract more users to Minerland, so affiliate programs can be the best way to increase your passive income. Those interested in earning passive income can join the Minerland affiliate program. You will be rewarded when you introduce Minerland to others.
What are the risks of making passive income through cloud mining?
· If you buy low-quality coins, you are risking your investment. Rates of return that are artificially or misleading can encourage investors to buy assets that have very little value. Some profiteering networks use a system with several different tokens in which bonuses are paid in low-ranking currencies. This makes the user constantly want to sell their reward tokens.
· If you do not have enough knowledge about cryptocurrency performance, you run the risk. Because Blockchain technology is still evolving, managing and maintaining cryptocurrencies as revenue sources requires sufficient technical expertise and research. For some users, the best way is to wait for the service to become more user-friendly, or just to use it requires minimum technical competence.
· If you have to lock your capital, you run the risk of losing it. Some methods of getting a loan or concluding a contract force you to lock your capital for a certain period. This prevents you from owning your liquidity at that time. So your risk is higher in the face of any event that damages your capital.
Why can Minerland be the best choice for passive income?
When you decide to join Minerland, be sure that you have chosen a good way to make money with a genius cloud mining service provider. If you do not have enough capital or time, you can easily use MinerLand as a passive source of income because of your job.
You can become a Bitcoin miner just by filling out a membership form, choosing an investment plan, and paying the desired investment amount. With the advanced user interface, you can easily control your BTC amount of mining. Also, you can transfer your income which is paid in BTC to your Bitcoin wallet every day.
The MinerLand platform interface has an app that alerts you to crypto fluctuations so you can control the value of your money. Also, if you use the cryptocurrency affiliate program, an additional income will be added to your Bitcoin wallet for free. The more users you encourage to use MinerLand, the more points you get in the system.
The points you earn are transferable in bitcoin cloud mining packages. Full information is available at https://miner-land.com/.
TheBitcoinNews.com – Bitcoin News source since June 2011 –
Virtual currency is not legal tender, is not backed by the government, and accounts and value balances are not subject to consumer protections. TheBitcoinNews.com holds several Cryptocurrencies, and this information does NOT constitute investment advice or an offer to invest.
Everything on this website can be seen as Advertisment and most comes from Press Releases, TheBitcoinNews.com is is not responsible for any of the content of or from external sites and feeds. Sponsored posts are always flagged as this, guest posts, guest articles and PRs are most time but NOT always flagged as this. Expert opinions and Price predictions are not supported by us and comes up from 3th part websites.
Advertise with us : Advertise