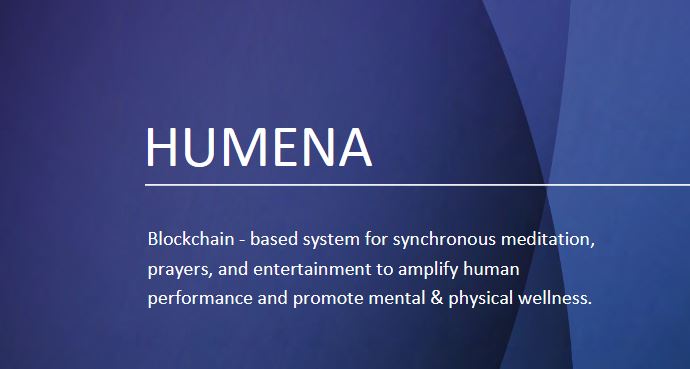 The time is fast approaching for the launch of the most highly anticipated ICO of 2018. HUMENA Club introduces the HUMENA platform to promote synchronous meditation, prayer, and entertainment to amplify human performance and promote mental & physical wellness.
Herndon, VA – May 30th 2018, HUMENA Club made headlines once again this week with the announcement that they will be integrating their Patent-Pending technology, known as IFCC (InForce Crypto Circle) into the HUMENA platform. This new Patent-Pending technology is owned by HUMENA and is used to organize the "Seller-Buyer Servicer" IT infrastructure environment (Crypto Ecosystem) and run it with superfast private blockchain and Crypto tokens.
HUMENA is a Blockchain enabled platform for synchronous meditation and prayer to amplify human performance and promote psychological & bodily wellness. HUMENA is also an enabling service company for a large assortment of corporations and religious teams who have millions of followers. Last month, HUMENA Group through its subsidiary, HUMENA Club (Nevis) made International headlines with the launch of their highly anticipated ICO Pre-Sale backed by a revolutionary platform that promotes unity, meditation and prayer. It is expected that the millions of users of the HUMENA (Astrals) tokens will make it one of the most widely accepted cryptocurrencies for normal business transactions.
In HUMENA's platform, Astral Tokens are designed as a pure Utility Token – Utility Tokens can quickly be made use of in the HUMENA ecosystem to obtain expert services and goods and to help enable donations into non-earnings participant corporations.  Because meditation and prayer are critical to millions of people today all over the planet, the potential market served by the Tokens numbers in the tens of millions.
Though most ICO's promote tokens and often neglect their members afterward, HUMENA has launched a flexible method to buy back tokens to "feed" their ecosystem. Millions of utility token end users who are not using crypto currencies yet, constitute a large addressable, repeatable and predictable marketplace which will demand the constant buyback of tokens.
Because InForce Crypto Circle enabled platforms will ensure privacy, be transparent and incorporate blockchain and smart contracts, it can be more favorable to potential government oversight. It will also be more stable than Fiat currency and can also be used by ICO platforms as a practical crypto hedging agent.
Other Key Features of the InForce Crypto Circle include:
Perfect for meditation prayer and entertainment
Excellent for donations for not-for-profits and charities
Easy to setup and maintain number of Projects
Boosts efficiencies of corresponding businesses functions of platforms (i.e. trading, merchandising, and logistics)
Common Crypto Escrow Server & Fiat Escrow Services
Common Fiat to Fiat services
Common Apps Upload Service
Light-speed fast Astral Tokens crypto transactions inside in Crypto Circle
HUMENA Club has also just released a video that be viewed by clicking here or by following this link: https://youtu.be/bVVRb2inRPs
The Pre-ICO starts May 31st. To learn more about the HUMENA ICO or to get involved, visit their official website at https://www.humena.club. Participants interested in joining the HUMENA ICO are advised to act quickly to receive tokens at the discounted price. Once Pre-Sale has closed token prices are expected to rise significantly.
Media Contact:
HUMENA Group (Management company for HUMENA Club)
Attn: Media Relations
Herndon, Virginia
(703) 788-6871
[email protected]
Press Release Writing and Distribution by professionals for the Cryptocurrency industry. Steve Stanley, has written thousands of Press Releases and countless Articles spanning every industry and niche. It is easy to find his work on Google News and hundreds of other news outlets. There is no doubt that he is one of the only experts in his field when it comes to I.C.O: You can learn more about him and his services at http://ico-prmarketingservices.com