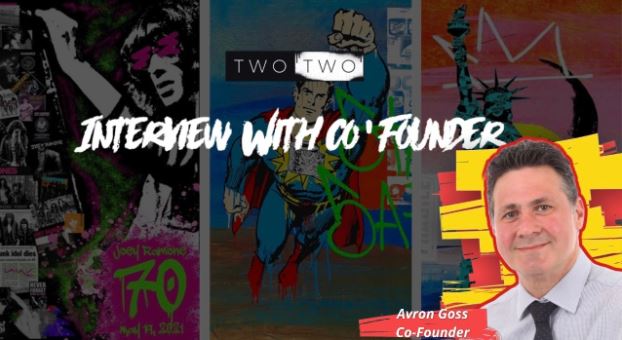 The concept of NFTs (non-fungible tokens) causing an explosion in the art world is of course not surprising for pundits who have been following the evolution of NFTs since Crypto Kitties. The opportunities that NFT technology can provide is core to why there is so much interest.
TWO TWO is an extreme art gallery that has jumped on the NFT bandwagon in a big way and we have here with us the co-founder Avron Goss who will give us more details of how TWO TWO is navigating art and technology in this new digital art frontier.
Q. Please introduce yourself and what you do at TWO TWO.
My name is Avron Goss and I am one of the co-founders of TWO TWO along with Steven Meistrich and Stacey Maites. I have spent my career building successful businesses globally. I attribute my success to my determined and steadfast nature combined with my process and deliverable oriented approach which I developed while studying Biomedical Engineering and then through the early part of my career in Accenture. Success of a company always comes down to ensuring the community gets a product that they want and need. At TWO TWO my primary focus is to build the platform, processes and team to deliver a thriving token economy. My co-founders are focussed on building a global network of galleries and acquitting world class established and emerging artists for the galleries. We are all passionate about what we do and work well together. I have known and worked with Steven for over 25 years now and Steven has known Stacey for even longer.
Q. Can you describe what TWO TWO is about?
For far too long the art market has been controlled by the elite. Galleries and auction houses control which artists are brought to market and, typically, each gallery works with a small select group of high net worth individuals who receive preferential treatment. When you consider that 82% of art sales are made in the US, China and the UK and that most galleries serve about 75 core customers it is not hard to see that the majority of the world are cut off from access to art.
"At TWO TWO we bring a collection of progressive street, urban and graffiti works seldom seen in galleries, let alone as a single exhibit."
– Stacey Maites, Co-Founder TWO TWO
There have been a number of attempts in the past to break this, going all the way back to the Salon des Refuses of 1863 which displayed the works of Gustave Courbet, Edouard Manet, Camille Pissarro and Johan Jongkind; all of whose works had been rejected for display by the Parisian galleries because they did not meet the taste requirements of Emperor Napoleon III. Fast forward 150 years and we now have the blockchain, a technology that truly enables the removal of intermediaries. Combine this with NFTs and DeFi and this has profound implications for art.
TWO TWO enables a global community to be the gallery and to find and enable the next Banksy. Talent is no-longer confined to the hallowed and dusty halls of well-known auction houses where only a select few get a seat.
As a gallery, TWO TWO sets out to blur the distinction between real and virtual art and its vision goes beyond that. We are now able to blur the boundaries between the art enthusiasts and the artists too.
Q. Can you explain how the TWO TWO token (X22) functions with the TWO TWO ecosystem as well as its real-world utility?
The TWO TWO ecosystem is built out of a number of real world and virtual components. This includes the TWO TWO Gallery that is about to open in Resorts World Las Vegas, 3rd Party Galleries, Artists, the X22 Foundation, X22 holders and liquidity providers. The X22 token provides the mechanism that enables all these components to work together seamlessly.
"There is no point in creating a token that has no real-world utility. People must clearly understand its use and be given plenty of opportunity to use it."
– Avron Goss, Co-Founder TWO TWO
There are a number of real world uses for the X22 token, with the following being some of the most critical uses:
Gallery Membership Fees
Starting with the TWO TWO Gallery, galleries can pay membership fees in X22 tokens to access the X22 community. The gallery will be required to purchase an agreed amount of X22 tokens monthly from the community which will then be paid to X22 Foundation who will lock up the tokens in the treasury. In return, the gallery will obtain marketing access to the X22 community. This is the first step to making the community the gallery.
Art Loans
Loans will be made to artists and art projects using a portion of the X22 Foundation's liquidity pool. In return the artist will be expected to sell their works through X22 member galleries, ensuring access to the X22 community. They will also, of course, be expected to repay the loan and pay stability fees to the Foundation an agreed amount of X22 which they will have to acquire on the open market from the X22 community. The stability fees will be paid to the X22 Foundation and locked in the treasury.
Hosted Nodes and Liquidity Mining
X22 holders who provide stability to the network by staking on hosted nodes and by providing liquidity to DEXs will be rewarded with additional X22 tokens. In addition, community members who provide liquidity to the X22 Foundation liquidity pool and lock up this liquidity will also be rewarded with X22 tokens.
Voting on the DAO
In addition to all the above, X22 tokens held in each hosted node will give the holder a vote on a one-to-one basis in all votes on the DAO. This is the final piece which enables the community to be the gallery as it makes them decision makers.
Q. Thanks, that was a very comprehensive breakdown of the utility of the X22 token within the TWO TWO ecosystem. We understand your seed investment was oversubscribed. How did you manage that?
We had a very simple philosophy when raising investment – add value. TWO TWO looks to provide value by delivering real world value and, in return, we looked for investors that understand that value and wish to bring value to TWO TWO. By demonstrating our real commitment to value we were able to find the investors that would create a synergistic relationship with us.
"We see our investors as partners in our business, by working collaboratively we can create value for the entire TWO TWO community."
Steven Meistrich, Co-Founder TWO TWO
It is our belief that our investors see the value we bring by combining real world galleries with NFTs and DeFi. We are not about creating a marketplace, we are about creating a long term sustainable market.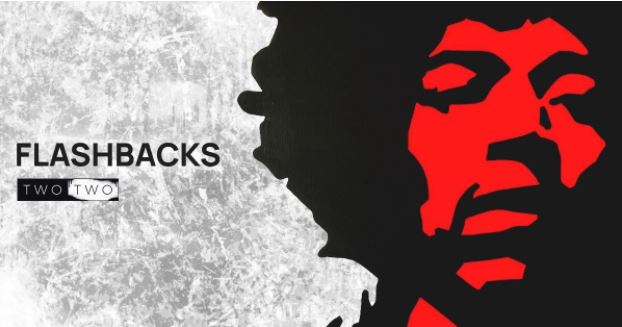 Q. What do you see as some of the challenges your project and industry face?
I believe the crypto industry is facing the challenges of scaling and acceptance. Both of these issues are being addressed and will be resolved with time. From TWO TWO's perspective we are solving these solutions in the following way:
Scaling: We believe that to successfully make the community the gallery we need to enable large and small community members to have equal access to our platform. As we are not building our own chain we cannot influence the speed of transactions, volume of transactions or gas fees directly. But we can choose the blockchain we operate on. Our philosophy is to be blockchain agnostic and support chains that support our community. We are therefore launching on both Ethereum and Binance Smart Chain to ensure that both gas fees and market reach are balanced.
Acceptance: Lobbying governments and regulatory bodies is outside of our expertise, but we do have one thing that is working in our favour right now. NFTs have captured the imagination of the non-crypto using community and our art gallery which manages real word and NFT art sales acts as a natural bridge for the non-crypto using community. We therefore see ourselves as an early real use case and an ability to grow crypto users globally.
Q. Any other exciting news you'd like to share?
We do have exciting news to share!
Firstly we are in the final stages of launching the X22 token which means that we are running IDOs (Initial DEX Offering) on the 1st July and the 8th July – this is the first real opportunity to grow the community. This will be followed very shortly by our TGE (Token Generation Event) which will then allow open trading of the X22 token. There is no point in launching a token without use so we are also going to be launching V1 of our platform at the same time as the TGE. For details please follow us on twitter and telegram.
From a gallery perspective, we have some truly unique NFTs which we are going to launch in July. One of them is going to be a one-of-one digital image taken from a never before printed negative of a photo taken of Jimi Hendrix at the Monterey Pops in 1967. This is a truly ultra-rare piece and if a target price is reached the buyer will also receive the negative. We also have a great line-up of some truly remarkable and well known artists, such as Nick Walker. Once again, follow us on twitter and telegram for announcements.
Thanks to Mr Avron Goss for the very informative and interesting interview!
More information on TWO TWO can be found at the following links:
Website – https://www.twotwoart.com/
Twitter – https://twitter.com/Twotwoart
Telegram – https://t.me/TWOTWOofficial
Facebook – https://www.facebook.com/twotwoart
Medium – https://medium.com/@twotwoart
LinkedIn – https://www.linkedin.com/company/twotwoart