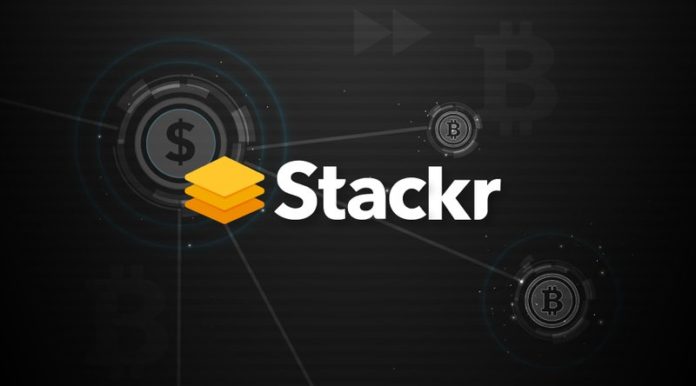 Financial savings have long been the foundation of wealth and asset building. However, we are now in a time when the growing obsolescence of financial institutions has forced certain technologies out of date, created high fees, revealed structural inefficiencies and, ultimately, meant that some standard investment solutions now fail to place consumer needs first.
The need for new solutions that bring together the prevailing worlds of traditional finance and modern-day financial technology has never been greater. At the forefront of this
developing trajectory is Stackr, a global fintech company that aims to disrupt the global savings industry by assisting clients in achieving their long-term wealth acquisition goals.
Launched in May 2018, this startup features a team that has known each other
for decades and collaborated on similar financial solutions for years.
Stackr provides a complete savings solution platform that allows investors to develop a diversified portfolio of both capital and digital assets. Expertly aligned with emerging developments in the fintech world, the company has created a fresh set of solutions offering a more frictionless approach to saving and investing.
Employing a machine-learning investment model within a secure, Bermuda-based trust structure, Stackr leverages a set of world-class providers and legal protocols to provide its trust accounts holders with the following features:
The benefits of Bermuda, a secure and stable international
jurisdiction with a long, global track record of trust and asset legislation
A digital asset model that allows investors exposure to global
markets with a machine-learning-driven risk management approach and an index of
the top crypto assets; all with the option of drawdown protection
An all-in-one platform where capital and digital assets can be
held in one place, as well as USD and crypto holding options
The ability for consumers to move seamlessly between capital and
digital asset investments with no switching fees
Possible tax deferral
Beneficiary nomination options that allow safe, seamless and
cost-effective investment transfers to beneficiaries in the event of death — all without going through a possibly lengthy and
costly probate process and with estate duty or death tax savings
The ease of digital onboarding and advice via a digital user
interface with no entry fees, exit fees or traditional financial advisor fees
Swinging the Pendulum Toward a New Future of Savings
Bolstering Stackr's quest to become the torchbearer of digital asset savings is a team composed of capital investment, machine learning and technology experts. Many of the individuals in this group were previously involved in building a $3 billion savings solution in the traditional finance space. Some of the team members have, in fact, collaborated together on projects over the past 20 years.
Stackr has also brought Invictus Capital and machine learning specialists from DataProphet into the fold to help fuel efforts to build an optimal savings solution. Invictus Capital, the team noted, created one of the first tokenized cryptocurrency index funds, raising $38 million for its 2017 token offering.
Cobus Kruger, CEO of Stackr, explained that the main driving force behind the company's launch was a desire to change the current financial services status quo, which currently erodes any chance for customers to make real returns on their savings.
"For us, it's about mass user adoption of a new model — one that leverages technology to deliver consistent, cost-effective solutions for clients through access to the latest investment opportunities like crypto," Kruger said. "We intend to achieve this all within a regulated, risk-managed environment."
Pivotal to Stackr's forward trajectory are STKR tokens. The pre-token generation event (private sale) is currently underway with Stackr's public token generation event commencing on January 15, 2019, and ending on February 28, 2019.
Those investors who hold STKR tokens qualify for significantly reduced Stackr fees, while a quarter of the net profits generated are being directed toward a "buy-and-burn" protocol.
This fundraising campaign is a vital step toward acquiring the necessary funding to advance user adoption and the disintermediation of the investment industry. Stackr intends to utilize the funds raised to continually enhance the platform solution and value proposition, utilizing the latest in technology and trend research.
Kruger said that Stackr's focus over the next 12 to 18 months will be to drive user engagement, boosting user experience with the latest technology available. In terms of the prospect of Stackr integration with a blockchain, he added that it is already plausible that digital assets can be housed in a decentralized fiduciary solution like a trust and that collective investment schemes like mutual funds could be domiciled on a distributed ledger.
"We anticipate parts, if not all, of the Stackr solution will eventually end up on the blockchain," he said. "Our team will continuously research and monitor developments in the fiduciary, custody, trading and decentralization of assets sectors to assess the potential for this."
Regardless of how decentralized the project becomes, the Stackr team believes it is offering a solution that combats the legacy issues prevalent throughout the financial services industry.
"We are excited about innovation and the fact that we have some of the brightest minds working on solving products and pain points for real users and potential clients," Kruger said. "Ultimately, our guiding principle at Stackr is to bridge the old and new worlds of finance, capturing all of the best aspects together to deliver optimal returns to customers, allowing them to acquire and build their savings over the long-term."
This solution and participation in the token generation event are not available to citizens, residents (tax or otherwise) or green card holders of the U.S., or citizens or residents of the Republic of South Africa, Cayman Islands, Mauritius, Seychelles or Bermuda.
Note: Trading and investing in digital assets is speculative and can be high risk. Based on the shifting business and regulatory environment of such a new industry, this content should not be considered investment or legal advice.
For the latest cryptocurrency news, join our Telegram!
Bitcoinmagazine.com is author of this content, TheBitcoinNews.com is is not responsible for the content of external sites.