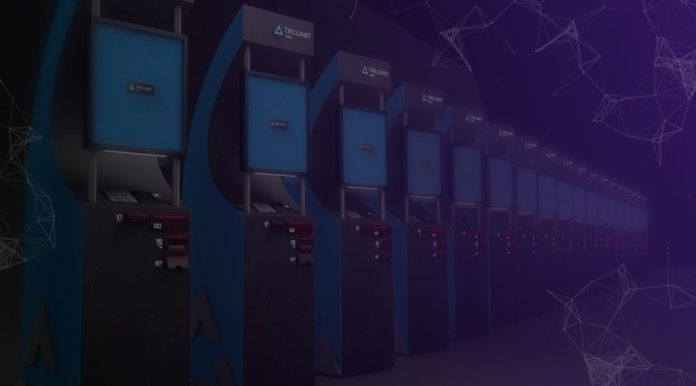 For many, returns are the reason for investing in cryptocurrency. The thought of garnering profit without having to become intimately involved in the technical details is a proposition that holds great appeal. However, actually achieving investor peace of mind can be tricky in light of the cryptocurrency market's complexities — the market based on blockchain technology, unregulated emerging technology that has created new vehicles of valuation. These issues can add up to perceived levels of unpredictability that threaten the comfort of some investors.
But there is one vital component within the space that has become familiar to almost everyone, and that the budding ecosystem depends on: ATMs. It's here that Trilliant is offering fractions of its ATMs to users and adding all profits to a revenue pool, which is divided up among investors. These ATMs are the essential point-of-service for deposits and withdrawals from everyday users. Trilliant does this by offering fractions of its ATMs to users and adding all profits to a revenue pool, which is divided up among investors.
Trilliant's project reflects a growing movement toward the withdrawal and deposit of cryptocurrency at ATMs throughout the world. According to Trilliant's white paper: "There are less than 2,700 dedicated cryptocurrency ATMs in the world, of which roughly 40 percent are able to process altcoins such as Ethereum, Litecoin or EOS. Only around 30 percent of the existing ATMs allow users to sell Bitcoin (two-way), while most of the machines are only offering the purchase of coins (one-way)."
Trilliant's offering is an opportunity for everyday investors who might seek a stake in the cryptocurrency boom for the promise of a healthy return–via the comfortable familiarity of an ATM machine.
Dubbed as the "Fractional Ownership Program for Next-Generation Cryptocurrency ATMs," Trilliant seeks to encourage everyone from seasoned investors to crypto neophytes to participate.
Trilliant's Tokens are used to buy Fractional Ownership Units online and reduce transaction fees using the ATMs. Company leaders anticipate that the first batch of ATMs will be shipped sometime around the fall of 2018.
The Road Ahead
Trilliant began in 2008 when it was first launched as an investment vehicle. The umbrella firm behind Trilliant, Crypto Capital AG, is located in Switzerland. Therefore, company operations will take place in Zurich.
Focusing on ATM operations gives Trilliant stability within the typical cryptocurrency volatility. This is because ATMs profit from market volume rather than market value. Therefore, Trilliant offers a different kind of investment in cryptocurrency; even when the market crashes or spikes, volume will spike.
"Our aim is to have at least 500 ATMs operating by 2019," said Sebastian Korbach, founder and CEO of Trilliant. "While ATMs currently produce an average revenue of around $40,000 USD, we'll contribute a percentage of each ATM's total revenue to the ATM fractional ownership unit owners. In the long run, we want our machines visible on every corner, creating greater awareness for cryptocurrencies in general."
Korbach is a serial entrepreneur with over 15 years of background in financial markets and payment solutions. He has spent three successful years working in cryptocurrency space.
When asked about Trilliant's target demographic, Korbach remarked, "We believe that Trilliant ATMs will be a must-have on street corners, especially as governments consider state-backed coins and crypto fights its way into the mainstream. We hope for our hardware to become an open window into the crypto industry."
Korbach went on to point out the fact that whether or not the cryptocurrency market goes up or down, the same thing happens — they buy and sell: "We think that even the average Joe, without any knowledge of the cryptocurrency world, can use our services to generate steady income."
Contributors to the upcoming Tril Token sale will be directed toward the purchase of Trilliant ATMs. It is expected that every future hardware unit that becomes operational will fuel greater demand for the TRIL Token.
Read more on the Trilliant white paper.
This promoted article originally appeared on Bitcoin Magazine.
Bitcoinmagazine.com is author of this content, TheBitcoinNews.com is is not responsible for the content of external sites.