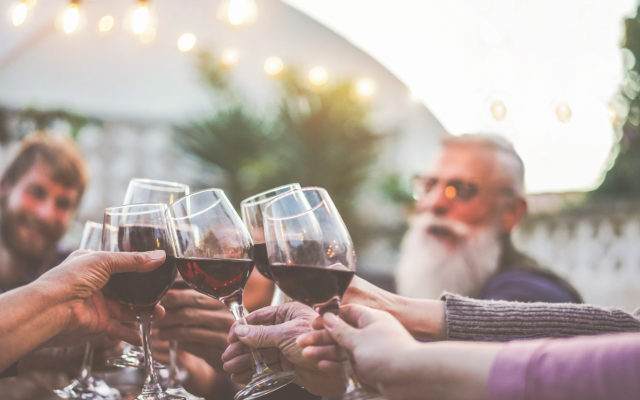 A six-year-old girl in London found that somebody had already written a message in one of a box of charity Christmas cards. It had apparently been written by a foreigner detained in a Shanghai prison and forced to work in the factory where the cards are produced. The prisoner should be thankful that he wasn't forced into hard labor in the Chinese Bitcoin mines!
---
Bitcoin Price: And… Relax
Well, it seems like this week we've snatched a minor victory from the jaws of a big defeat, as far as bitcoin price is concerned.
Initially, Monday seemed to be following the same 'sideways with a slow trickle' pattern of last week, until a sudden drop took us back down below $7k. Research suggested that this was likely due to another dump of coins from the PlusToken scammers.
After a brief pause, BTC price continued to plummet, crashing through $6.6k, before it found some support. Some analysts were predicting further negative price action to come, with a potential bottom at around $5,500.
In the search for some optimistic news, we found that the usually-overlooked Bitcoin Energy Value Oscillator with flashing bullish. Not that Bakkt was feeling the pinch, as it continued to post all-time highs in open interest.
Before bearish sentiment got comfortable though, Wednesday saw a massive 14% pump. BTC price briefly topped out at $7450 before a minor pullback to $7.2k where it stabilized.
Bitcoin has traded sideways at this level since then, so barring any eleventh-hour swings, we should end the week a respectable $100 or so higher than we started it.
Ether And Other Altcoins Also Hit
Bitcoin wasn't the only cryptocurrency feeling the pain early in the week, as high-cap cryptos such as Ether, Litecoin and EOS all took a bashing down to 10-month lows.
In Ether's case it could be related to a whale who has offloaded over half of 530k ETH which has been HODLed since the Pre-ICO, in the past 3 months. Another 40k ETH has been moved from the wallet since we first published the story on Tuesday.
Following the ETH dump, Ethereum was also hit by the PlusToken scam. On Thursday, a reported $105 million dollars worth were moved from a wallet purportedly controlled by the scammers.
Bitcoin Predictions As We Head Towards Halving
With Bitcoin's halving less than 150 days away, it seems like the world is throwing its hat into the ring with a prediction.
We looked at 5 things which could happen in the lead up to the halving, and 5 resistances which must be cleared before bitcoin flips bullish again.
BTC's recent price drops supposedly make the asset attractive to institutional investors and is approaching 'fire sale' prices according to one chart.
Several analysts seem to think that a big break-out is on the cards. Tim Draper says a quarter-million-dollar BTC price in the next few years, and a YouTube analysis with rather a lot of impressive-looking charts said the next bull run will peak above $140,000.
Fundstrat's Tom Lee was a bit more cagey, suggesting a big breakout could be imminent, but only actually committing to the statement "2020 should be better for crypto than 2019."
And Tone Vays was a little more measured in his optimism, only suggesting that BTC price 'probably won't dip to $3,000 again'.
News In Brief
The US may finally see some clarity in its crypto-regulation next year, as an Arizona senator introduced a draft cryptocurrency bill to congress. The bill defines three types of crypto-asset and which regulatory body should have jurisdiction over each type.
Despite widespread concern from regulatory bodies around the world when it was announced back in the summer, Facebook's Libra currency still has hopes of launching in 2020.
Ripple secured $200 million in funding this week to promote XRP use. Because clearly, the 1 billion XRP that it regularly releases from escrow isn't doing a good enough job.
Whilst it may seem like every country and its mum is developing a Central Bank-issued Digital Currency (CBDC) these days, the British Virgin Islands (BVI) is bucking the trend. It publicly denied that it would launch the US-Dollar-pegged CBDC which it only announced two weeks ago.
There could be a scandal brewing at HitBTC. Whilst it continues to market itself as a leading exchange, an investigator from CipherBlade claims that it is insolvent and the "longest-running and potentially largest scale criminally fraudulent entity" in the crypto space.
The cryptocurrency world had two very different brushes with a celebrity this week. Rita Ora promoted Bitcoin through her Instagram account; posting a selfie with some Bitcoin-shaped blotches on her face. Then we found out that malicious hackers were using a modified image of Taylor Swift to install a botnet for crypto-jacking.
And Finally…
It's a while since we featured a certain (Dr), Craig S Wright, in this section, but this week he's been more bonkers than most.
Firstly, the Kleiman court case (which seemed to be all over bar the shouting) took a surprising turn, as the parties apparently found some new things to shout about. Wright apparently changed his story about the 'Tulip Trust', suggesting that Dave's bitcoin actually never reached it, because Ira had already used it to buy a $400k property. Also, the forged documents he relied on in court were allegedly the result of his devices being hacked… and his wife wants lots of money to be questioned by Ira's legal team.
As if that wasn't enough, Wright also contrived to shoe-horn some more 'proof' of his claim to be the creator of Bitcoin into a Skype interview with a sympathetic journalist.
Waving around a blurry copy of a timestamped document-receipt printout with some writing on it, Wright explained his thought process as he came up with the famous Satoshi Nakamoto pseudonym. For some reason, it involved a middle finger raised to Wikileaks founder, Julian Assange, over an argument a decade earlier…
And was obviously about as convincing as two children stacked on top of one another, disguised in a long coat and fake beard, trying to get into a nightclub.
Dear Craig. Don't ever… Stop.
What was your favorite bitcoin and crypto news story of the week? What do you think about Craig's relentless attempts at proving himself as Satoshi? Let us know in the comments below!
---
Image via Shutterstock
The post Sunday Digest: Bitcoin Price, Altcoin Markets and CSW appeared first on Bitcoinist.com.
Bitcoinist.com is author of this content, TheBitcoinNews.com is is not responsible for the content of external sites.