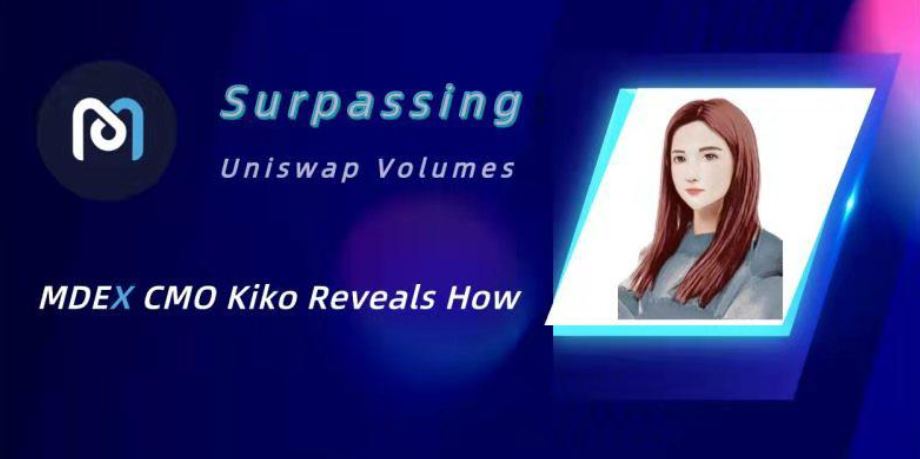 Dubbed the "DeFi Golden Shovel" in Chinese cryptocurrency circles, MDEX is a brand new DEX (decentralized exchange) which launched only a month ago on January 19 2021.
Their spectacular numbers at DeFiBox have certainly been raising eyebrows:
Over USDT 100 Million Transaction Mining fee subsidies for users
Over USDT 40.5 Billion in total transaction volumes
Over USDT 15.7 Million in total repurchases of MDX tokens with a real-time deflation rate of 5.96%
Over USDT 13 Million in total rewards paid out
Total market value of MDX mining output is USD 628 million
MDX token value has risen from USD 1 to USD 6.5
We speak to MDEX.COM CMO Kiko to get the lowdown on these statistics.
Q. You have managed to overtake Uniswap as well as Sushiswap in your recent daily transaction volumes and generally maintained daily trading volumes in excess of USD 1.5 billion. How is it possible for such a new DEX to generate such high trading volumes?
I do believe our platform is a quality product. MDEX has differentiated itself from the market with our unique "dual mining mechanism", where we implement both transaction mining and liquidity mining. The user experience was designed to be excellent for both projects and users. Furthermore, our low handling fee of only 0.1 cent per swap means that 1 USDT of HT can support nearly 1,000 swap transactions. This is combined with low slippage, good depth and high APY for transaction and liquidity mining. In transaction mining, the MDX platform tokens mined can subsidize the handling fee and there is room for appreciation, another benefit.
An important point is our 'chemistry' with the Huobi Eco-Chain (Heco). Operations between Huobi Exchange and MDEX.COM are configured to be user-friendly and simple.
In a nutshell, I would say there are three winning factors: the "dual mining" issuance mechanism of liquidity and transaction mining; the value of the MDX tokens through our mechanism of repurchasing, destruction and rewarding (liquidity providers); and community governance, with regards to any major decision-making in the community.
Q. Please tell us more about the "dual mining" mechanism of MDEX. Why is this design advantageous and is the high APY (Annual Percentage Yield) sustainable?
MDEX.COM is the first "dual-chain dual-mining" DEX on the Huobi Eco-Chain. Based on the Huobi Eco-Chain and Ethereum, we implement both transaction mining and LP (liquidity pool) mining.
For liquidity mining, also known as yield farming, MDX tokens are generated for the users who provide liquidity to the pool. In transaction mining, users can harvest MDX by trading the specified pairs and 0.3% transaction fees will be charged for transaction mining. Of the 66% transaction fees charged, 30% will be used to repurchase and destroy MDX. The rest of the 70% will be used to purchase HT from the secondary market to reward MDX/USDT, MDX/WHT, MDX stakers. All these transactions will be publicized on the chain. This "dual mining mechanism" of transaction mining and liquidity mining completes an ecological "closed loop" designed to support liquidity on an AMM-based DEX.
Real transaction demand has supported and will be necessary to continue supporting MDEX's high APY and native token price. MDEX definitely benefits from being in the Heco ecosystem. With the success of MDEX, it has become a dividend of the Huobi ecological chain. MDEX has been touted as being the entry point of Heco, and its native token MDX has been nicknamed Heco's "golden shovel".
Q. So when compared with Uniswap, the leading DEX, what advantages does MDEX.COM offer?
Uniswap has a strong first-mover advantage and is currently the largest DEX in the market, but its transaction gas fees have recently been too high, which is very unfriendly for users.
Our transaction fee is basically zero, due to two points – firstly, the swap fee is only 0.1 cents, secondly the transaction is mined and the transaction fee, subsidized. The transaction mining fee subsidies for users have currently exceeded USD 100 million.
In terms of transaction speed, Uniswap is limited by the congestion of the ETH mainnet. While transaction speed is supposed to be 15 seconds, in reality, it usually takes half a minute to one minute to complete a transaction. MDEX confirmation times are a mere 3 seconds.
Switching pools any time on MDEX is not a problem since costs are low (minuscule). To switch pools on Uniswap could be a costly affair because of high gas fees, which would ultimately impact moving smaller funds rather than larger funds. Incidentally, the number of high-yield pools in the ETH ecosystem has been decreasing. The rate of returns of liquidity mining on MDEX are high and stable.
MDEX.COM's "dual mining" mechanism is designed to leverage the technical advantages of the heco chain. This kind of dual mining cannot be achieved on the ETH mainnet, because the premise of transaction mining depends on extremely low gas fees and short confirmation times. At the moment, Uniswap is unable to implement such a function.
Q. MDEX.COM recently added UNI, SNX and other DEX currency trading pairs on the Ethereum chain for mining. Does this signal that MDEX.COM has begun to expand into the DeFi world outside the Huobi ecological chain?
MDEX.COM is a decentralized trading platform built on and synergized with the Huobi ecological chain Heco. MDEX.COM is also actively deploying a multi-chain ecosystem. In the future, it will link multi-chain assets to further expand into the wider DeFi ecosystem. Uni and SNX are high-quality DeFi assets. We hope that as many high-quality assets as possible can be traded on MDEX.COM in the future, so that everyone has more and better choices.
By leveraging existing advantages, linking multi-chain assets, and continuing to optimize product experience, MDEX.COM can develop healthy and sustainable growth.
Q. Can you share with us any future plans, roadmap or goals?
In the short-term, we are going to leverage our current advantages to promote and attract more users to MDEX.COM for a good trading experience.
Over time, we want to dock more multi-chain assets, expand the category of encrypted asset products, develop more user-friendly models, strengthen community governance, and consolidate community consensus.
In the long term, our goal is to become the hub of value exchange in the encrypted world. The future roadmap of MDEX.COM, is not limited to one public chain. We will deploy multiple chains to link multi-chain assets while bringing better DEX experience and more sustainable development to mainstream public chains and develop mobile incentive ecosystem mechanisms to strengthen the community.
MDEX.COM not only has the ability to directly compete with UniSwap, the Ethereum DEX leader, our goal in the future blockchain ecosystem is to become the DEX king!