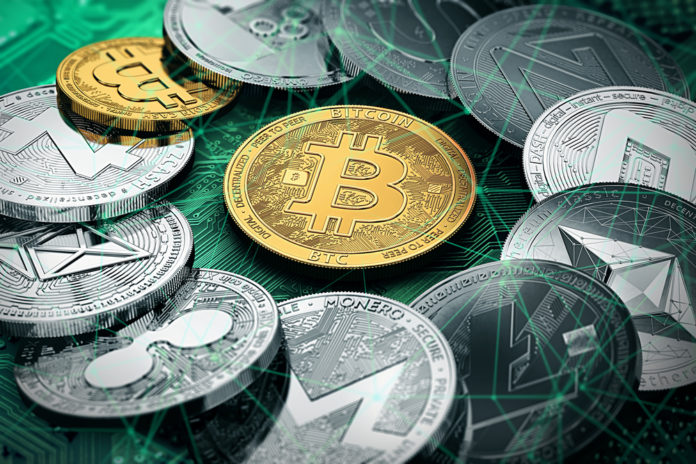 One of the most interesting questions in the Crypto sphere is which cryptocurrencies will assert themselves in the long term, and in the future will be able to satisfy a real need outside of crypto-trading.
In this article, we will try to look to the future which projects in 2020 could be a good investment in the top 10 cryptocurrencies by market cap.
We assume that blockchain technology and cryptocurrencies will prevail and shape and change the future world as we know it. In addition, we assume that cryptocurrencies only succeed if they have a real use case or can solve a practical problem in business, research or other areas.
In addition, we assume that it must be already existing projects that have already reached a certain level of development, which provides for at least one Mainnet or in the next few months upcoming Mainnet Launch. The analysis is still based on the experience of recent years that has shown that developing a working cryptocurrency takes a long time.
However, the list proposed here should by no means constitute a buy recommendation, but merely form a basis for discussion. We are aware that by no means all readers will share our opinion about our compilation. We within the Coin-Hero editorial team have also been hotly debating individual positions and are still not 100% in agreement with some digital currencies.
Different and controversial opinions are self-evident in this regard from our point of view. The technology is still too young and the development of individual projects is unclear or underdeveloped. In the comments we would be pleased about constructive criticism as well as your top 10 list.
Our Top 10 Cryptocurrencies by Market Capitalization in 2020
Ethereum
IOTA
Ripple
EOS
Bitcoin
Cardano
NEO
VeChain
OmiseGo
Monero
Many cryptocurrencies many uses
1st Ethereum
Ethereum is our first choice. Ethereum will, in our opinion, be the world's leading platform for developing distributed enterprise applications on the Blockchain.
The increasing demand and use of the Ethereum Blockchain will be a key to success. This is driven on the one hand by the development of the DApps and on the other hand by the functionality as a possible investment vehicle. However, there will be a race.
Can Ethereum improve scalability before EOS and other DApp platforms capture too much market share? Since sharding is likely to take some more time, the development of the plasma scaling solution, whose development has already been advanced by OmiseGo, will be of great importance. The Ethereum Blockchain could then process one million transactions per second and expand its supremacy.
In addition, Ethereum has the Enterprise Ethereum Alliance in its back. It connects Fortune 500 companies, startups, academics and technology providers with Ethereum experts.
The alliance's common goal is to define enterprise-class software that can handle the most complex and demanding applications at high speed. Already in the list of founding members are numerous well-known companies, such as. a. Microsoft, ING, UBS, BP and Intel again: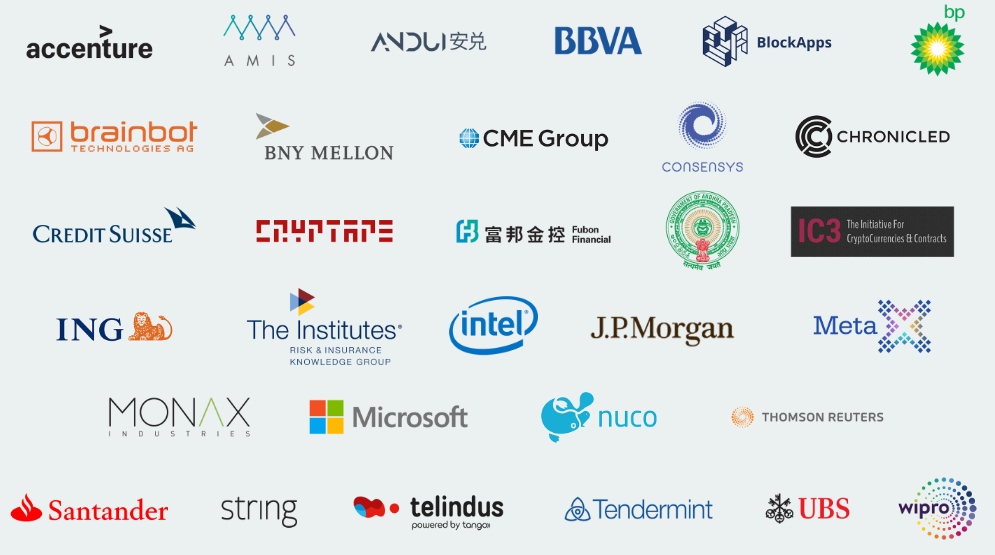 image source https://entethalliance.org/
2. IOTA
The Internet of Things is a very large and highly promising field of innovation that is becoming more and more public and is becoming part of all our lives. The goal of the Internet of Things is for machines to communicate with other machines independently of humans, thereby making everyday life easier for people.
In the future, a refrigerator will automatically order food when the refrigerator is empty, and cars will automatically book and pay for the parking garage ticket. IOTA will be the backbone of Internet of Things transactions and make machine-to-machine payments. Especially the areas of smart cities, supply chain and mobility could be important areas of application.
IOTA has already been able to convince BOSCH, VW and Fujitsu of the potential of Tangle technology and win them over as a partner. Bosch has acquired a considerable amount of IOTA. The capital of Taiwan, Taipei City, has entered into a partnership with IOTA to create a Smart City. The Tangle technology is designed to create a series of technical innovations for the city's residents.
Furthermore, the new project Qubic holds enormous potential, as long as the promised areas of application can actually be covered.
3. Ripple
Ripple is a controversial project in the crypto community because of its proximity to the banking system and the issue of network decentralization. Yet, unlike any other project, Ripple has numerous partnerships. Most recently, at the Money 20/20 Europe conference, Ripple's CEO stated that by 2019, the number of banks using Ripple technologies will increase significantly.
As we said earlier, Ripple CEO Brad Garlinghouse believes Ripple will meet business needs through a clear use case, and will therefore be faster and more prevalent than other digital currencies.
Ripple currently has several blockchain-based software solutions in use by financial institutions. Garlinghouse, however, is convinced that xRapid, which uses the XRP token, will persuade more and more banks by 2019, and will thus use the XRP token.
Already, Ripple can look at a large network of more than 100 banks and financial service providers. These include u. a. LianLian International, Santander Bank, IDT Corporate and MercuryFX, Rakbank, Standard Charter and AXIS Bank.
Already for a long time belong u. a. UBS, UniCredit, Bank of America Merrill Lynch, ReiseBank, BBVA (Spain's second largest bank), Mitsubishi UFG of Japan (the largest bank in Japan), SBI Holding and Akbank (Turkey) as part of Ripple's cooperation partners.
Regardless of supporting Ripple's basic idea, Ripple will, in our opinion, be in the top three.
4. EOS
Comparing EOS and Ethereum, it is noticeable that both platforms pursue similar goals. Like Ethereum, EOS is also aiming to create a blockchain-based platform to develop commercial decentralized applications.
The EOS Mainnet is currently in the starting blocks and promises some features that could make it superior to Ethereum in the short term. There will be no transaction fees in the EOS network, and any Dapp developer can decide for themselves whether or not to charge for their EOS-based currency. In addition, EOS will be able to handle 1 million transactions per second in the future (it will be less at the start of Mainnet).
In our view, EOS will be the leading platform outside of Asia and Russia, thanks to strong technology with Ethereum, to develop enterprise applications on the Blockchain.
5. Bitcoin
In our opinion, Bitcoin will continue to lose market dominance until 2020, and possibly also its first place and its function as reserve currency. Historically, the dominance of Bitcoin in terms of total market capitalization has fallen from 95% to 85% and temporarily to 32% in January 2018.
However, we believe the Bitcoin price will be driven by institutional money and the entry of new investors, especially in the second half of 2018 and 2019.
In our opinion, the inflow of large amounts of institutional capital is not a question of "if" but of "when". As we have already reported, many companies around the world are planning to do so. a. also the NASDAQ, entry into the cryptocurrency market. This will initially benefit Bitcoin, which will continue to attract large investors in 2018 as the reserve currency and the most established cryptocurrency.
In addition, the commissioning of the Lightning Network will lead to increased acceptance of the Bitcoin if it can live up to expectations. During a potential global financial crisis, Bitcoin can serve as a global crypto reserve currency ("crypto-gold").
Nevertheless, there are some technical challenges for Bitcoin to solve. The main problem, in our opinion, is to make technical changes in the inertia of the Bitcoin network and to reach consensus on the future evolution of Bitcoin.
Obscurity exists e.g. regarding the use of the Lightning Network as an off-chain scaling solution, as the following video explains very simply and clearly.
An on-chain scaling solution, for example, by increasing the block size (see last year's SegWit2X disaster in November), is strictly rejected by Bitcoin developers. The following video provides background information.
In our view, Bitcoin will serve as the "original" cryptocurrency in 2020, especially as a store of value. However, other cryptocurrencies will gradually outstrip Bitcoin's technical superiority and become more prevalent and exploitable.
6. Cardano
Cardano (Ada) is a very ambitious project that is less driven by hype and expectations, but much more by a staggering evolution.
It is designed to build a new decentralized economy and democratize financial markets in emerging markets. Cardano enables the cost-effective, secure, and scalable creation and execution of distributed applications and smart contracts, and values ​​a highly scientific approach.
The Cardano developers are trying to find a balance between a decentralized platform and the legal regulations of all countries, which endanger neither the privacy of users nor the integrity of decentralized platforms.
By 2020, Cardano should be fully functional.
7. NEO
In addition to technical reasons, NEO and Onchain's relations with the Chinese government in particular play an important role in the placement of NEO.
NEO uses as a consensus method "delegated Byzantine Fault Tolerance" or dBFT. The main advantage of this method is that it prevents splitting of the system and allows no forks. In addition, NEO has a 2-layer (Trinity) scaling solution that can handle up to 10,000 transactions per second and is quantum-computer-resistant.
But even more important is the relationship with the Chinese government.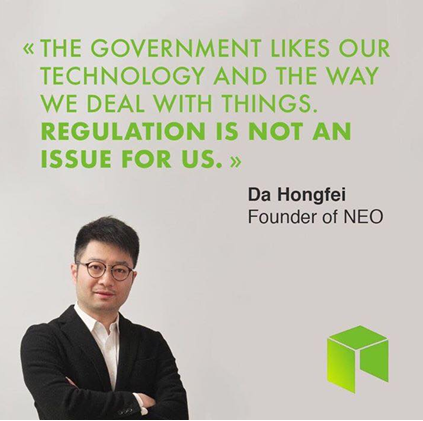 image source: https://steemit.com/cryptocurrency/@cryptomarketking/the-future-of-crypto-in-china-and-its-relationship-with-neo
NEO is currently centralized by Onchain. This will be preserved until a stable and fully functional version of NEO has been developed. Critics doubt, however, that this will change in the future. In this respect it is also described as the "China way". OnChain works with the Chinese government and numerous companies that are important to the adoption and use of NEO.
8. VeChain
VeChain enables manufacturers, suppliers, and customers to capture, manage, and share all critical information about a product throughout the lifecycle of supply chain management. The Vechain Thor Mainnet is expected to launch in late June.
Already, Vechain has a broad list of partnerships that will actually use the technology. The international auditing, tax consulting and business consulting firm PwC Hong Kong will use the technology for its services.
In January, the internationally active classification society DNV GL announced a partnership with VeChain. The goal of the collaboration is to develop a blockchain platform for tracking food and beverages, as well as examining application to the fashion, retail and automotive and aerospace industries.
Listed Shanghai eGrid Consulting Co. LTD, a major software solutions company in the automotive industry, intends to integrate VeChain Thor into its existing ERP, SCM and CRM software solution. Recently, the Lingang International Manufacturing Exhibition Trading Center has announced to use Vechain Thor.
In our view, Vechain Thor will be the leading supply chain management Blochchain in 2020.
9. OmiseGo
Based on Ethereum, OmiseGo (OMG) would like to create a decentralized payment network or a decentralized exchange on which all crypto currencies as well as fiat currencies can be traded and exchanged.
The Thai Ministry of Digital Affairs and Omise signed a Memorandum of Understanding at the end of February 2018, in which both parties declared their willingness to develop a nationwide online payment and identification system based on the OmiseGo technology.
This would soon make Thailand one of the first countries in the world to officially implement blockchain technology for its people. OMG could be the first open source cryptocurrency officially used by a country.
As we reported at the beginning of April, the development of the plasma scaling solution for the Ethereum Blockchain has already progressed so much that 2018 could be published. OmiseGo and the Ethereum Blockchain could process 1 million transactions per second.
Here's what OMG Transactions Per Second will look like once Plasma is implemented from r/omise_go
10. Monero
From our point of view, a Privacy Coin is in the top 10 of 2020, as Privacy Coins will always meet a specific use case, namely the performance of anonymous transactions, and this need will increase in the near future.
Monero was launched in 2014 and has since become one of the most stable and secure privacy coins. XMR allows to completely anonymize the transaction information. Due to the strong development team, Monero will also be in the Top 10 in our opinion.
article source Coin-Hero in German with thanks
TheBitcoinNews.com – Bitcoin News source since June 2011 –
Virtual currency is not legal tender, is not backed by the government, and accounts and value balances are not subject to consumer protections. TheBitcoinNews.com holds several Cryptocurrencies, and this information does NOT constitute investment advice or an offer to invest.
Everything on this website can be seen as Advertisment and most comes from Press Releases, TheBitcoinNews.com is is not responsible for any of the content of or from external sites and feeds. Sponsored posts are always flagged as this, guest posts, guest articles and PRs are most time but NOT always flagged as this. Expert opinions and Price predictions are not supported by us and comes up from 3th part websites.
Advertise with us : Advertise