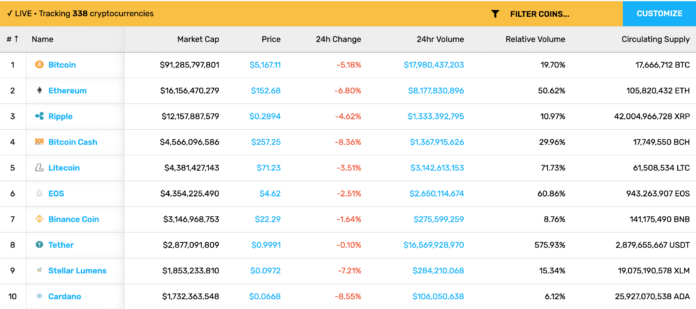 Well, it was looking like a great week until the New York State Attorney General (NYSAG) filed a lawsuit against Bitfinex. BUT, that doesn't matter much as the cryptocurrency industry seems to be increasing week after week without a feeling of inevitable bloodshed that laced the bear market of 2018.
Bitcoin grew to about $5,637, later falling to $5,277 after the news of New York State Attorney General (NYSAG) filing a lawsuit against Bitfinex. However, Bitcoin only lost about .2% for the week.
The rest of the cryptocurrency market experienced a bit more drastic of a bloodletting: Ethereum (10.26%), XRP (11.44%), Bitcoin Cash (12.15%)
A few gems in the Top 100 rubble included CasinoCoin (56%) and MonaCoin (43%).
Cryptocurrency News of the Week
Just Blockchain It: Nike Trademarks "Cryptokicks": Nike made waves in cryptoworld with news of the iconic sports apparel brand trademarking the term "Cryptokicks". Nike's move hints at the $110B+ company entering the cryptocurrency and digital collectible niche to further its online brand around its name. With so many collectible items under the Nike umbrella (which includes Jordan and Converse), it's likely Nike will attempt to leverage its deep expertise in creating addictively collectible products into the digital sphere. The trademark notes "Provision of online blogs in the field of crypto-collectibles; entertainment services, namely, providing an online computer games… curated scavenger hunts, obstacle courses or treasure hunts; entertainment services, namely, providing interactive online mobile gaming applications; providing information on-line relating to crypto-collectible customization for hobby or entertainment purposes"
Nike has filed a trademark application for CRYPTOKICKS.

The filing indicates that Nike is intending to launch a cryptocurrency called CRYPTOKICKS.

Below is my analysis of the filing and its implications #nike#cryptocurrency pic.twitter.com/82gAPlzrXy

— Josh Gerben (@JoshGerben) April 24, 2019
Ooooo Bitfinex is in Troubleeee (again): The New York State Attorney General (NYSAG) filed a lawsuit against the stablecoin Tether's affiliated cryptocurrency exchange Bitfinex on April 24th. The document notes NYSAG's suspicions that Bitfinex was still allowing New York-based traders to utilize the platform, despite Bitfinex claiming it wouldn't cater to clients in New York City in 2018. The document goes on to claim to investigate "ongoing fraud being carried out by Bitfinex and Tether" and that Bitfinex and Tether participated in "undisclosed, conflicted transactions to cover Bitfinex losses by transferring money out of tether reserve funds." The Attorney General's Office estimates at least $700 million was moved from Tether's reserves. The allegations also included that Bitfinex attempted to cover up an $850 million loss by using Tether (USDT). In lieu of the news, cryptocurrency markets took a hit of around $10 billion.
CoinCentral Highlights
Why Binance Coin Has Been the Best Performing Crypto of 2019: Since the start of 2019, Binance Coin (BNB) has led the cryptocurrency pack, growing over 200 percent in three short months. It has demolished the performance of Bitcoin (38.9%), Ethereum (30.7%), Litecoin (187.8%), and almost every other cryptocurrency so far this year.
How Blockchain Can Save Our Privacy Before It Disappears: Many personal privacy advocates have taken to blockchain and cryptocurrency entrepreneurship to build solutions that address the concerns of our dwindling right to privacy in the digital world.
Blockchain Security Issues and Legislative Challenges: Blockchain developers confront a wide array of security challenges. They must also adhere to emerging blockchain regulation established by government legislation. Let's examine a few of the challenges that need to be addressed in 2019 and beyond.
---
Stogies on the Blockchain: Tobacco behemoth Philip Morris revealed plans to use blockchain to track tax stamps in cigarette boxes with on a "widely accessible" public blockchain. Philip Morris executive Nitin Manoharan notes that the tiny bits of paper on cigarette boxes are worth about $5.50 per packet and are extremely easy to counterfeit (as simple as a high-resolution photocopier), costing the tobacco industry and governments around the world around $100 a year. Morris also estimated that Philip Morris would be able to save $20 million thanks to blockchain's ability to reduce fraud and automate processes in a traceable and transparent manner.
Ethereum Staking to Turn into $160M Annual Industry?: Ethereum creator Vitalik Buterin proposed increasing rewards for validators in order to secure the future of Ethereum 2.0, which would allow the entities staking the roughly 32 million ETH to earn around $160 million in ETH targeted per year. The shift to Ethereum 2.0 involves a transition from a proof-of-work consensus protocol into a proof-of-stake in order to fix the ongoing transaction throughput bottlenecks and decrease network costs.
The post This Week in Cryptocurrency: April 26th, 2019 appeared first on CoinCentral.
Coincentral.com is author of this content, TheBitcoinNews.com is is not responsible for the content of external sites.