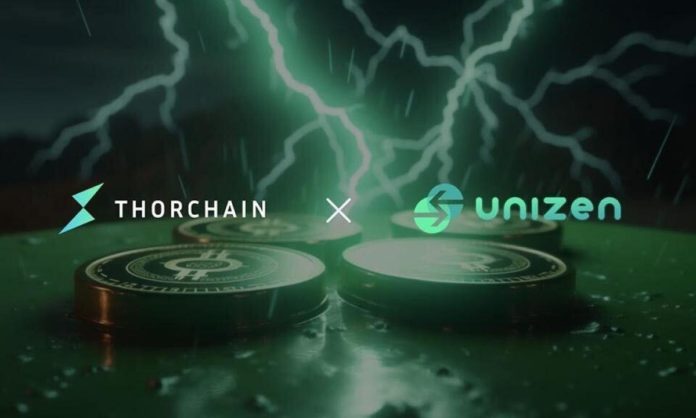 Dubai, United Arab Emirates, April 25th, 2023, Chainwire
The team at Unizen, operating the Web3 ecosystem found at zcx.com, is pleased to announce a strategic partnership with the team at THORChain. Specifically, Unizen has integrated the THORChain settlement layer to enable swaps between ETH (Ethereum) and AVAX (Avalanche C-chain) to BTC (Bitcoin) and vice versa.
"THORChain has devised an exceptionally refined solution that has proven resilient against the trials of time and fluctuations in market conditions, facilitating decentralized liquidity for assets on non-programmable chains.", says Martin Granström, CTO of Unizen. "This made THORChain the obvious selection for empowering trades on the Unizen Trade platform involving Bitcoin, Litecoin, Dogecoin, and additional cryptocurrencies."
"Unizen is an excellent venue to offer cross-chain swaps powered by THORChain. The industry has been slowly moving from centralized swap services to DeFi protocols. The goal is to bring the centralized exchange trading experience to users while maintaining the security of self custody", says Gavin McDermott, CEO of Nine Realms. "Unizen already offers a best-in-class experience as a DEX aggregator and we are excited to help them expand their cross-chain routes with native Bitcoin and more."
About Unizen
Unizen is a cutting-edge operating system for Web3 applications that enables users to seamlessly, cost-efficiently, and securely interact with all things Web3. It is designed to provide a non-custodial, unified user experience for interacting with various Web3 applications and assets, regardless of the underlying blockchain technology. Unizen uniquely solves the complexities, accessibility, costs and interoperability issues plaguing the DeFi space.
Website I Twitter I Discord I Telegram I Instagram I Medium
About THORChain
THORChain is a cross-chain liquidity protocol that facilitates the exchange of native digital assets on multiple blockchains including Bitcoin, Ethereum, BNB Chain, Avalanche, Bitcoin Cash, Litecoin, Dogecoin, and Cosmos Hub. THORChain does not use wrapped assets or external dependencies like oracles. It is permissionless to become a validator, add liquidity, or make a swap. Dozens of wallets, exchanges, and DEX aggregators make use of THORChain's liquidity to offer in-kind yield and cross-chain swaps to their users.
Contact
Sean David Noga
[email protected]