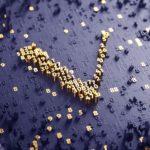 In today's VeChain price prediction, we will be looking at some of the past price trends, project developments, and market opinions, in order to speculate what price VET might reach in January 2020.
VeChain Overview
VeChain is a blockchain project created to improve the supply chain management processes by using distributed ledger technology (DLT) to determine the authenticity and quality of products in commerce.
You want the latest news about Crypto? Sign up to our weekly Newsletter!

VET is currently ranked as the 30th crypto according to a market cap of $331,555,100 , with $103,565,370 worth of VET being traded in the last 24 hours. There are 55.454.734.800 VET coins in circulation out of 86.712.634.466 VET.
VeChain Price Prediction: Analysis
VeChain started January at $0,005241, continuing the bearish movement started in December last year.
The coin has returned since January 4th, as VET managed to reach the new resistance level of $0,0056, after several days of testing $0.0054. It closed the day at $0,005673, and the next day it continued its bullish momentum, opening at $0,005667, and also testing a new resistance level of $0.0057. January 6th closed at $0,005735 for VeChain.
But this momentum lasted only up until January 7th, when the coin peaked at $0,005767, but that same day, VET fell to $0,005590.
VET continued to fluctuate between $0.0055 and $0.0054, with minor dips to $0.0053, and one instance of testing the $0.0056 resistance level, up until January 14th. That day, VET surged to a new monthly high of $0,006070 and closed the day at $0,006006.
The rejuvenated bullish momentum continued for the next week. On January 17th, VET touched another new high of $0,006592 but slowly went down towards the end of the day back to $0,006357.
For the next two days, VET traded between $0.0062 and $0.0063, and towards the end of January 19th, the coin slipped under the $0.006 support line, closing at $0,005883.
On January 20th, VET tried to test the $0.006 resistance level and closed at $0,005844.
Today, January 21nd, VET is trading at $0.005979, with an increase of 0,89% within the last 24 hours. If VET manages to break the $0.006 trend line, it is expected that the coin will make another recovery.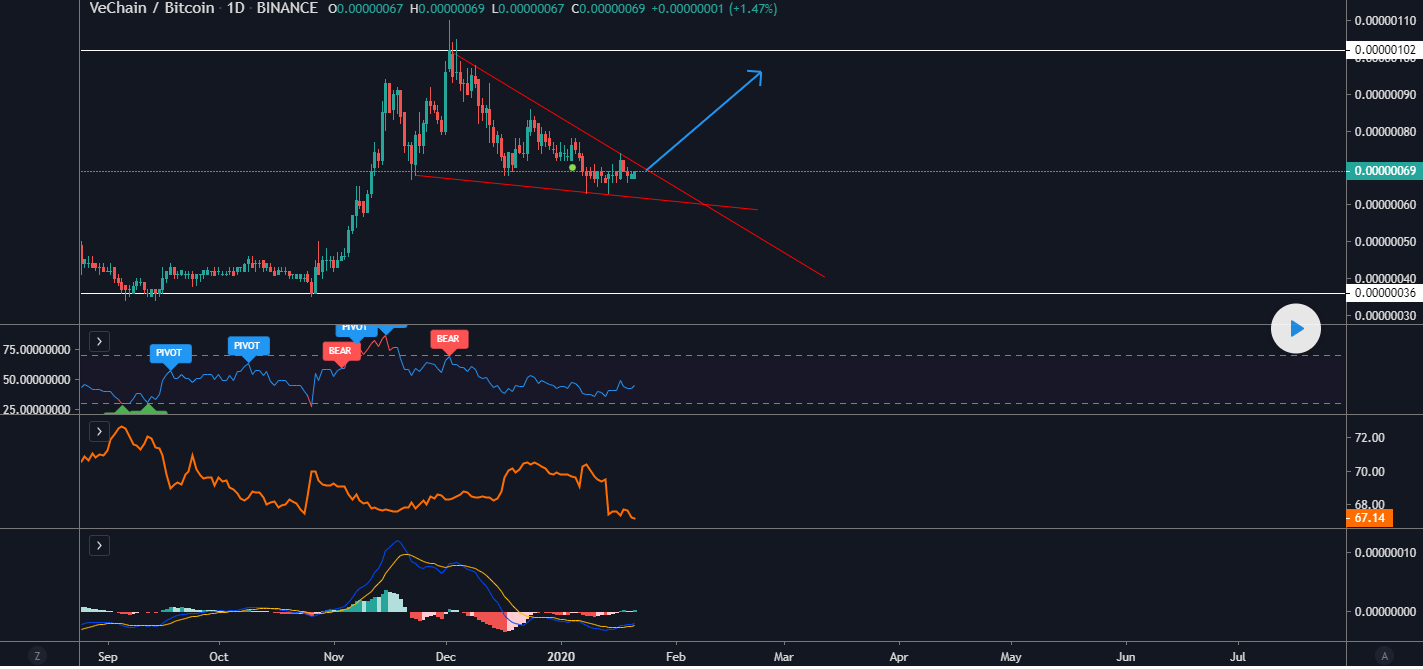 Resistance Level (R3): 0.00613
Resistance Level (R2): 0.006044
Resistance Level (R1): 0.00594
Pivot Point: 0.00586
Support Level (S1): 0.00576
Support Level (S2): 0.00568
Support Level (S3): 0.00558
VeChain Price Prediction: Development
In December, VeChain was hacked and lost around $7 million from the buyback wallet of the firm. The hackers transferred 1.1 billion VET tokens to another address, which is speculated to be owned by them.
The CFO of the project presented his resignation after this event. The network is planning on voting for burning the stolen tokens soon.
The address with the stolen VET has been market by the platform, and a number of crypto exchanges, including Binance, Bitfinex, and Huobi, have blacklisted the wallet. It has been estimated that VeChain (VET) stole around one percent of the total supply.
Two days after the hack in December, the VeChain Foundation released VeChainThor v1.1.5. The update enables the Authority Masternode of the network to vote on the matter. 700 million VET tokens and blocked more than 450 addresses are currently frozen by the master nodes. Now it's up to the VeChain community to decide what should be done with these tokens.
The VeChain community will vote if the tokens should be burned or not. The VeChain Foundation is also pondering if burning the addresses in which the stolen tokens are held is the solution.
The holdings of the hackers would make things difficult and stop the development of the network.
The company stepped up to take the blame for the breach, and as such, the Chief Financial Officer (CFO) of the firm, Jay Zhang, took responsibility by resigning.
It is quite an issue when a project loses its founder, as most projects fail to recover when their top leading figure steps down from their position. So far, VET has managed to keep its position on the crypto market in the past month following the incident.
VeChain Price Prediction: Market Opinion for January 2020
To better showcase the general market sentiment, we have decided to feature some of the sites that made their own VeChain price prediction.
Digitalcoinprice
Digitalcoinprice forecasted that this January, VET will be trading at $0.01214515, which signifies an increase of 104.73%.
Cryptorating
Cryptorating predicted that in one day, VeChain will have a trading price of $0.006050, with a change of 1.98%, and in one week, the site expects the coin to be trading at a value of $0.006847, with a change of 15.4%.
Bitverzo
Bitverzo estimated that VET will have an average price of $1.011069 on January 31, 2020, with a minimum of $0.082900, and a maximum of $2.170510.
Cryptoground
Cryptoground forecasted that in one day, VeChain will change hands at $0.2168, with a change of 1.82%, and in one week, the site expects the coin to be trading at a value of $0.5105, with a change of 139.74%.
Walletinvestor
Walletinvestor also posted daily predictions for the rest of January, which also featured the minimum and maximum values of the coin for each particular day.
| Date | Price | Min Price | Max Price |
| --- | --- | --- | --- |
| 2020-01-22 | 0.00589 | 0.00557 | 0.00620 |
| 2020-01-23 | 0.00573 | 0.00539 | 0.006056 |
| 2020-01-24 | 0.00580 | 0.00550 | 0.00612 |
| 2020-01-25 | 0.00587 | 0.00556 | 0.00619 |
| 2020-01-26 | 0.00589 | 0.00557 | 0.00621 |
| 2020-01-27 | 0.00584 | 0.00553 | 0.00611 |
| 2020-01-28 | 0.00592 | 0.00561 | 0.00624 |
| 2020-01-29 | 0.00592 | 0.00561 | 0.00623 |
| 2020-01-30 | 0.00576 | 0.00543 | 0.006079 |
| 2020-01-31 | 0.00583 | 0.00551 | 0.00617 |
VeChain Price Prediction: Verdict
If you have finished reading our VeChain price prediction, you now have a general sense of what the market expects of VET in terms of price in January.
Featured image: nulltx.com
source: https://coindoo.com/vechain-price-prediction-january/
TheBitcoinNews.com is here for you 24/7 to keep you informed on everything crypto. Like what we do? Tip us some BAT

Send Tip now!