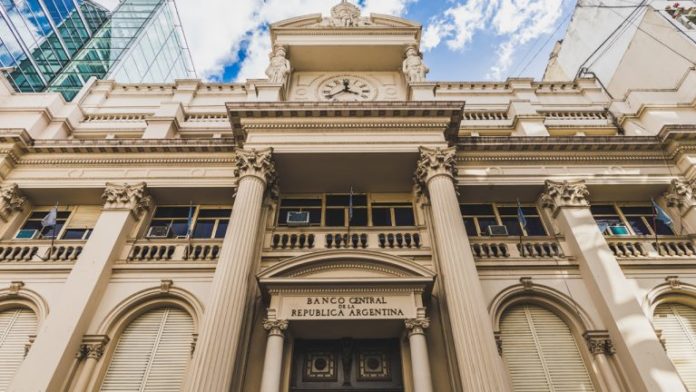 The Argentine peso plunged by more than 10% shortly after the country's central bank announced measures to tighten controls on the movement of foreign currency. The peso, which is officially pegged at 72 for every USD, touched new lows of 145 to the greenback on the black market. The latest plunge is seen as a further boost to bitcoin and other cryptocurrencies in a country that has been plagued by currency challenges for over a century.
Still, in a statement released on its Spanish language website, the Board of the Central Bank of the Argentine Republic (BCRA) justifies the new measures saying they are an attempt "to promote a more efficient allocation of foreign currency." Loosely translated, the statement goes on to say:
Federal Administration of Public Revenues (AFIP) has established a "mechanism for the collection of taxes on income and on personal assets at a rate 35% for external asset formation operations (FAE) by individuals as well as on purchases with cards (debit and credit) in foreign currency.
The objectives of the new measures are to "maintain the current quota of $200 per month whilst discouraging the hoarding foreign currency and card expenses."
Crisis laden Argentina is in its third year of an economic recession partly blamed on the country's unsustainable external debt levels. BCRA admits that the servicing of these obligations is having an undesired effect on the country's exchange rate.
Consequently, the new measures also seek to "establish guidelines for a renegotiation of the private external debt compatible with the normal operation of the exchange market."
However, as previously reported by news.Bitcoin.com, Argentina alongside Venezuela, are two Latin American countries that are seeing their fiat currencies lose value due to excessive printing of money which causes inflation.
Quoting a Chainalysis study, the same report notes that Argentina's imposition of limits on the amount of U.S. dollars that citizens can buy per month further restricts available options of shielding savings from inflation. According to analysts from the region like Sebastian Villanueva of Chilean crypto exchange, Satoshitango, it is such limits that are helping to spur on the use of cryptocurrencies in the country.
The Chainalysis study already ranks Argentina as the country with the third-highest value of cryptocurrency received between July 2019 and June 2020, just under $3 billion.
Meanwhile, some Argentine citizens reacting to the announcement by BCRA concur with the notion that the latest policy changes will push more towards cryptocurrencies. One citizen who shares this perspective is journalist, Emiliano G. Arnáez. The journalist has previously tweeted how successive Argentinian governments have failed the economy and how bitcoin can be an alternative that his countrymen can use.
In his remarks, Arnáez touts how the main attributes of bitcoin make the digital currency a better alternative to the country's fiat currency:
"Remember: if you have Bitcoin, they have their own Central Bank. With cryptocurrencies, there are no stocks, with stablecoins, there are no exchange restrictions. They (cryptocurrencies) have a high risk, of course, they do, but the Argentine economy sometimes seems to be riskier and is (repeatedly) hacked by the governments themselves."
Another Twitter user, Ramiro Marra confirms the immediate impact BCRA's announcement after tweeting that the "crypto dollar is already at 160. It is going to be a very difficult day."
The comments by Argentine citizens reaffirm Villanueva's earlier assertions that "people just want a safe way to store money, and there are no gatekeepers in crypto."
What do you think about Argentina's latest currency woes? Tell us your thoughts in the comments section below.
The post Argentina's Peso Plunges After Central Bank Tightens Foreign Exchange Controls: Citizens Discuss Bitcoin Adoption appeared first on Bitcoin News.
Bitcoin.com is author of this content, TheBitcoinNews.com is is not responsible for the content of external sites.