13th September, 2019, Singapore, Singapore – Fast-growing crypto exchange BiKi.com made sure its presence was felt at the recent Consensus Singapore: Invest Asia 2019, part of the signature event series by Coindesk.
The two-day event saw thousands of global attendees from across the blockchain and crypto industries, offering plentiful networking opportunities. BiKi attracted a lot of industry attention and the team was able to secure promising upcoming projects as well as partnerships from the consistent turnout at the BiKi booth.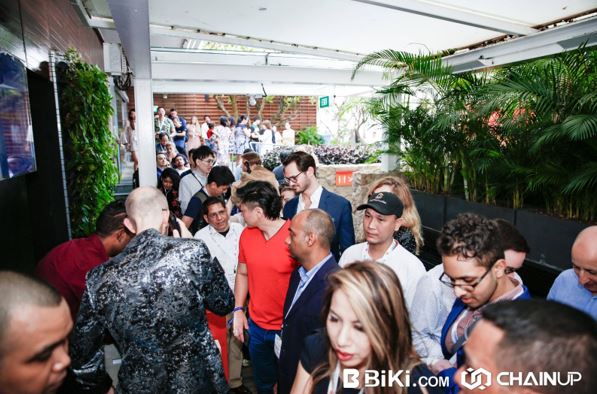 BiKi also made a huge splash organizing the biggest blockchain after-party of the week, held at Ce La Vi, Singapore's landmark rooftop bar destination, commanding iconic views of the stunning Marina Bay cityscape. Opening to an hour-long queue, the event was packed with more than 500 guests throughout the evening, with industry specialists from all around the world. Together with partners Chainup, Node Capital and FBG Capital, the founding and executive team of BiKi welcomed the dynamic party-goers from the industry.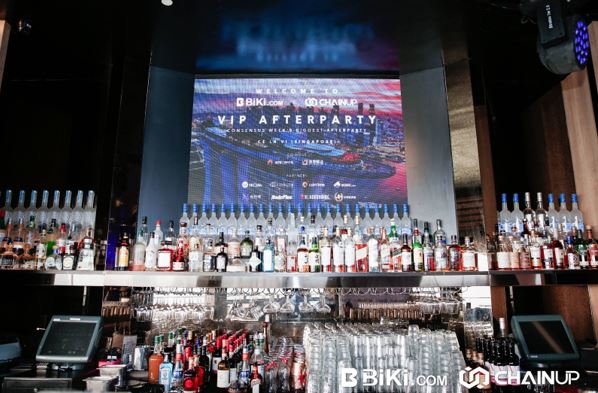 Du Jun, founding partner of Node Capital and Jinse Finance stated, "I'm gratified to see that BiKi has now entrenched itself firmly in Singapore and is expanding its network and capabilities in the robust Singapore economic landscape. It is my wish to see the Singapore government and institutions learning more about blockchain technology and grasping the advantages of implementing this technology as it can truly bring about a high level efficiency, not to mention sheer convenience in our daily lives. I look forward to seeing the government and ministries supporting this immensely valuable technology and industry."
Speaking on the trends in both the blockchain and cryptocurrency spheres, founder of BiKi.com, Winter said, "The industry is still immature and a defined infrastructure has not yet been laid down. I believe BiKi has a chance to become a part of that industry infrastructure and have a hand in writing the 'rulebook'. The next year will see us expending our energy and resources towards implementing our globalization initiatives. We warmly welcome all who wish to sincerely cooperate with us and take the necessary steps to drive this industry progression further forward."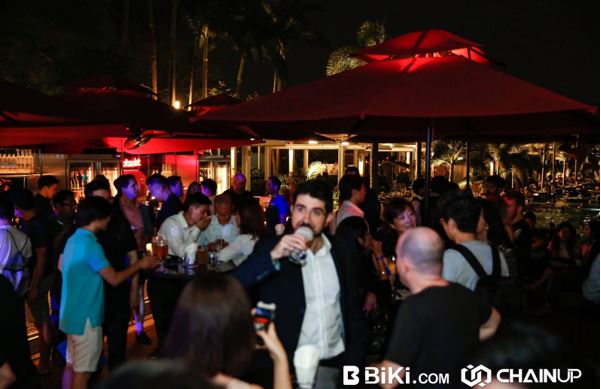 BiKi.com Southeast Asia CEO, Ethan elaborated, "Today we saw BiKi and Chainup organizing the biggest blockchain party at Singapore Consensus Week. We are delighted we have been able to generate so much industry buzz and excitement around our young exchange and would like to highlight that at BiKi, we choose to surround ourselves with high quality networks and resources. As we proceed next to London, then to Korea Blockchain Week, followed by Delta Summit, Devcon in Japan, Malta AI Summit, Blockchain Life in Moscow, and finally return to Blockchain Week in Singapore with the Coinmarketcap Conference, then Blockshow and Singapore Fintech Festival, we will be attending the best global conventions for the remaining months of the year and welcome our friends and networks to join us on this trip and enjoy the journey with us as we continue to highlight the importance of community and creating quality networks and resources. Stay tuned!"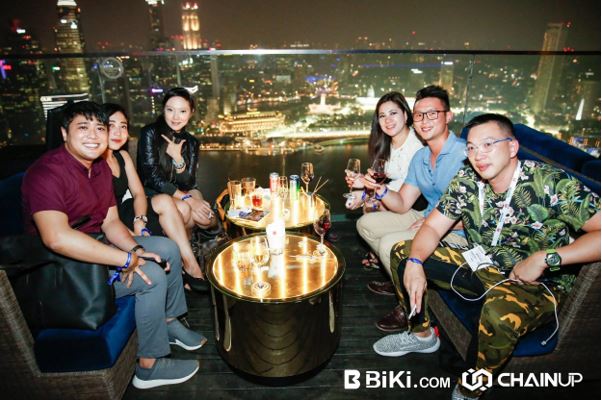 Founder of FBG Capital, which is under Sequoia Capital, Vincent Zhou chimed in, "BiKi's growth in the past year has been tremendous, certainly a leading exchange in China and Asia. Their operations team is very active and we are happy to partner with BiKi today for such a spectacular event with so many guests. We look forward to seeing BiKi's continued growth and for more opportunities to collaborate with such a dynamic organization."
BiKi x ChainUP Private Yacht Party: Exchange the Future II
The after-party was followed the next day by an exclusive yacht party themed "Exchange the Future II", organized for the top 50 leaders and influencers in the space. Hosted by BiKi and Chainup, the yacht event was attended by CEOs from esteemed blockchain VCs and projects like Node Capital, Chain Partners and Jetcoin, as well as press from Coindesk and Bitcoin Magazine. Hailing from more than 10 different countries such as Singapore, Korea, Japan, Thailand, Vietnam, India and the western markets, the yacht party invitees gathered to discuss the latest blockchain developments whilst enjoying a mid-autumn festival celebration amidst the scenic yacht views.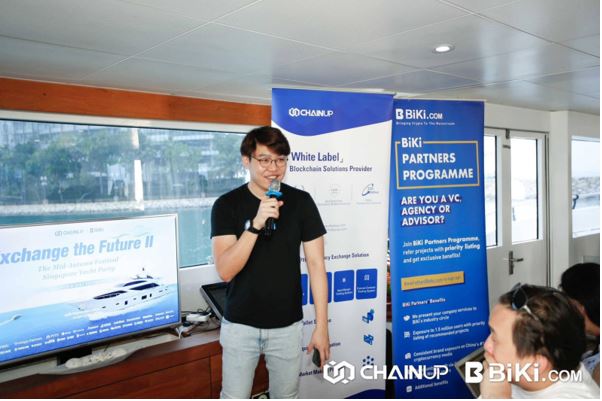 Needless to say, more forged partnerships and deals can be expected from the intense networking at Singapore Consensus Week and certainly more upcoming news from the young exchange as it continues in its global expansion.
About BiKi.com
Headquartered in Singapore, BiKi.com is a global cryptocurrency exchange ranked Top 20 on CoinMarketCap. BiKi.com provides a digital assets platform for trading more than 150 cryptocurrencies and 220 trading pairs. BiKi.com is focused onproviding the safest, most stable and most effective cryptocurrency trading platform. 100% of the transaction fees are used in buyback and burning of platform token, BIKI. Since its official opening in August 2018, BiKi.com is considered one of the fastest-growing cryptocurrency exchanges in the world with an accumulated 1.5 million registered users, 130,000 daily active users, over 2,000 community partners and 200,000 community members. BiKi.com has received investments from Huobi co-founder Du Jun, Genesis Capital Zhu Huai Yang, FBG Capital, ChainUP and others totaling approximately 10 million USD.
Company Contact:
Chang Jie Lin, BiKi.com
+65-94556702
Media Contact:
Cecilia Wong, yourPRstrategist
[email protected] +65-91826605
Blockchain: 0x1ed562b84c3fb3534ce0329be69e729fb1d8632a1aad92f415202c495ba9f718