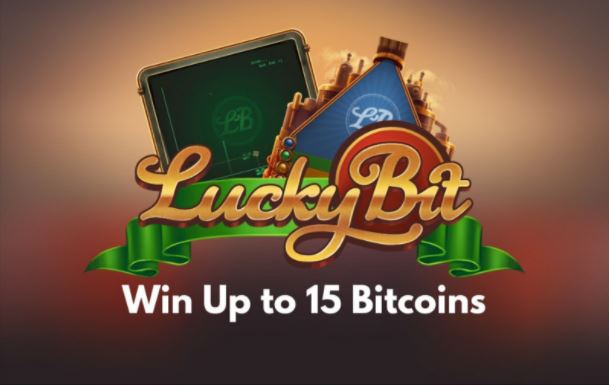 Bitcoin Press Release: Luckybit bitcoin casino shifts towards a larger market with an increased focus on community, unique gaming, unmatched bonuses and lucrative affiliate program.
19th August, 2020, Curacao – Online casinos which support bitcoin as a payment method are a dime a dozen, but there are some that stand out from the crowd; Pioneering casino Luckybit is one such site. Launched in 2013, the fully licensed Bitcoin Casino is more than just a site to place a few bets, it is a bitcoin community, with a dedicated following and legendary 15BTC top prize.
Originally launched as a niche betting site and crypto community, LuckyBit has over the years transformed into a full-scale online casino. Despite this large shift, the core values of fun, fair, and transparent betting that made LuckyBit so popular will always be at the foundation of the site.
A Unique Experience
While the majority of online casinos go for the volume and offer hundreds of slots and generic games, LuckyBit went the other way, focusing on creating original in-house games. The result? Original takes on Plinko and Dice that are focused on bet visualisation and social interaction.
These two titles offer a unique gaming experience. Players can watch their bets unfold with graphics like no other casino platform, and view other players' actions at the same time, all in real-time. This one-of-a-kind experience creates a competitive and social environment that you can't find anywhere else.
The whole interface at LuckyBit has been streamlined and players can now enjoy some really outstanding features in MyHub – the player's headquarters. This is also the place where players find all the new promotions tailored to experience pure LuckyBit action.
Next Level Prizes
To be able to compete in the extremely competitive online casino industry, LuckyBit comes with a set of promotions, which might change the industry forever.

The 1BTC Jackpot Race is a community race, where all of the LuckyBit players cooperate on achieving the goal, to wager a total 100BTC. Once they reach this Milestone, LuckyBit will unlock the 1BTC Jackpot and let the top 10 players emerge in the leaderboard and divide the reward.

Unlike competitors sites, the Luckybit 100% First Deposit Bonus allows players to actually use the full bonus for betting amount immediately. Most online casinos will only let players use large bonuses after they use their initial deposit. Players can also enjoy the bonuses for a second and third deposit.
LuckyBit locks the bonus to the deposit and gives its players both as a bonus playable balance. Once the simple wager goals are cleared, the bonus amount unlocks and becomes usable BTC.
Martin Prinosil, CMO of LuckyBit underlines the advantage of his casino, over its competitors, stating:
"After some research of typical Terms and conditions of deposit bonuses, we realized that most of the casinos won't let you ever touch the bonus amount. And some of them will do it only after you lose your entire deposit first. That's when we realized that Luckybit is really unique by sharing profit back with our community."
The No-Deposit Welcome Bonus is here for everybody who wants to try LuckyBit without actually risking losing their hard-earned bitcoins. Every new player at LuckyBit will find a 10USD bonus in their playable balance.
LuckyBit's Affiliate Programme
Affiliate programmes are a must for the online casino industry, as the partners are used to wet their beaks in the casino's profit with random affiliate models.
Martin explains how the LuckBit values have been applied to the affiliate programme:
"Even with Affiliate we knew we would not go for a commercial solution, but rather took the effort of the dev team to build something, which is probably the most clear, transparent and honest Affiliate programme around. We also worked hard to introduce some cool new features for the players, such as autobetting, to be attractive for more advanced players."
With a simple system of tiers, affiliate members can build a passive income from players that they bring in, and get up to 50% revshare with No Negative Carry Over. There is also no minimum to earn, so anyone interested in affiliate revenue should definitely check this link out and start earning today!
Win up to 15 BTC on LuckBit Dice – https://luckyb.it
Affiliate programme https://affiliate.luckyb.it/
BitcoinTalk Thread https://bitcointalk.org/index.php?topic=5211259.640
Follow LuckyBit on Twitter – https://www.twitter.com/luckybitgames
Follow LuckyBit on Facebook – https://www.facebook.com/luckybitgames/
LuckyBit on Instagram – https://www.instagram.com/luckybitgames/
Media Contact Details
Contact name: Martin Prinosil
Email: [email protected]
LuckyBit is the sole source of this information.Virtual currency is not legal tender, is not backed by the government, and accounts and value balances are not subject to consumer protections. This press release is for informational purposes only. The information does not constitute investment advice or an offer to invest.
About Bitcoin PR Buzz: Bitcoin PR Buzz has been proudly serving the crypto press release distribution needs of blockchain start-ups for over 8 years. Get your Bitcoin Press Release Distribution today.