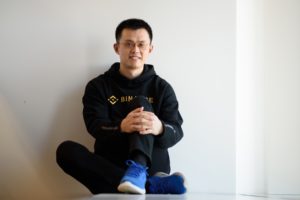 Changepeng Zhao, CEO of one of the world's largest cryptocurrency exchanges, Binance, says the current state of the market is overshot. He also noted that Bitcoin's all-time high price in late 2017 was also a stretch.
---
2017 'Definitely an Overshoot on the Price Side'
Speaking at the Binance Blockchain Week in Singapore, the CEO of cryptocurrency exchange Binance, Changpeng 'CZ' Zhao, said that the prices of cryptocurrencies toward the end of 2017 were overshot.
I believe… at the end of 2017, there was definitely an overshoot on the price side… There was a lot of guys rushing in, very simple projects with very simple whitepapers. […] Then of course as everybody rushed in…once that massive rush-in finishes the price declines.
2017 saw an unprecedented rally in the prices of cryptocurrencies. At the end of the year and in January 2018, the entire market had a capitalization of over $800 billion when Bitcoin (BTC) 00 was trading at about $20,000.
Current Bear Market a Stretch
Discussing the current state of the cryptocurrency market, Changpeng Zhao said that we're actually overshooting the lower side of it.
"We've been in a bear market for a very long stretch, probably the longest in history for Bitcoin right now […] I think right now my personal view is that we are actually overshooting on the lower side now," he said.
According to the CEO, the industry has advanced substantially and there are a lot more people involved in it, as well as going to conferences.
Bitcoinist reported recently that cryptocurrencies saw a steady increase in the number of industry-related conferences throughout 2018.
Zhao outlined that there's a lot more development in the field as well, hence also why he thinks the lower side is overshot.
An MIT article from early January outlined that 2019 will see increased adoption and further development of blockchain-based technology, as well as more institutions and big players, get involved.
Do you agree with CZ? Don't hesitate to let us know in the comments below!
---
Images courtesy of Shutterstock, Bitcoinist archives
The post Bitcoin Price 'Overshooting on the Lower Side Now,' Says Binance CEO appeared first on Bitcoinist.com.
Bitcoinist.com is author of this content, TheBitcoinNews.com is is not responsible for the content of external sites.