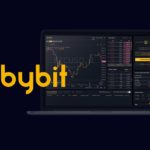 In our Bybit exchange review, we will analyze the main features, supported currencies, fees, and many more aspects that can be of help for those who are looking for a reliable cryptocurrency exchange.
Bybit Exchange Overview
Run by Bybit Fintech Limited, Bybit is a peer-to-peer (P2P) Singapore-based crypto exchange with blockchain experts from across the industry.
The Bybit exchange provides leverage of 100:1, which is a very competitive mark that puts the company up against already established and reputable exchanges, like BitMEX. It is utilizing perpetual futures products, which are basically futures contracts but without expiration dates. This means that the trader can hold his position almost indefinitely.
Supported Currencies and Available Countries
According to the Bybit exchange website, they provide a wide variety of cryptocurrency perpetual futures contracts. These can be anything starting from XPR/USD, BTC/USDT, ETH/USD, EOS/USD, and BTC/USD.
The company also supports a global customer base, including people from North America, Europe, Southeast Asia, Japan, South Korea, and Russia.
Bybit Compatibilities
Bybit can be accessed from a multitude of different devices like PCs, laptops, iPhones, iPads, Android phones, Windows Phones, etc. All of the applications can be downloaded from their respective application stores, such as App Store for Apple and Google Play for Android.
How to Get a Bybit Account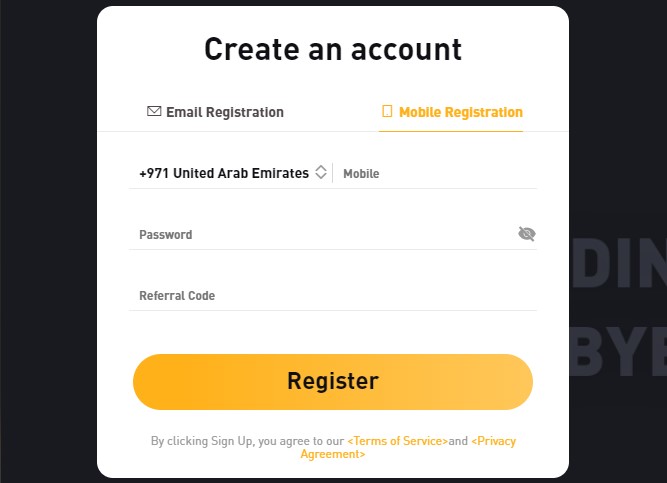 Registration is quite easy and requires a couple of simple but logical steps to follow. Anyone can sign up via the main website of the Bybit exchange. There is a very visible "Register" button present on the navigation bar at the top of their homepage. Once clicked, the potential customer needs to provide his email address and password in order to receive the confirmation code.
How to Use Bybit Exchange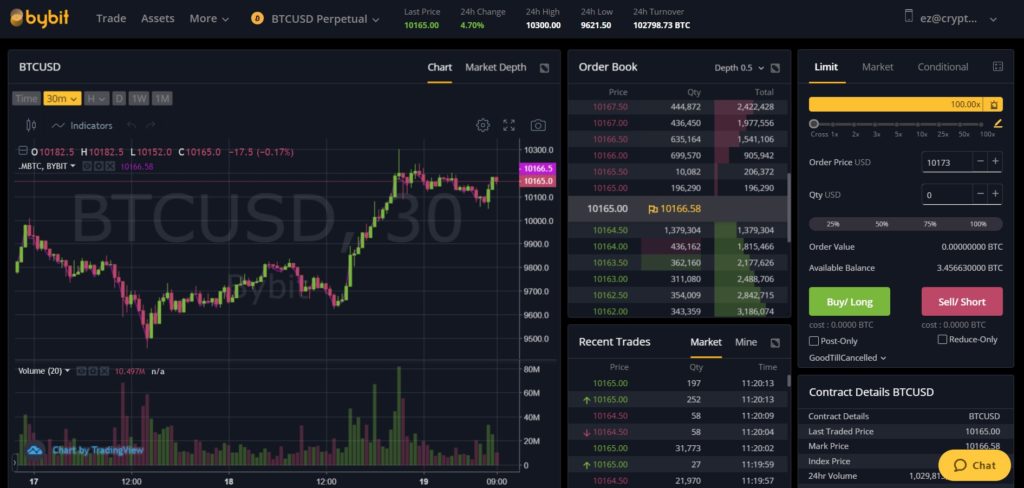 cryptonews.com
Bybit is a modern exchange platform. This means that the user interface is made as easy to navigate as possible. The top navigation bar on the websites gives the ability to trade and monitor assets, charts, market prices, unrealized P&L, available margin, position margin, as well as utilize other instruments available to you on the platform.
Bybit Exchange Fees
Fees depend on whether the user is a market maker or someone who puts orders on the order book before the trade or market taker or someone who places the order to match the maker's proposal.
Perpetual Contracts
(Inverse)
Highest Leverage
Maker Rebate
Taker Fee
BTC/USD
100x
-0.025%
0.075%
ETH/USD
50x
-0.025%
0.075%
XRP/USD
50x
-0.025%
0.075%
EOS/USD
50x
-0.025%
0.075%
Market takers are charged 0.075% of the order as a fee. Comparing this to other exchanges is quite difficult since the instruments that are traded also differ from one to another. In any case, 0.075% does not seem like a high price and looks like a fair amount.
The market makers have a fee of -0.025%. Essentially this means that when the maker is making a trade, he has to pay 0.025% less than he would have otherwise. This is a very competitive price and encourages market makers to be active.
There are withdrawal fees associated with the platform. In this sense, Bybit proves to be very competitive with the pricing again. The fee is 0.0005 BTC, meaning almost half that of industry-standard, which is 0.0008 BTC on average.
Additionally, there is a funding rate to be paid once the trader opens its position. However, since margin trading is based on taking positions, the trader may have to pay this fee or receive it. This is done between the traders, and Bybit does not take part in it.
Deposit and Withdraw on Bybit
Depositing on this exchange does not require much effort. This can be achieved by pressing the "Assets" button on the navigation bar. On the right side, you will see "deposit" and the "withdraw funds" tabs.
After clicking "deposit," you will see a box containing all the necessary information, such as Bitcoin (BTC) address and the QR code.
The withdrawal is also straightforward. Although this time, it requires two-factor authentication (2FA) method to be turned on and the account to be verified.
Payment Methods
Due to the fact that Bybit is a crypto-based exchange, it only accepts payments with cryptocurrencies. This means that every trader has to have crypto holdings in order to trade with them.
Security Features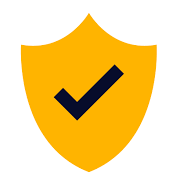 Bybit exchange offers additional security options for their customers.
The "Accounts & Security" tab provides various 2FA methods to better protect your account. There are a number of options, like email authentication, SMS authentication, and Google authentication. The latter is considered to be the safest out of all.
Bybit secures the funds on wallets that are stored offline. This means that there is no way to hack into their funds without actually being on the spot. This is to avoid situations similar to what happened with Mt. Gox, a Tokyo based crypto exchange that was hacked and lost as much as $460 million worth of Bitcoin.
Customer Support
When it comes to customer support, Bybit only offers live chat through Zendesk and email communication on [email protected] and in case of IT-related issues on [email protected]. There is no phone support and no way to directly communicate with voice chat. The text chat operator response time is extremely quick, while the email takes a bit of time.
Apart from this, the exchange offers an FAQ section as well for routine questions.
Bybit Exchange Review: Verdict
Bybit is viewed by its users as a strong and secure platform. A good chunk of their user base is represented by ex-BitMex users who have dropped the other platform due to its autocratic nature, where the customer requests are rarely taken into account.
However, one thing to note is that Bybit is a platform for more experienced traders. There is a possibility of using a demo account prior to actually trading, which is heavily recommended for new traders. The exchange is not limited to only Bitcoin deposits and thus provides a more comfortable spot for experienced crypto traders.
Featured image: thebitcoinnews.com
The Review
Bybit Exchange Review
PROS
User-friendly interface
A strong and secure platform
Attractive fees
Easy registration
Responsive support team
CONS
A platform for more experienced traders
Limited number of trading pairs
Review Breakdown
Supported Currencies
Rates and Fees
Security
Transaction Speed
Ease of Use
Customer Support

coindoo.com is author of this content, TheBitcoinNews.com is is not responsible for the content of external sites.