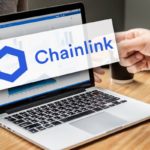 The cryptocurrency market has become a profitable investment in recent years. This is especially true for some altcoins that have seen massive price changes. The DeFi market, for instance, has recorded incredible return on investments for investors, and some of these tokens have seen price increases.
In this article, we will consider the price predictions of one of the DeFi tokens, Chainlink (LINK). We will look at recent historical performance and consider the opinions of some important price prediction platforms to give you a rounded view of how it will fare in October as an investment. Without any further waste of time, let's get into it.
Chainlink Overview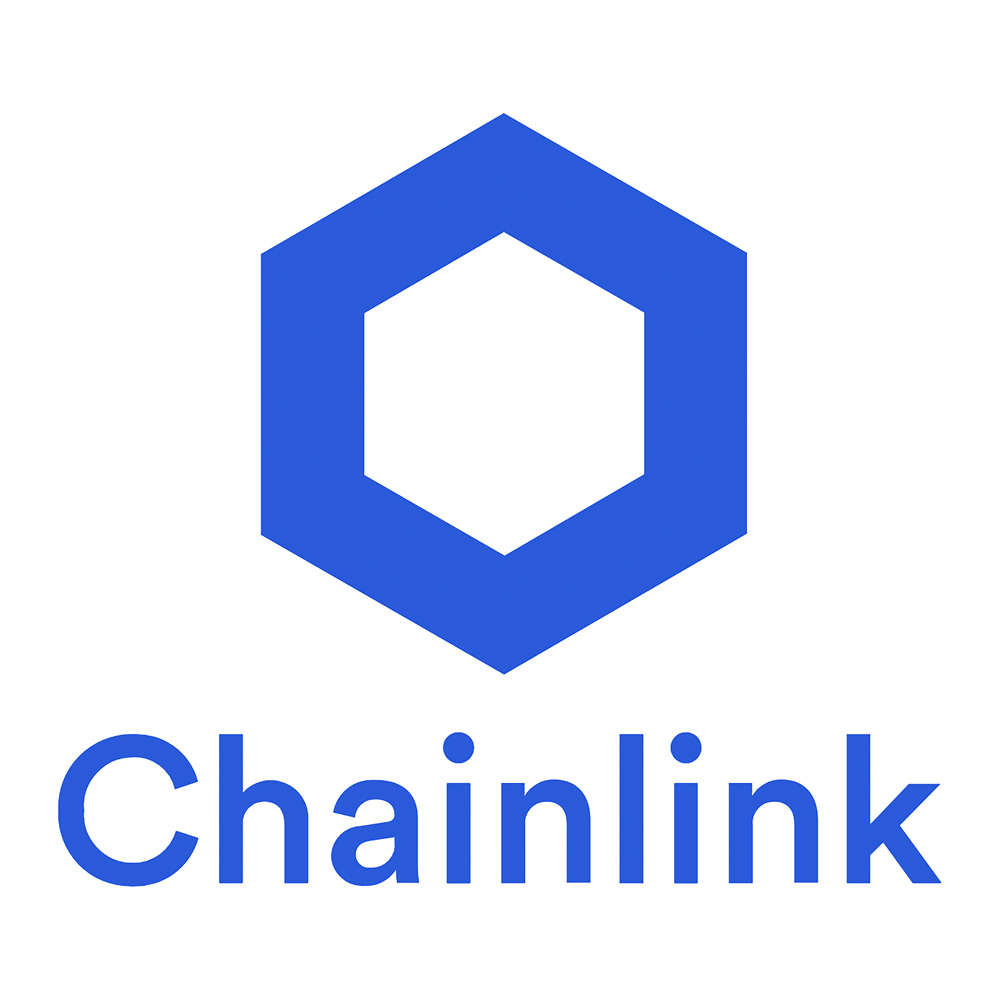 You may have heard of Chainlink also known as LINK but what is it really? Chainlink is a cryptocurrency blockchain project known as an oracle protocol. It is a decentralized network with the sole aim of connecting smart contracts with real world data. As Ethereum is the leading blockchain known for smart contracts, Chainlink runs on it, and so its native currency LINK is referred to as an ERC20 token.
LINK is used to incentivize node operators who help to keep the network's integrity and is also used for the development of the Chainlink network. The cryptocurrency was, however, far below the top ten when the year 2020 began, now occupying the 7th position among top cryptocurrencies with the highest market capitalization.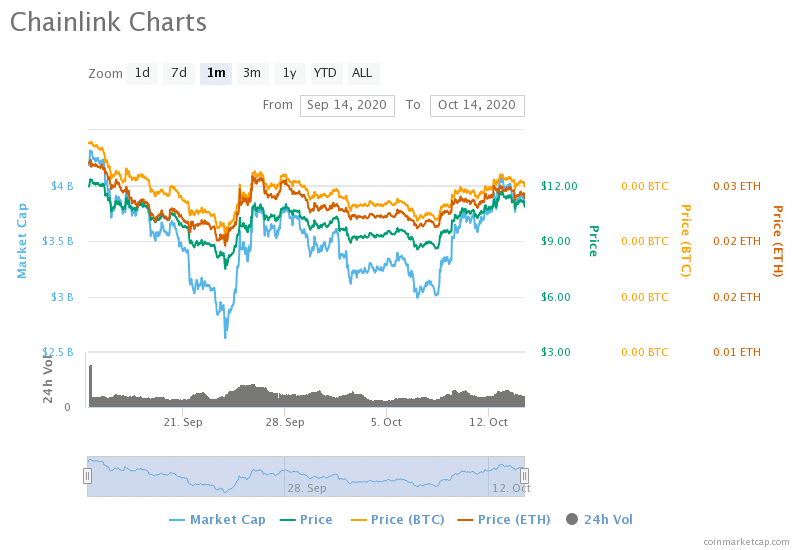 The market cap is currently $3,798,154,779 with a 24-hour trading volume of $1,322,020,659. There are 350 million LINK in circulation and each one is worth $10.85, at the time of writing this article.
Chainlink Price Prediction: Analysis
LINK has seen some good days in the year 2020. After rising from less than $2 at the beginning of the year, it got to almost $20 but has crashed back down. It started the month of September at $12.38 and then retested $13 briefly before taking a dive to lower levels. The price went as low as $7.61 on 24 September but bounced back almost immediately to $9.99 and managed to climb back to $10 and has been hovering around there, going below at some points before it finally went below again on 30 September.
Since then, the price has stayed below $10 until the news about Square's $50 million investment in Bitcoin drove the entire market up. LINK benefited the most from this news among the top ten cryptocurrencies, rising from $8.54 to over $10 in 48 hours. Even at the time of writing this article, LINK remains the highest 24 hour gainer by far at 14.18%. Looking at the daily chart for LINK/USD, the dead cross is a situation where a higher time frame Moving Average is above that of a shorter time frame is still in play, which means it isn't out of the woods yet. In this case, the 20 MA happens to be under the 50 MA as shown below.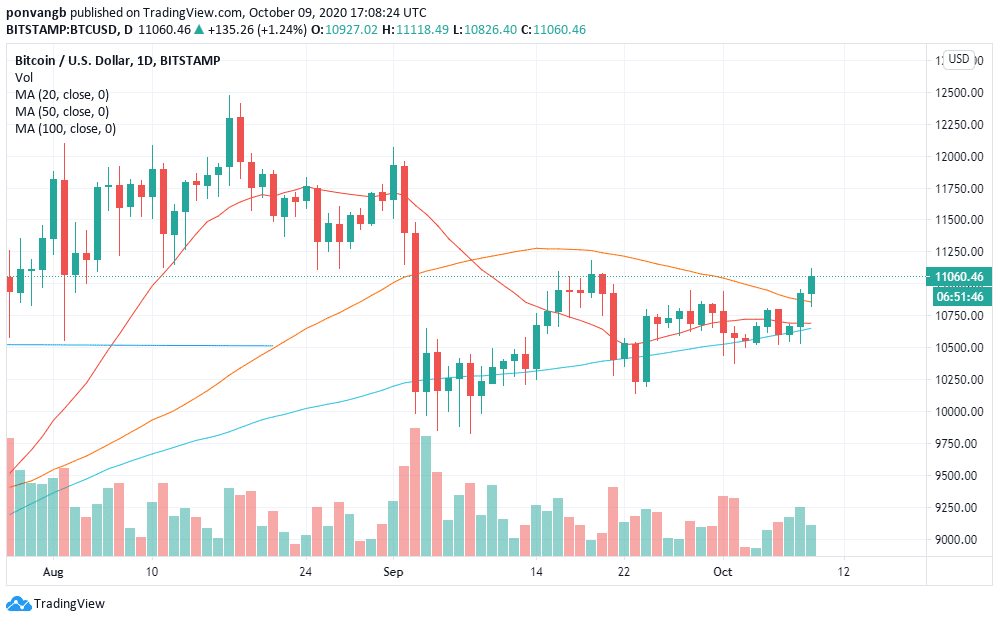 For those interested in trading the asset, here are resistance and support levels calculated by the leading price analysis website – Walletinvestor to help you in your trading decisions:
Resistance Level (R3): 11.023;
Resistance Level (R2): 10.322;
Resistance Level (R1): 9.915;
Pivot Point: 9.214;
Support Level (S1): 8.807;
Support Level (S2): 8.106;
Support Level (S3): 7.699.
Developments
Chainlink has a vision to integrate smart contracts into real-life data. As a part of fulfilling this mandate, it has initiated a grants program to support developers who integrate Chainlink into new blockchains. In a new blog post published on September 9, the team announced that it has made over $100,000 available in funding and is now accepting proposals for the first blockchain integration RFP, which is for Solana.
The project is co-sponsored by Solana and Serum, which is the first entirely on-chain cryptocurrency ecosystem that has trustless trading built into the Solana network. In addition, the team has recently launched a Chainlink Community Grant to help fast track the growth of the network.
Chainlink Price Prediction: Market Opinion for October 2020
Although LINK seems to be doing well now, there are varying opinions on how it may perform in the month of October. Some analysts said earlier that it was showing signs of a break to the lower side, but it turns out the break was on the upside. In spite of this, it may still be helpful to get the opinions of a few more experts to be able to make the right decisions on investing in the asset.
Walletinvestor
Walletinvestor gives future predictions based on the price behavior in the last 30 days. The website forecasts that LINK will end the month of October at $9.6. The minimum price for the month will be $7.016 and the maximum will be $10.761. Below are the daily predictions covering 16 to 28 of October.
| | | | |
| --- | --- | --- | --- |
| Date | Price | Min Price | Max Price |
| 2020-10-16 | $11.266 | $10.222 | $12.302 |
| 2020-10-17 | $11.429 | $10.371 | $12.517 |
| 2020-10-18 | $11.391 | $10.360 | $12.433 |
| 2020-10-19 | $11.399 | $10.231 | $12.476 |
| 2020-10-20 | $11.474 | $10.356 | $12.613 |
| 2020-10-21 | $11.034 | $9.985 | $12.098 |
| 2020-10-22 | $10.921 | $9.806 | $11.987 |
| 2020-10-23 | $11.237 | $10.178 | $12.291 |
| 2020-10-24 | $11.400 | $10.364 | $12.408 |
| 2020-10-25 | $11.362 | $10.289 | $12.481 |
| 2020-10-26 | $11.370 | $10.302 | $12.386 |
| 2020-10-27 | $11.446 | $10.355 | $12.521 |
| 2020-10-28 | $11.005 | $9.931 | $12.044 |
Digitalcoinprice
Unlike Walletinvestor, Digitalcoinprice expects LINK to gain 78.93% and close October at $18.59. The also predict that by the end of the year, the price will crash back down to $8.54.
Chainlink Price Prediction: Verdict
It is not clear from these predictions if LINK will be a profitable investment in the month of October. However, investing in it for the long term may be worth it. According to key crypto influencers, LINK is one of the most promising altcoins for the future. One analyst has predicted that it could go as high as $32 by the end of the year. It is worth mentioning that you should do some due diligence before considering investing in any cryptocurrency.

coindoo.com is author of this content, TheBitcoinNews.com is is not responsible for the content of external sites.