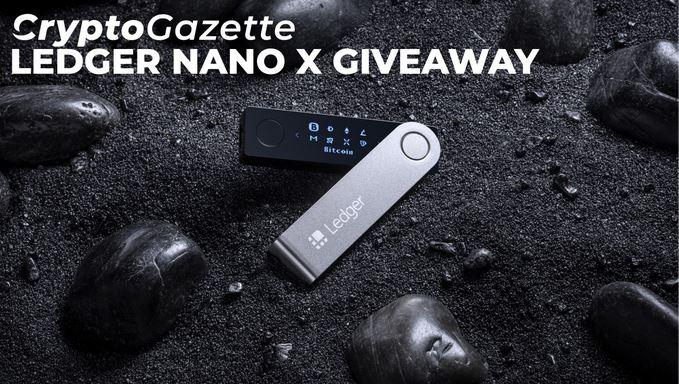 Bitcoin Press Release:Crypto Gazette is having a significant giveaway at the end of April. The crypto-oriented online publication will gift ten Ledger Nano X devices to the luckiest of its readers at the end of the month.

30th March 2020, London, United Kingdom – An economic crisis can strike anytime, and the latest black swan event that we've entered is the best proof. Such an unpredictable and unforeseen event, unfortunately, comes with some extreme consequences, and people have to prepare for bleak times.

Fortunately, the disruptive emerging blockchain industry has enormous potential and, along with digital assets, it can revolutionize the financial future and more. Bitcoin and crypto are a new technology that hasn't yet reached mainstream adoption, but it's going on the right path towards the achievement of this massive goal.

Bitcoin and the technology that is powering crypto have been born from an economic recession, and digital assets are built to withstand the collapse of fiat currencies. Crypto is seen as a safe haven and a flight of safety for capital to flow into these days.

The Benefits of Cold Wallets in 2020
Crypto Gazette online publication targeting the crypto industry's enthusiasts is preparing a great giveaway for its readers for the end of April. Ten lucky crypto fans will receive a Ledger Nano X cold wallet to store their digital assets.

The war between hot and cold wallets is a never ending one in the crypto community, but the conclusion is always the same: cold wallets are definitely superior to the hot ones in terms of safety and more essential features.

Cold wallets are physical devices that are storing digital assets, and one of their main advantages is that they're completely safe from hackers and all kinds of prying eyes. Ledger Nano X is the best such device out there in the market, and it rules the crypto space in terms of safety and security.

Unlike hot wallets, which are the most vulnerable ones in the world, cold wallets have a reputation for being impenetrable. Your codes are nowhere else but in the small device, and this offers a massive feeling of calmness and security.

Win a Ledger Nano X with Crypto Gazette
Crypto Gazette offers readers an amazing opportunity by giving away ten cold wallets, and all that interested fans have to do is following a few simple steps in order to become the lucky winners of a Ledger Nano X.

Here are the three straightforward steps required to enter the contest:
Tweet about the contest on Twitter
Follow Crypto Gazette on Twitter
Enter your email
This is all that users will have to do in order to get the chance to become a lucky winner. "We are giving away 10 Ledger Nano Xs. The winner will be chosen at random via e-mail once its confirmed they tweeted, followed and subscribed, most importantly we need your email to notify you if you've won or not," Crypto Gazette writes on the official website.

Among the benefits that Ledger Nano X brings users are the following:
Enjoying the highest level of protection for over 1000 digital assets
State of the art security
Storing up to 100 applications
Bluetooth availability that allows mobile use via smartphones
Enter this unique chance to win a Ledger Nano X that will make sure your crypto stays where it should: safe under your full control.

About Crypto Gazette
Crypto Gazette is a website with news broadcast in rest time, accompanied by analytical commentary on major events in politics and the economy, about the financial markets, stock exchange quotations, and exchange rates. The platform is a Google News Approved Website that publishes the latest cryptocurrency and blockchain news. The key features that describe the platform are transparency, close collaboration, focus on results, and perfect processing of data.

About Ledger Nano X
The next level hardware wallet: securely manage your crypto, anywhere you go. The Ledger Nano X combines ease-of-use and flexibility while ensuring the highest standard of crypto security.

CryptoGazette Website: www.cryptogazette.com
Follow CryptoGazette on Facebook: www.facebook.com/cryptogazettenews/?ref=py_c
Keep up to date with CryptoGazette on Twitter: https://twitter.com/cryptogazette

Media Contact Details
Contact Name: James Challis
Contact Email: [email protected]
CryptoGazette is the source of this content. This Press Release is for informational purposes only.