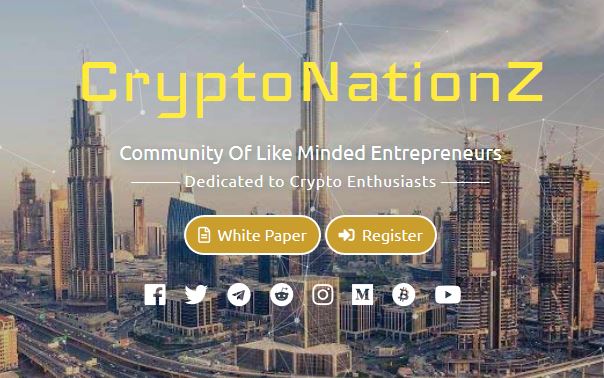 CryptoNationZ will be the world's first community of like-minded entrepreneurs dedicated to living the Crypto life 24/7. CryptoNationZ and CNZ crypto currency joined together in a package deal where crypto members and real estate buyers both can mutually benefit long term.
Dubai, UAE, April 5, 2018, The long anticipated CryptoNationZ ICO Pre-Sale was recently announced and sent shockwaves through the global real estate market. This project will set a new paradigm in the way real estate investing is approached. The use of blockchain technology and crypto currency will be integrated into the entire project concept. A fully functional Crypto Mega-Exchange will be onsite and available around the clock. The project's token, CNZ, will be the currency used for all functions of the project and can be traded on the exchanges for fiat currency at the end of the ICO.
During a recent press conference, a company spokesperson made these comments: "Building a crypto residency is our first and most important plan in CryptoNationZ. Initially, we will focus our efforts on buying and developing properties. Ultra-luxurious houses with a sense of finality in luxury and opulence. Once the properties are purchased, each unit will be hardwired with internet access, state-of the-art amenities will be installed and safety measures will be implemented
ensuring a cutting edge, safe environment. This course of action will be initially pursued as a way to efficiently utilize capital and establish a reputation within the community. Future projects may include custom-built units. The most beautiful attraction will be the all "live crypto exchanges" in separate halls on big screens for our crypto community with five-star facilities."
He goes on to say: "We can close on a property in as little as seven days after using blockchain
technology. The average days on the market for a house listed with an agent is fifty to sixty in our region, in addition to a thirty-day escrow. Our value proposition of an all-cash offer with a fast escrow close is often a good option for the owner/seller who recognizes the benefit of speed to cure their financial situation with using our CNZ crypto coin."
CryptoNationZ will launch their residential/commercial community at two locations with multiple assignments as per the current market. The first and most important location of the CryptoNationZ premium residential/commercial township will be in Dubai. The CNZ coin will immediately benefit clients and establish the connection between digital currency and the value of real estate assets. CNZ is a very strong property-based token. Dubai is the #1 choice from the outset because the UAE remains the most favored real estate investment destination on the planet.
Mark the calendar. The CryptoNationZ ICO Pre-Sale will begin on April 10, 2018. Early adopters will be able to take advantage of the generous discounts. This ICO represents an excellent opportunity to be part of the next generation of investing in real-estate, primarily targeted at crypto enthusiasts. A detailed discussion about this ICO can be viewed in their Whitepaper here.
For complete information, please visit: https://www.cryptonationz.co/#
Media Contact:
CryptoNationZ
Attn: Media Relations
Dubai, UAE
+971501082189
[email protected]
Press Release Writing and Distribution by professionals for the Cryptocurrency industry. Steve Stanley, has written thousands of Press Releases and countless Articles spanning every industry and niche. It is easy to find his work on Google News and hundreds of other news outlets. There is no doubt that he is one of the only experts in his field when it comes to I.C.O: You can learn more about him and his services at http://ico-prmarketingservices.com