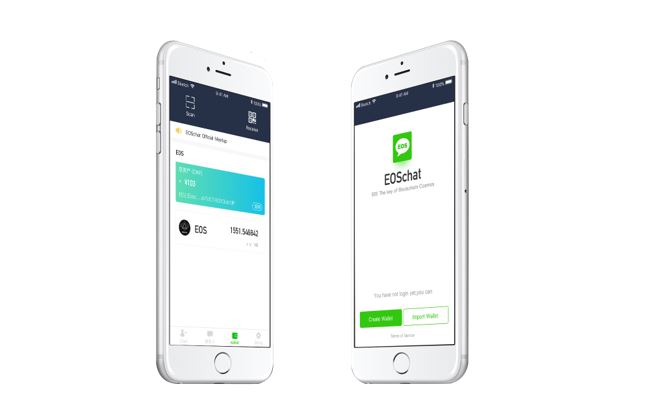 EOSchat, known as the "Next-Generation Chat APP", will be released synchronously with the launch of the EOS mainnet early next month.
EOSchat is a next-generation decentralized social network based on EOS. Apart from the unlimited chat around the world, it also features the blockchain communication community and EOS wallet. EOSchat integrates digital currency storage, ultra-fast mainnet transaction, EOS elite community and encrypted instant messaging.
According to public sources, EOSchat has the following main features.
Decentralized chat
Unlike the decentralized chat tool based on Ethereum, EOSchat's decentralized information transmission on public blockchain is completely free and does not require any payment, and the transmission speed is much faster than the Ethereum blockchain. With the smarter instant message processing model of EOSchat, transfer requests and smart contracts in a chat can be sent to friends on the smarter and faster EOS network without relying on the synchronization protocol of the central server.
Decentralized application market
With EOSchat, your mobile device will become a light node on the EOS network, allowing you to access the entire ecosystem of EOS from anywhere and enter the EOS blockchain world in time.
Next-generation light wallet
With the support of EOS Dawn 3.0, EOSchat's wallet will provide the security protection measure of double private key for the first time. It supports custom public key address and multi-level authority management modes, which are the industry standards for a new generation of light wallets. EOSchat put performance in high priority from the very beginning. It is expected that when the EOS main network is released in June, the 1000TPS speed of the main network will enable all the messages and transactions to arrive immediately on EOSchat.
The upcoming launch of EOS mainnet is the most notable blockchain event in the first half of this year, and the release of EOSchat is an important part of the EOS system. The model combining decentralized social network and high-speed payment will undoubtedly spark on blockchain.
website: http://eoschat.io/