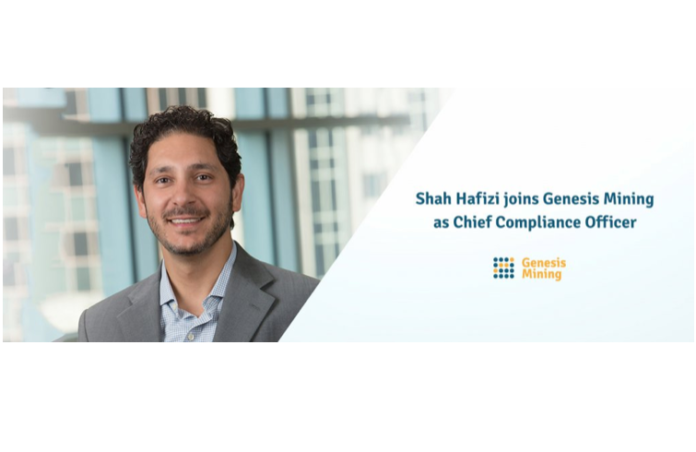 Bitcoin Press Release: The Cloud Mining Leader Sets Example for the Industry With Commitment to Compliance
Hong Kong, April 29 – Genesis Mining, the world's foremost cloud mining provider, today announced that Shah Hafizi is joining its team as the Chief Compliance Officer and Americas General Counsel. Shah comes to Genesis Mining from BlackRock, Inc. where he served as Chief Compliance Officer overseeing technology and digital ventures.
Marco Streng, CEO and founder of Genesis Mining, has these words to say about the news;
"I am excited to leverage Shah's years of thought leadership to contribute to the conversation around cryptocurrency regulation and underlying infrastructure and services. His experience building compliance programs for some of the world's largest companies will be an asset to the team,"
Shah brings a wealth of institutional knowledge from past roles at UBS AG, D.E. Shaw & Co and public service as a regulator at the U.S. Securities and Exchange Commission. As an early adopter of cryptocurrency, he brings a unique perspective to regulatory discussions and collaborations.
Shah will be leading regulatory and government affairs and engagements globally. He will also help shape standards, best practices, and compliance frameworks for Genesis Mining and the broader blockchain industry.
Shah explains.
"We aim to lead the industry by collaborating with regulators and governments to form a clear regulatory framework for our users and the greater community," Shah explains.
About Genesis Mining
Founded in 2013 Genesis Mining is one of the world's largest hashpower providers with over 2 million customers globally. With data centers around the world, including centers in Iceland that run on 100% renewable energy, Genesis Mining is a leader in the blockchain movement, and works to help drive positive growth in the industry.
Learn more about Genesis Mining here – https://www.genesis-mining.com/
Find Genesis Mining Facebook – https://www.facebook.com/GenesisMining
Follow Genesis Mining on Twitter – https://twitter.com/GenesisMining
Check out the official Genesis Mining Instagram – https://www.linkedin.com/organization/5095028/
Read about Genesis Mining on Medium – http://www.medium.com/@genesismining
Genesis Mining LinkedIN – https://www.linkedin.com/organization/5095028/
Media Contact
Contact Name: John Drebinger
Email: [email protected]
Location: Hong Kong
Youtube: https://www.youtube.com/c/Genesismining_official
Genesis Mining is the source of this content. Virtual currency is not legal tender, is not backed by the government, and accounts and value balances are not subject to consumer protections. Cryptocurrencies and tokens are extremely volatile. There is no guarantee of a stable value, or of any value at all. Token sales are only suitable for individuals with a high risk tolerance. Only participate in a token event with what you can afford to lose.This press release is for informational purposes only. The information does not constitute investment advice or an offer to invest.
You want the latest news about Crypto? Sign up to our weekly Newsletter!