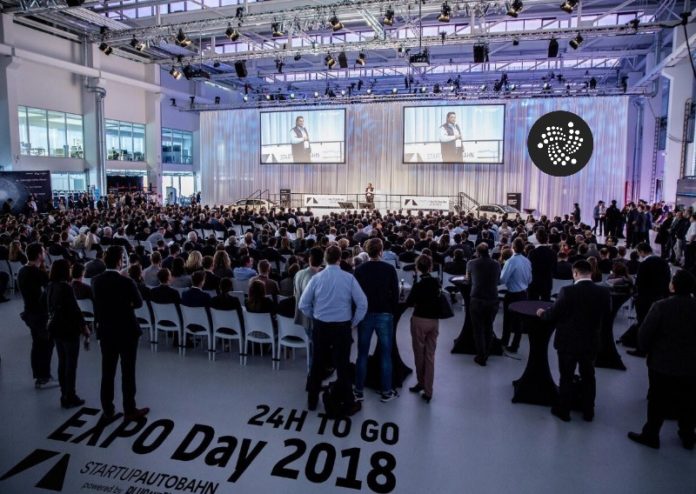 IOTA team managed to win StartupAutobahn pitch event by PlugandPlayTC which took place at the Carl Benz Arena in Stuttgart on July 19th. Team were presenting innovative blockchain and automotive solutions together with 30 other selected start ups during this very exclusive event. IOTA's presentation was leaded by team member Alisa Maas.
#IOTA #tangle #IOTAfoundation @AlisaMaas Alisa pitching IOTA @StartupAutobahn on stage in Stuttgart. Great presentation! pic.twitter.com/Yb23wmPVV3

— regine (@Energine) 19. Juli 2018
#IOTA #IOTAfoundation @AlisaMaas @DavidSonstebo @DomSchiener @ralf IOTA wins the @StartupAutobahn @PlugandPlayTC Pitch Event first round in Stuttgart pic.twitter.com/t8mc7E19WV

— regine (@Energine) 19. Juli 2018
Startup autobahn is The innovation platform for future mobility, future of production, collaboration and startups backed by PlugandPlayTC, a global open innovation platform connecting startups to corporations through 50+ accelerator programs a year.
You want the latest news about Crypto? Sign up to our weekly Newsletter!

Startup autobahn is eclusive automotive expo where most creative ideas are shared and presented to attendees. Furthermore, companies like Porsche and Mercedes were attending this event too.
.@StartupAutobahn Expo Day in Stuttgart about to start. Looking forward to an exciting afternoon full of innovative ideas and prototypes! pic.twitter.com/1Dmwr5ZdGF

— Porsche Digital Lab (@PorscheLab) 19. Juli 2018
Get #ready. Expo Day is about to open its doors. 31 #startups, 13 countries and 1 #goal. To showcase what they have achieved in recent months. #startupautobahn #openinnovation #demoday #EXPODay pic.twitter.com/NbMc2In3t3

— STARTUP AUTOBAHN (@StartupAutobahn) 19. Juli 2018
IOTA's team growth
Since the beggining IOTA core team was leaded by only a few members. Since IOTA was steadily causing worlds attention with it's unique project and technologies team growth was unavoidable. Now IOTA has over 60 team members onboard and
…
iota-news.com is author of this content, TheBitcoinNews.com is is not responsible for the content of external sites.