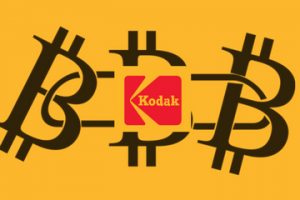 The team behind Kodak's new Digital Rights Management platform, which offers an encrypted, digital ledger of rights ownership for professional photographers on the blockchain, has confirmed it will be developing a payment solution for the service via the Stellar platform. The Initial Coin Offering Kodak launched in May for the new blockchain-powered DRM service was an ERC-20 token known as KodakCoin, marking Kodak's first official venture into blockchain technology. Kodak blamed US legan concerns for the hold-up of the KodakCoin ICO. 
Stellar is an offshoot of the Ripple cryptocurrency (XRP). Stellar has a very promising outlook as well as certain innovative features. Instead of facilitating payments between banks and financial institutions like XRP, Stellar is focused more on facilitating payments between people in a peer-to-peer manner. Transactions reportedly take less than six seconds to complete on the decentralized Stellar exchange.
However, the initial ERC-20 Kodak ICO token will continue to operate as the project's security token only and not the platform's utility token. All future payments for photographers to utilise the platform's services will be secured by Stellar. The overall concept of the KodakOne DRM platform is to give more power to photographers that see millions of photos used around the world online without sufficient credit. Cam Chell, chairman of KodakOne, believes that by pairing KodakOne with blockchain technology, photographers will benefit from a digital "licensing platform that enforces copyright compliances and tracks the usage of images – giving photographers more control over licensing while at the same time creating a creative community and a comprehensive marketplace that meets all their needs".
The KodakOne platform was developed by Kodak in conjunction with WENN Digital. The CIO of Wenn Digital, Volker Brendel, confirmed earlier this month that they would be "supporting the stellar protocol for any kind of payment transactions in the KodakOne platform". The initial Kodak ICO was split between a pre-sale and a public sale and aimed to raise $50 million for the evolution of the platform. It recently agreed a partnership deal with veteran Formula 1 champion Fernando Alonso, who has become a global ambassador for KodakOne. All photography of Alonso on and off the track will be stored securely on the KodakOne platform as a result.
It has been some time since Kodak was in the public spotlight. After being a household name in photography in the 1990s, the firm took a turn for the worse around 2000, and Kodak was soon forced to file for bankruptcy. However, it made a comeback in 2013 and has since sought to reinvent the brand in the printing and digital film space. There's no doubt that financial investors believe KodakOne to be a positive move by Kodak given that its share price has more than doubled since its first announcement about the Kodak ICO.
Aside from wondering what is KodakCoin, cryptocurrency investors will also be interested to hear that Kodak has binned its own Bitcoin miner, KashMiner, on the quiet. KashMiner was a Bitcoin miner that could be 'hired' for around $3,500 to be operated quietly in the background, racking up $375 per month in passive income from generating new Bitcoins. It transpires that claims that Kodak had a string of KashMiner machines installed within its own headquarters were unfounded, and that Kodak's steady ambivalence towards the hardware was probably due to its release of KodakOne on the blockchain.
The post Kodak ICO Team Confirms Stellar-Based Payment Solution appeared first on The independent republic.
source: https://theindependentrepublic.com/2018/07/23/kodak-ico-team-confirms-stellar-based-payment-solution/
TheBitcoinNews.com is here for you 24/7 to keep you informed on everything crypto. Like what we do? Tip us some BAT

Send Tip now!