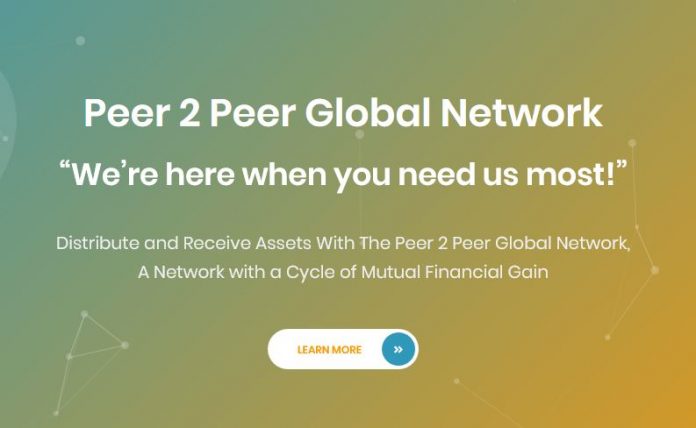 Financial security is one of the most important aspects of everyone's life. Unfortunately, many people either don't qualify for Government run benefits or simply do not have the time to wait to receive benefits. P2P Global has launched a decentralized fund that protects its members when unemployment strikes.
Austin, TX – Dec 7th 2018, Peer 2 Peer Global Network has made international headlines this week with the announcement that they have opened up the Pre-Sale for their highly anticipated Initial Coin Distribution. Many expect this to be the top ICD of the year as it has been compared to Social Security and some even say it is better than Social Security. Essentially, P2P Global has launched a membership-based network that distributes unemployment benefits to their members should they be hit with the unfortunate "pink slip".
P2P Global Network is a decentralized peer to peer network where the members pay a monthly subscription fee to become entitled to benefits. Holding a membership will enable users to seek help during tough situations like unemployment due to layoff, medical conditions or even natural disasters. For the next two months P2P Global Network is offering a free membership that can be obtained by signing up at http://www.joinp2p.com. The P2P ecosystem will be governed by its token holders which will guarantee the success, transparency and longevity of the ICD.
The team at P2P Global is comprised of some of the brightest minds in the Blockchain, Business, and Financial industries. P2P Global has also appointed several top Advisors to ensure the success of the ICD and smooth transition thereafter. The company is led by their CEO Keeley Wilkinson, who has launched quite a few startups and is considered an expert in leadership, business development and strategy. Learn more about the other team members and Advisors by clicking here.
During a recent press event, the company spokesperson for P2P Global Network was quoted as saying, "Peer 2 Peer Global Network is birthed with the aim to solve the burning financial problem that unemployment causes with these unavoidable and unfortunate life incidents. We realize that unavoidable circumstances can lead to unfortunate circumstances and problems. Peer 2 Peer Global Network specializes in solving those problems." He went on to say, "We decided to offer free membership for the next two months to show users the true value of this revolutionary platform."
The Pre-Sale for the Peer 2 Peer Global Network has already opened. Analysts are predicting that this will be a hot ticket token and token supply is expected to run out quickly. One Analyst was quoted as saying, "Unlike other ICO's, P2P Global already has a functioning product. Participants wishing to buy tokens can rest assured knowing that the product has been developed and the ICD is not based on a dream."
To learn more about this exciting Initial Coin Distribution or to become a participant, visit their official website at http://www.p2pglobal.io. Sign up as a member at http://www.joinp2p.com.
Media Contact:
Peer 2 Peer Global Network
Attn: Media Relations
WGC Holdings, LLC
317 Commercial St. NE, Ste: A PMB
Albuquerque, NM 87102
Ph: (855) 727-6389
[email protected]
Press Release Writing and Distribution by professionals for the Cryptocurrency industry. Steve Stanley, has written thousands of Press Releases and countless Articles spanning every industry and niche. It is easy to find his work on Google News and hundreds of other news outlets. There is no doubt that he is one of the only experts in his field when it comes to I.C.O: You can learn more about him and his services at http://ico-prmarketingservices.com