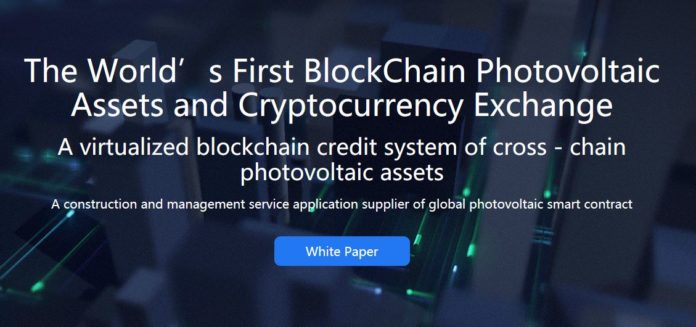 Blockchain-enabled P2P energy trading will transform energy networks into trading platforms and invoke a transactive economy that moves away from bilateral retail arrangements to multi-lateral trading ecosystems.
San Jose, California, April 4, 2018, The ICO Pre-Sale announcement from the team at UEC has sent shockwaves throughout the global energy sector. After all, this is the World's First Blockchain Photovoltaic Assets & Cryptocurrency Exchange. UEC is a decentralized network protocol based on blockchain technology, which digitizes the assets and equity of the physical energy, registers and transfers transactions and delivers liquidation through the peer-to-peer network. In essence, a construction and management service application supplier of global photovoltaic smart contracts.
During a recent interview, a company spokesperson explained some of their goals: "What we are going to do is establish a value-exchange network that allows consumers to achieve fair returns from distributed energy resource (DER) investments will encourage greater investment in distributed renewable energy and promote a new era in power network management. This new paradigm will lead to increasing levels of automation and flexibility, with millions of micro-investments distributed throughout the system, rather than a few large-scale, centralized investments." No longer will the average electrical consumer be dependent on the centralized power-grid.
He goes on to say: "This will be accomplished by creating a trust-based trading platform network that enables consumers to sell energy to others in a trustless environment. It is a new component of the distributed economy that allows consumers to realize the value of their investment in DER by allowing them to monetize their excess energy in much the same way as Uber and Airbnb allow people to monetize their cars and spare rooms."
The UEC platform is an ecosystem that can achieve interoperability between multiple market management/pricing mechanisms and power units (kWh) through the purchased UEToken. The UEC Platform provides a transparent governance framework that allows the Ecosystem to interface with energy markets around the globe seamlessly, bringing innovation and a wide range of network benefits to consumers.
UEC's Ecosystem puts choice in the hands of the Consumers by allowing them to specify where they want to purchase their energy from. The team at UEC has developed its own unique transaction matching algorithms which transact available power fairly between average consumers and Consumers without favoring any of the Participants. This ICO represents the next generation of energy management on a global scale.
The UEC ICO Pre-Sale will soon be announced. Early adopters will be able to take advantage of great discounts.  A detailed description of this ICO is available for viewing in their Whitepaper here.
For complete information, please visit:  http://www.uec.red/
Media Contact:
UEC
Attn: Media Relations
San Jose, California
+8 618002605136
Press Release Writing and Distribution by professionals for the Cryptocurrency industry. Steve Stanley, has written thousands of Press Releases and countless Articles spanning every industry and niche. It is easy to find his work on Google News and hundreds of other news outlets. There is no doubt that he is one of the only experts in his field when it comes to I.C.O: You can learn more about him and his services at http://ico-prmarketingservices.com