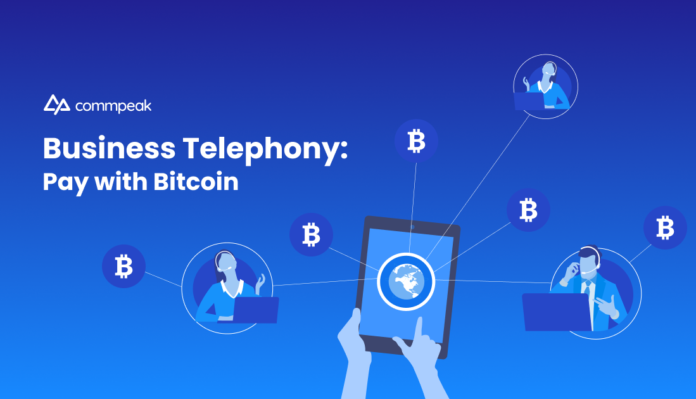 For any business, regardless of its scale, communication with customers is vital. So is finding a reliable provider to begin with. Today, companies that own Bitcoin mostly have to convert it into traditional currencies to pay for telephony. Naturally, it takes some time and money to change. However, in some industries, it is hard to find partners that accept it.
There are some exceptions among telephony and VoIP companies. They already allow their clients to pay for their services or goods directly with this cryptocurrency. Here is one of such companies, CommPeak. Get excellent voice termination, optimize your call center with cutting-edge solutions, or buy a virtual phone number with Bitcoin. No currency conversion needed.
You want the latest news about Crypto? Sign up to our weekly Newsletter!

With 10 PoPs around the globe, CommPeak offers an impeccable VoIP connection for inbound and outbound calls. But voice origination and termination are not the only things the company provides. Apart from voice connection, the company has SMS service that supports any type of traffic: promo, OTPs, and alerts. Plus, there are automation and management solutions that will improve many processes in a busy call center.
Among the most popular CommPeak management tools are Dialer and Cloud PBX. Dialer is there to automate your daily routine for your business. It is time zone and area sensitive, so it is easy to establish and maintain a local presence for business practically anywhere in the world. It will display the right caller ID automatically and dial leads only at appropriate time. With Cloud PBX, you don't need your old analog PBX anymore — you can have it in your browser. Access, adjust, and monitor it wherever you are.
Other CommPeak products are virtual DID numbers for business credibility in any country, as they make businesses look local. With Lead Routing, an automated lead distribution system, the productivity of any call center will increase.
CommPeak clients have 24/7 technical support, so operating their complex product is easy even with no specific technical background. And as for payments, with CommPeak, there is no need to convert Bitcoin. They accept it as it is.