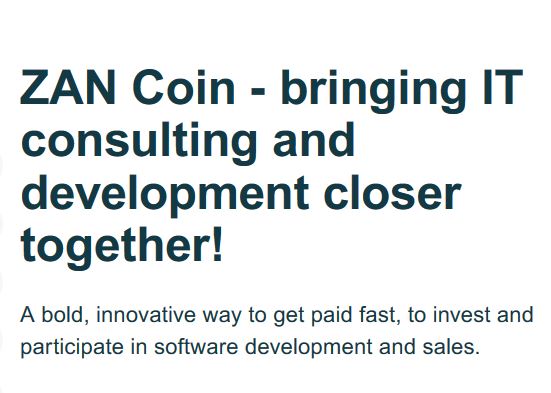 ZAN Coin is bringing IT consulting and development closer together by streamlining the payment process using revolutionary blockchain technology and their unique cryptocurrency.
Sofia, Bulgaria – June 20th2018, ZAN Coin made international headlines this week with the announcement of their ICO that is set to rock the world of IT and software development. ZAN Coin is a new and effective payment solution that can be utilized in practically any employment situation. One of the aspects that makes ZAN so unique compared to traditional methods of payment is that it utilizes the blockchain's ability to send a payment anywhere in the world instantaneously. What makes ZAN truly stand out when compared to other cryptocurrencies as a payment option is its unique "tokenomics" model which not only acts as an efficient form of payment, but also as a tokenized asset which provides token holders various incentives that are exclusive to ZAN.
ZANFAU, the company behind the ZAN coin is a successful software development firm that is run by some of the brightest in the business. The team at ZANFAU have a combined experience of over 35 years in a multitude of areas including IT & software development to blockchain development and online marketing. It is this wealth of expertise that has enabled the ZANFAU team to create an ICO that is unlike any other and set to reshape the way employers send payments and how developers interact with the projects they are employed with. Businesses that use the ZAN Coin incentivize their developers to work harder and better by being paid and then receiving a stake in the actual project. Doing this creates a winning environment for everyone involved.
Some of the main benefits of the ZAN Coin include:
Ability to send instant and secure payments.
Saving money compared to traditional payments methods.
Reduce the usage of third parties /eliminate risk of delays from third parties.
Send payments anywhere at anytime.
Exclusive ZAN coin benefits such as profit sharing and buy back options help further motivate both payees and token holders.
There are two key features which makes ZAN not only an attractive payment option, but also a coin to possess in general:
Token Buy Back – The team will constantly buy back tokens from exchanges so that they can pay developers. This creates both liquidity and demand for the token.
Profit Sharing – 50% of profits made from products will be shared among ZAN holders in the form of ZAN tokens. This factor alone creates a huge incentive to hold the token.
The first round of this highly anticipated ICO has already opened and ZAN tokens can be purchased at a cost of 1 Ether for 1,200 ZAN tokens. Potential participants should act quickly because once this round has closed, the cost per token will rise.
To learn more about the ZAN Coin ICO or to get involved, visit their official website at https://zancoin.tech or read their Whitepaper directly by clicking here.
Media Contact:
Zanfau Ltd
Attn: Media Relations
Sofia, Bulgaria
Ph: +61 2 8011 4394
[email protected]
Press Release Writing and Distribution by professionals for the Cryptocurrency industry. Steve Stanley, has written thousands of Press Releases and countless Articles spanning every industry and niche. It is easy to find his work on Google News and hundreds of other news outlets. There is no doubt that he is one of the only experts in his field when it comes to I.C.O: You can learn more about him and his services at http://ico-prmarketingservices.com