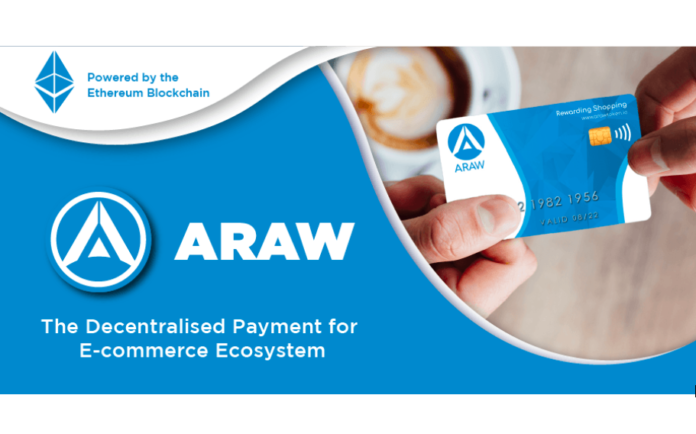 Bitcoin Press Release: ARAW announces their Token Ecosystem, a fully featured platform revolving around a utility based token that aims to disrupt the global E-Commerce Marketplace and Payments industry.
May 20th, 2018. London, UK: The cryptocurrency and blockchain spaces have been growing exponentially over the last few years and thousands of companies and start-ups have been innovating through the blockchain. These companies have created tokens, which all have different purposes. Some tokens have a specific business application, while others just represent equity. Most companies in the industry have very similar visions and projects, but occasionally some really stand out and show huge potential. This is the case with ARAW. This company is creating the ARAW Token Ecosystem, a fully featured platform revolving around a utility based token that aims to disrupt the global E-Commerce Marketplace and Payments industry.
ARAW is the decentralized payment for e-commerce ecosystem. They are on a mission to provide end-to-end solutions for e-commerce Marketplace, Touch & Pay Cryptocurrency Card, Online Cryptocurrency Payment, and Unified Reward System powered by the Ethereum Blockchain.
An Amazing Team of Developers and Advisory Board Members
A well-seasoned team of technology geeks and developers are building the ARAW Token platform with their extensive experience developing complex finance and banking systems from scratch.
Their advisory board members John Wellman, Group CEO of Bleep & Dr. Jane Thomason, Advisory Board member of the British Blockchain, are part of the best in the e-commerce and Blockchain industry and they have huge social impact.
Blockchain User Adoption & The ARAW Platform
The goal of the ARAW token is to be a part of everyone's day-to-day online & in-store shopping. The company is aiming to contribute to the global Blockchain User Adoption by intuitive and seamless integration of vastly used E-Commerce channel with the Decentralised Payment such that regular people across the world can benefit from the cryptocurrency without needing them to change their shopping behaviour or understand the complexity of the Blockchain technology.
One of the key "components" of the ARAW token ecosystem is its mobile application. On the application lies an e-commerce marketplace where customers can shop digitally using the ARAW token. Moreover, the mobile application provides a cryptocurrency wallet for multiple coins and tokens, as well as fiat currencies. This includes the ARAW token, BTC, ETH, and USD. There is also a digital currency exchange built into the mobile application, which lets users exchange cryptocurrencies to other cryptocurrencies and to fiat and vice versa.
Another strong feature is the Banking System Integration in the app, which allows users to top-up using bank accounts and to obtain cashback on the ARAW tokens.
Customers will also be able to shop in physical retail stores using the ARAW Touch & Pay Card. The goal of the ARAW is to make regular people accustom to use ARAW card for their daily shopping and time-to-time reward them out of box. To increase the merchant adoption rate, the ecosystem introduced Araw Pay, the decentralised payment gateway, which allows merchants to accept online payments with the ARAW token with a click of a button.
Why it is the future of E-Commerce and Payments?
The ARAW Token Ecosystem is the first of its kind. With cryptocurrencies and the blockchain technology taking off in the recent years, many innovations have seen the light of day but none were as complete as the ARAW token ecosystem. It has the potential to disrupt a whole industry in one of e-commerce and payments. This is the case because it provides end-to-end solutions for this industry that is almost begging for change and modernization. With its open API and its plug & play e-commerce platform, the ARAW Ecosystem is really easy to adopt for large enterprises, and it makes it effortless for small and medium merchants around the world to build their own blockchain based e-commerce platform, which in turn will drastically improve revenue.
Rapid Growth and Impressive Statistics
ARAW has seen very rapid and exponential growth over the past couple of months. They currently have users from 170 countries, in 4808 cities! In addition, they have 45,000+ Twitter followers & 50,000+ Telegram group members, which they use to make announcements and spread various news. Furthermore, the platform and the ecosystem have been praised in a lot of YouTube reviews across the world.
Tokensale
ARAW is currently having a high demand in private sale. The pre-sale registration for has been ongoing and pre-sale will start on 1st July. The token is KYC approved and the team is working closely with exchanges to list the token after the token event.
Visit the Website: https://arawtoken.io
Read the WhitePaper: https://arawtoken.io/assets/araw_businesspaper.pdf
Experience the Platform MVP – https://demo.arawtoken.io/
Join the Airdrop – https://airdrop.arawtoken.io/
Follow onTwitter: https://twitter.com/arawtoken
Chat on Telegram: https://t.me/ArawTokenOfficial
Join on Medium blog: https://medium.com/@TheARAWToken
Follow on Linkedin – https://www.linkedin.com/company/arawtoken/
Media Contact
Name: Krutesh Shah
Location: London, UK
Email: [email protected]
ARAW is the source of this content. Virtual currency is not legal tender, is not backed by the government, and accounts and value balances are not subject to consumer protections. Cryptocurrencies and tokens are extremely volatile. There is no guarantee of a stable value, or of any value at all. Token sales are only suitable for individuals with a high risk tolerance. Only participate in a token event with what you can afford to lose.
This press release is for informational purposes only. The information does not constitute investment advice or an offer to invest. The ARAW token sale is closed to US participants and participants of all countries in which ICOs are illegal.