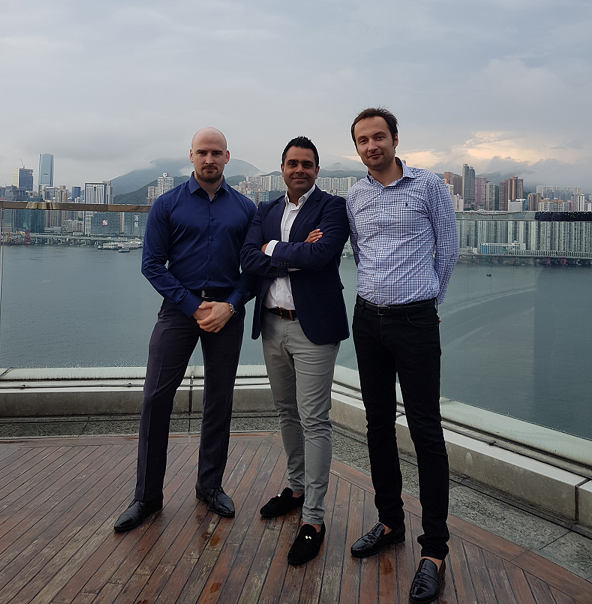 Bitcoin Press Release: Blockchain video sharing platform Viuly participated in the Block O2O, and Fintech O2O conferences, the most promising gathering of blockchain experts, in Hong Kong on May 8, 2018.
17th May, 2018, Estonia: Viuly, as a decentralized platform for video content, connects creators with viewers, directly. This allows creators to earn with viewership and users to earn from watching videos and ads. The platform recently headed to Hong Kong, to participate in Block O2O, a summit that saw people from all over the world coming together to discuss about the current state and future of blockchain.
Block & Fintech O2O and Viuly
Block O2O and Fintech O2O where blockchain conferences hosted for entrepreneurs, engineers, financers, economists and regulators who discussed the present and the future of blockchain technology. The summit will be attended by more than a hundred investors, 100 speakers and 1800 delegates from 30 different countries.
The summit was held in PMQ, in the heart of the fashion and entertainment district of Soho, Hong Kong. The colonial Married Police Quarters has been redesigned as a state of the art conference centre. The summit was held for two days on 8th and 9th of May.
The team attended several closed investors meetups, these were organised for the team to pitch the Viuly project to potential partners and investors.
Igor Glavatskiy, Zahid Ali and Andrei Druta presented the project on stage, and outlined what was achieved by VIULY for last four months and what their roadmap holds in store for the future on the closed meetup after the event.
The team appreciate everyone who took part in making the memorable event happen.
OKEx Meeting
The Viuly team visited the OKEx headquarters in Hong Kong, where the team met with professionals from OKEx crypto-exchange. The Viuly team were really glad to meet the highly skilled and energised team.
As a participant, Viuly will showcase its video sharing platform to other participants, meet up with other blockchain platform teams and enthusiasts and generally discuss about how the technology is reshaping the world.
Videos On Blockchain: Viuly
Viuly uses blockchain technology to drive its video sharing platform. Through it, Viuly achieves a faster smarter and an efficient way of not only sharing videos, but allowing monetization of the content.
With blockchain, Viuly eliminates the need of an intermediary service provider. This means there are no commissions or heavy fee involved when content creators want to charge for their videos and channels. More money for creators also translate into more contents
For viewers, this means that there is more content to watch. Donations sent by viewers to their favorite creators is also free of any cuts. Viewers are also awarded for watching videos.
The third major effect is that without any middleman, advertisers can run their ads more cheaply. Revenue generated from ads on the platform is distributed to content creators and users.
By using smart contracts, all monetization of services is done automatically through the native VIU token. The Viuly team airdropped 20 VIU tokens per 1 ETH in each ethereum address used. The airdrop campaign lasted 5 days. Viuly has recently released its alpha version of its platform and already has more than one million users with over 76,000 channels running on the decentralized platform.
Learn more about Viuly's Platform– https://Viuly.io/
Follow Viuly on Twitter – https://twitter.com/ViulyOfficial
Follow Viuly on Facebook – https://www.facebook.com/viuly/
Learn more about Viuly on Medium – https://medium.com/@Viuly
VIULY participants in HK trip:
Igor Glavatskiy – https://www.linkedin.com/in/igorglavatskiy/
Zahid Ali – https://www.linkedin.com/in/zahid-ali-9b899a40
Andrei Druta – https://www.linkedin.com/in/andrei-druta-8195067a
Media Contact
Contact Name: Ruslan Popa
Contact Email: [email protected]
Location: Estonia
Viuly is the source of this content. Virtual currency is not legal tender, is not backed by the government, and accounts and value balances are not subject to consumer protections. Cryptocurrencies and tokens are extremely volatile. There is no guarantee of a stable value, or of any value at all. Token sales are only suitable for individuals with a high risk tolerance. Only participate in a token event with what you can afford to lose.
This press release is for informational purposes only. The information does not constitute investment advice or an offer to invest. The Viuly token sale is closed to US participants and participants of all countries in which ICOs are illegal.
About Bitcoin PR Buzz -Bitcoin PR Buzz has been proudly serving the PR and marketing needs of Bitcoin and digital currency tech start-ups for over 5 years. Get your own professional Bitcoin Press Release. Click here for more information about Bitcoin PR