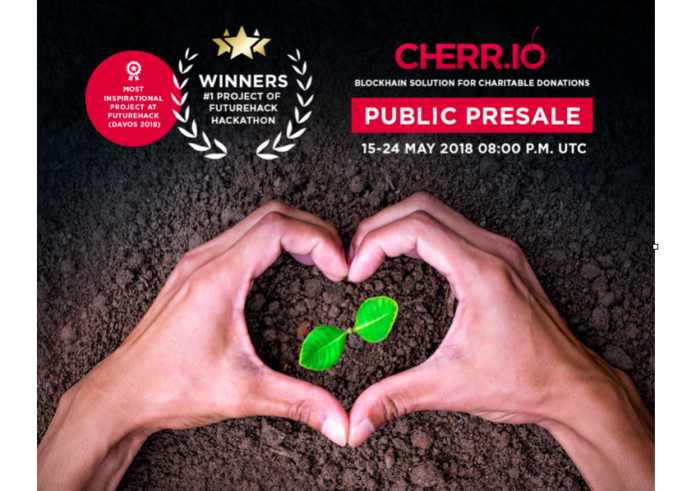 Bitcoin Press Release:The CHERR.IO story: from winning FutureHack in Davos during this year's World Economic Forum, to partnering with Caritas Maribor,one of the biggest charity organisations in Slovenia, to conducting their first charity campaign, to their long awaited crowdsale.
May 17th, 2018, Maribor, Slovenija – After more than a year of intensive work, CHERR.IO, born in Slovenia – which is becoming one of the most highly valued blockchain destinations in Europe – is aiming to disrupt the existing foundations of the global charity sector. Additionally, they just started with their token sale. The public pre-sale is currently LIVE and will last for 9 days. Check more at https://ico.cherr.io/. Furthermore, the launch of their official crowdsale will be on 1st of June and last until 15th of June.
Though under personal pressure to deliver, for the love of their project, they are keeping their minds focused on the realization of their unique vision – a fundraising platform that will improve and expand existing charitable donations processes, increase their transparency and reinforce the trust that people have in charitable organizations.
On the CHERR.IO platform, crafted on the Ethereum blockchain, which ensures traceability and full auditability of transactions, you can already find live charity campaigns. Recently, their focus was to help two little boys with cerebral paralysis regain strength to walk. The CHERR.IO team met with them and admired their remarkable efforts, shown in this unforgettable video.
In the last couple of months the journey was very exciting for the very committed CHERR.IO team. Besides the fact that their project was very well received by the crypto community and wider audience, they also managed to reach some important milestones such as winning FutureHack, the first ever hackathon that took place in Davos during this year's World Economic Forum. At this event, top developers from all over Europe created blockchain solutions to address the United Nations Sustainable Development Goals (SDG). Additionally, the Slovenian Prime Minister Miro Cerar honorably announced CHERR.IO as "the most inspirational project from Slovenia". They also continued to receive a lot of positive feedback from investors and business leaders whilst they presented their blockchain project at different conferences around the globe. Moreover, they also won the 'ICO Demo Day', after receiving an invitation from the 'Business Angels of Slovenia' to present their project to an audience consisting of local qualified investors, the CEE Region and broader. The CHERR.IO team did not stop here. They partnered with Caritas Maribor, one of the oldest and biggest charity organisations in Slovenia and also a member of Caritas Internationalis and Caritas Europe. By embracing blockchain technology and fulfilling their mission to show love and care for the people in need, they became a pioneering blockchain charity organisation.
On their path to disrupting the ways traditional charitable organisations work, CHERR.IO also enjoys the support from their renowned and diverse advisory board – exceptional individuals like Jacob Papageorgiou, Giovanni Lesna, Vladimir Nikitin, Melinda Woolf, Niko Slavnič, Grey Jabesi. Finally, words cannot express the gratitude they want to show towards the support they have been receiving from their community, which is more of a family – getting stronger every day.
CHERR.IO's co-founder, Aljaz Straser states
"For us charity work is all about people. That is why we gave them powers to decide. Our community, chooses who and where their donations will go towards."
Notably, they are equally grateful for receiving very high ratings on well-known ICO listings, made by expert reviewers.
Moreover, they are the first to utilize a gamified rewarding mechanism on a charity platform.
The CHERR.IO team Commented;
"We believe these incentives will help us attract cryptocurrency users from all over the world that are willing to donate or just actively participate for rewards whilst simultaneously help others. "With the support of our community we are confident that we can improve and save many lives. This also means truly reaching the United Nations Sustainable Development Goals (SDG)."
To learn more visit the Website: https://www.cherr.io/
Meet the Team – https://www.linkedin.com/company/cherrio/
Chat with us on Telegram – https://t.me/CherrioPlatform
Connect on Twitter – https://twitter.com/CherrioPlatform
Join the community on Facebook – https://www.facebook.com/CherrioPlatform
Subscribe to our Subreddit – https://www.reddit.com/r/cherrio/
Catch up on Medium – https://medium.com/cherr-io
Media Contact
Contact Name: Aljaz
Contact Email: [email protected]
CHERR.IO is the source of this content. Virtual currency is not legal tender, is not backed by the government, and accounts and value balances are not subject to consumer protections. Cryptocurrencies and tokens are extremely volatile. There is no guarantee of a stable value, or of any value at all. The information does not constitute investment advice or an offer to invest.