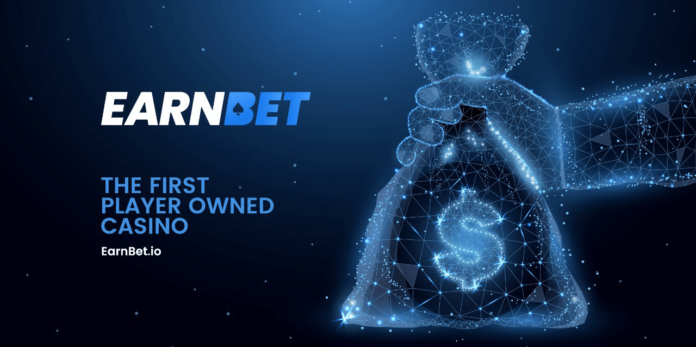 Bitcoin Press Release: Over the past year, the decentralised application market has ballooned in size. Dapps have accounted for over one billion transactions across the past year, and over ten billion dollars in volume. Nearly all this action is on behalf of gaming and gambling dapps, which continue to dominate the market and grow in terms of both users and revenue.
October 30th, 2019, Willemstad, Curacao – EarnBet (formerly EOSBet), the original dapp casino, first launched in March 2018. The platform provides a decentralised, provably fair gaming experience where players are generously rewarded for their engagement. All players receive BET tokens, which entitle them to a share of game profits. A full 100% of game profit is distributed to these token holders.
The cryptocurrency market was hungry for a functional, professional project – one that successfully highlighted the benefits of blockchain technology: immutability, transparency, decentralisation and tokenisation. EarnBet filled that void and has not looked back since.
Growing Achievements & Features
EarnBet quickly became one of the most successful dapp launch of all time, surpassing the entire Bitcoin network and every Ethereum dapp in terms of transaction volume within the first month of launch on the EOS mainnet.
Barely into its first year, EarnBet has experienced numerous achievements and milestones. The company was the first commercially successful platform built on the EOSIO blockchain, and also the first on-chain casino to acquire a Gaming License.
A guiding principle for the platform is ease of use and user experience. EarnBet offers all the benefits of blockchain technology without any of the traditional hassle. All deposits and withdrawals occur instantly, and the platform offers an extremely easy on-boarding process. In late 2018, the platform released its decentralised account system, allowing players to sign up in just a few clicks. No need to deal with wallets, 3rd party software, transaction fees, or staking resources. Best of all, all funds still remain 100% under the user's control.
The platform is rapidly expanding outside of the EOS ecosystem, and now offers betting in BTC, BCH, LTC, and ETH, with more currency integrations planned. The company will be releasing its sixth game by the end of the year and continues to push the boundaries of what's possible for a fully blockchain-based platform.
Recently, the company changed their name from EOSBet to EarnBet, a transition that reflects the platform's rapid expansion outside of the EOS—and even cryptocurrency—communities.
A Win-Win Market for EarnBet.io
With an industry-leading house edge, EarnBet.io has recorded more than 27,000,000 million bets since 2018 and has paid out over $377,000,000 million to its winning bettors.
Perhaps most notable about EarnBet is its profit sharing mechanism, whereby the platform distributes 100% of company profit to BET token holders. To date, EarnBet has paid out over $4 million to BET token holders, who receive instant dividends directly to their account every second of every day.
Initially, BET tokens could only be obtained through gameplay or promotions. However, EarnBet recently reached another milestone by listing on Binance DEX and Newdex, allowing the greater cryptocurrency ecosystem access to its token. The platform is currently running a perpetual buyback, with over half a million tokens already burnt (about 1.5% of circulating supply).
Future Developments
After a highly-successful first year, the EarnBet team remains extremely motivated to take the platform to new heights. Two new games will be added by the end of the year, as well as an affiliates page where community members can keep track of their referral payouts. The team will also be announcing plans to add additional revenue streams and functionality to the BET token, resulting in even more rewards for token holders.
The project will also increase its marketing reach, expanding into other cryptocurrency communities and executing a number of new campaigns focused on bringing in new users. The platform is currently running a limited-time promotion where new users receive 50 free BET tokens for signing up.
As cryptocurrencies continue to grow in adoption and the demand for better, more equitable gaming experiences increases, EarnBet, and its BET token are well-positioned for significant growth.
Media Contact Details
Contact Name: Frej Andersen
Contact Email: f​[email protected]
Visit the Official Site –​ ​https://earnbet.io/
Chat on Telegram –​ ​https://t.me/earnbetcasino
Follow on Twitter –​ ​https://twitter.com/EarnBetCasino
EarnBet is the source of this content. Virtual currency is not legal tender, is not backed by the government, and accounts and value balances are not subject to consumer protections. Cryptocurrencies and tokens are extremely volatile. There is no guarantee of a stable value, or of any value at all.