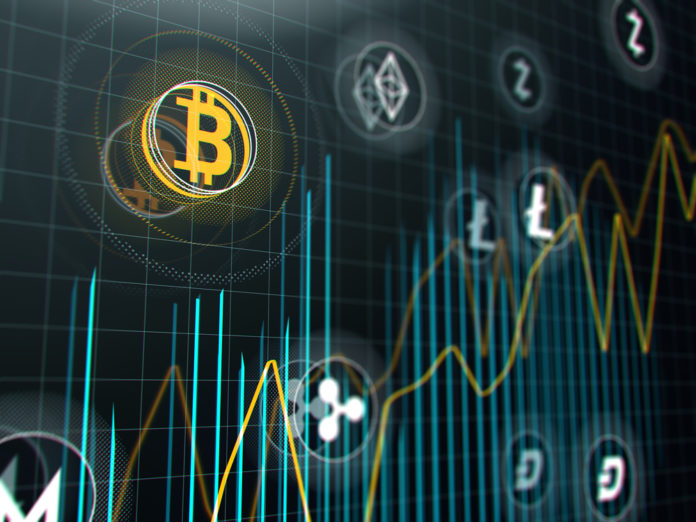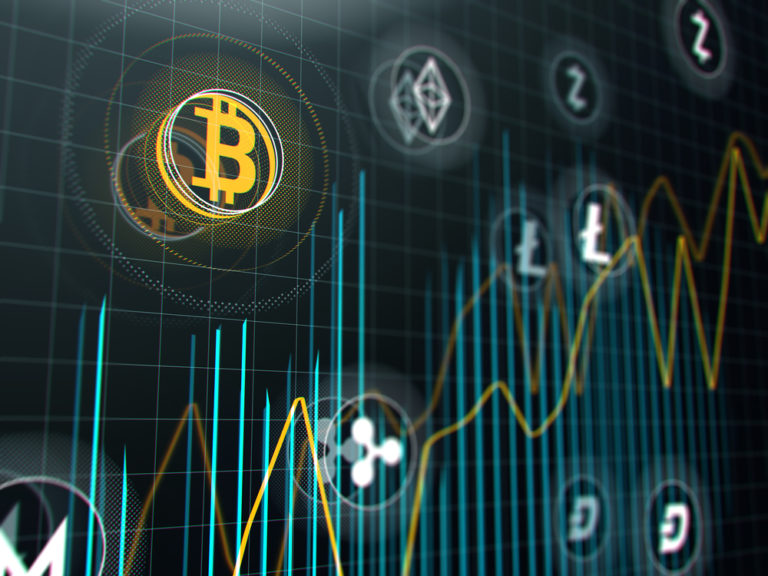 Ethereum (ETH), like most crypto assets, is currently consolidating. There is little fundamental news driving prices at present and the best option for traders is to use short-term price levels to initiate short-term positions.
Fundamental Analysis
While there are several ongoing stories about Ethereum, none of them are currently driving the price.
The ICO market has seen a recovery in May, which is helping to support the ETH price. Successful ICOs on the Ethereum blockchain attract more ICOs, which in turn drives demand for ETH tokens. However, increasing numbers of blockchain projects hold ETH on their balance sheets. They need to sell these to release working capital, and in the case of a downturn in the ETH price, there is a risk of these companies liquidating their ETH holdings. This dynamic is sure to lead to continued volatility in the price of Ether.
While there have been no major announcements with regard to addressing the scalability of Ethereum, scalability is also not currently a problem.
Ongoing debates in the US over whether or not Ethereum is a security or a commodity are actually more likely to have implications for other coins than for ETH itself.
Technical Analysis
With few fundamental drivers to go on, investors and traders alike need to focus on the price action. The largest 5 cryptocurrencies have been very highly correlated since March – most of them put in a low on 6th April and a high on 6th May. Any significant moves are therefore likely to occur across the board.
The high correlation means that for longer-term positions, traders should look for confirmation from BTC, LTC, and BCH before initiating positions in Ethereum.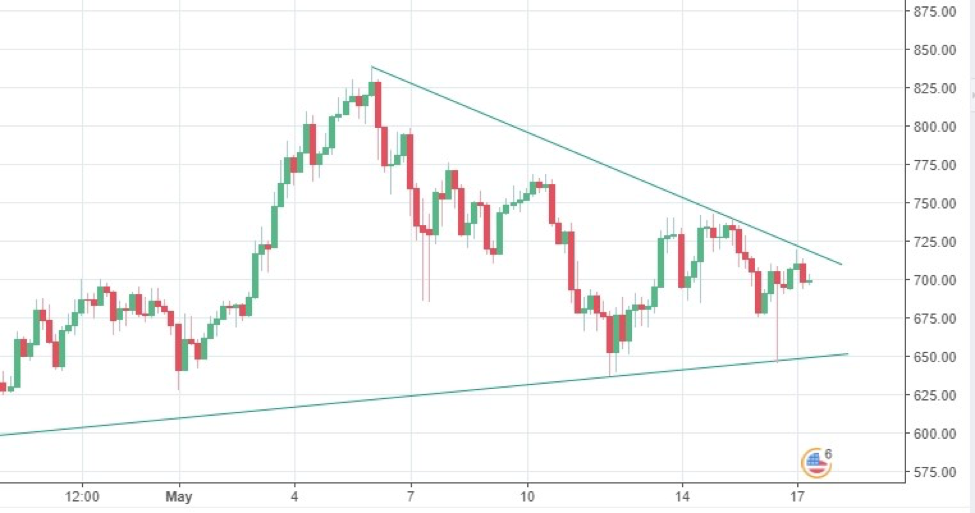 For short-term positions, there are two levels to watch. The down sloping resistance line going back 10 days, has been rejected four times. Resistance is now at $715, and if this level is broken a rapid move to $760 and possibly $820 would follow.
The support line has been very sharply rejected five times, suggesting very little selling at these levels. This support level is now at $650 and would be a good level for long-term bulls to accumulate. However, a break below this level would suggest a move back to $500, and possibly even $365.

As far as the relative performance of ETH and BTC is concerned, if history is to repeat itself we may only see another week or two of ETH outperformance before we see a sharp reversal. If the above pattern was to hold it would imply an average long-term ratio of 0.07 BTC per ETH. Alternatively, if the ratio breaks out of the pattern we could see a much longer period of outperformance.
Conclusion
The next move for Ethereum, like most other cryptocurrencies, is unclear at present. After a large three to four-month correction, we saw a one-month rally followed by another smaller correction. Most crypto assets are now consolidating – Ethereum included.
For now, traders can look for short-term trades around the levels mentioned above, or use the volatility to build longer-term positions. It must be said, however, that the long-term picture is far from clear at present.
This article was written by FX Empire.
The post Ethereum (ETH), Like Most Cryptos, Enters Consolidation Mode appeared first on Global Coin Report.
Globalcoinreport.com/ is author of this content, TheBitcoinNews.com is is not responsible for the content of external sites.