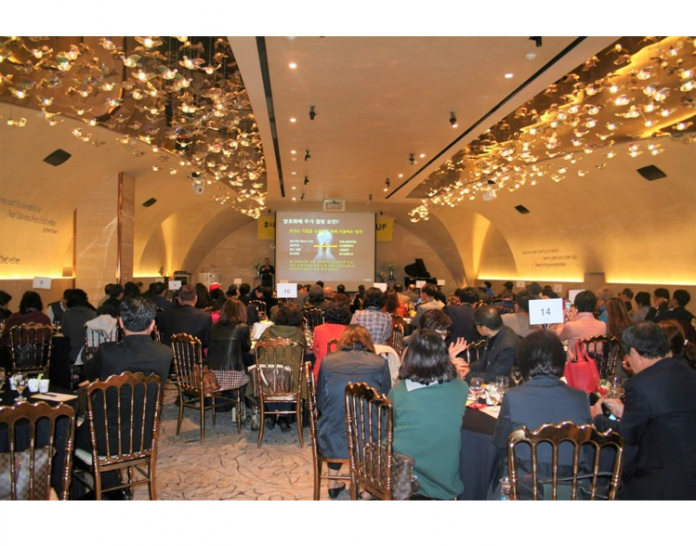 Bitcoin Press Release: The Busan business presentation held by Hunimal, a private animal registration system company, was hosted at the Busan Centum Hotel on the 1st of November. The event was successful with in excess of 200 people in attendance.
Nov 15th, 2018, Seoul, South Korea – The event commenced with a welcome speech by CEO Kim Gwan-ho, who introduced the Hunimal business plans, and highlighted the status of animal registration affiliate business. In a further presentation, both the Hunimal marketing roadmap and HUNICOIN's listing roadmap were introduced. This was followed with the unveiling of the vein scanner prototype product. The world's first wireless (Wi-Fi) vein scanner.
CEO of Hunimal Kim Gwan-ho stated:
"It is used for animal identification by scanning the ear vein of the companion animal and automatically filtering the vein blood origin several times. It was developed so that it can be used by insurance companies and various organizations or government agencies by automatically converting the 15-digit commercial ID after generating the animal identification ID".
The Hunimal Vein Scanner
In the future, Hunimal will be promoting a method of miniaturizing the portable vein scanner to enable a link to a smartphone utilising the Huni application. Hunimal intends to set up a mass production system, allowing various companies such as dog hairdressers, dog cafes, and veterinary hospitals to participate and earn additional income when registering animals.
Releasing the animal registration system early may lead to a reduction in the cost of the insurance of companion animals, at all stages through collaboration with animal care, big data business, and customized animal health insurance. Hunimals plan is to offer a breakthrough alternative which will aid and reduce the numbers of missing animals.
A Kim (36 years old), a dog shop owner who participated in this event, said:
"If registering an animal with a vein scanner, I will earn additional income, I think it will be rewarding and also assist with reducing the stores expenditure".
The announcement that 40 billion out of 80 billion of the total supply of HUNICOIN would be incinerated, attracted an enthusiastic response from the participants. As a result, the total quantity of HUNICOIN will be reduced by half, doubling the value of existing tokens.
Hunimal CEO Kim Gwan-ho commented:
"Hunimal is establishing a multilateral cooperation system with companion animal-related organizations, associations, companies, and pet companies in order to establish itself as the No.1 global companion animal coin. For this purpose, we will not only increase the asset value of existing investors, but also actively open up the global market through mutual cooperation".
About Hunimal
Hunimal's unique technology uses the vein pattern of the animal's ear to generate an identification ID. The cost of this method is lower when compared to those commonly used in pet identification.
Above all, it is more economical than a conventional embedded wireless identification object insertion, or an external wireless identification device attachment. The device is also equipped with Wi-Fi, providing further accessibility.
In particular, many carers are reluctant to use wireless identification devices that insert microchips into their companion animals. This method is remarkably easy to access. It is not surprising that this has attracted worldwide attention from those associated with animal welfare.
To learn more visit the Website: http://www.hunimal.io/en/hunimal.html
Check out the Whitepaper: http://www.hunimal.io/20180425%20HN_conceptPaper_Eng.pdf
Subscribe to the Telegram Channel: https://t.me/joinchat/FFdV4Q5cOLRNdYhTocPLVQ
Subscribe on Youtube – https://www.youtube.com/watch?v=4LSMOzoxQUQ
Media Contact
Contact Name: Joshua Shim
Contact Email: [email protected]
HUNIMAL is the source of this content. Virtual currency is not legal tender, is not backed by the government, and accounts and value balances are not subject to consumer protections. Cryptocurrencies and tokens are extremely volatile. There is no guarantee of a stable value, or of any value at all.
The post Hunimal Unveiled Companion Animal 'Wireless Vein Scanner' appeared first on Bitcoin PR Buzz.