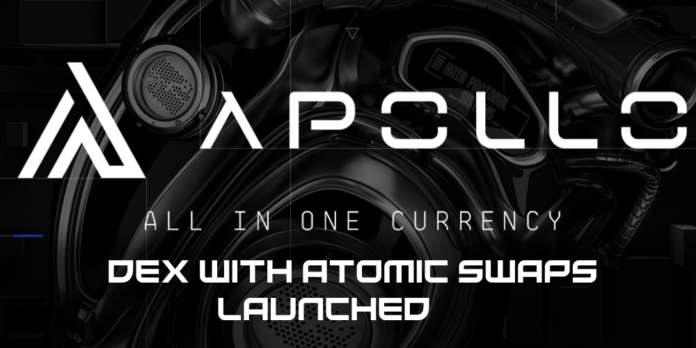 Bitcoin Press Release: All-in-one cryptocurrency Apollo Blockchain offers full token generation, 100% private transactions, and new DEX exchange.
OCT 9, 2019, Vernon, Missouri – Last year the idea of 2-second fully confirmed blockchain transactions, an adaptive forging system with transaction-only block creation seemed like a long way away. However All-in-one cryptocurrency Apollo Blockchain has achieved this feat in less than a year. Add to that unlimited scalability, a well-designed cure for blockchain sustainability, (database sharding), and another revolutionary technological leap known as Atomic swaps, and you have one of the most promising new cryptocurrencies in the world today.
Having started close to two years ago, Apollo already possesses many of the attributes that investors have been looking for, not to mention the technological improvements and solutions the industry has been tirelessly working towards.
Apollo DEX
Individuals who feel that they may have missed the beginning of a true blockchain space revolution could be forgiven. However, Apollo Foundation has just moved its DEX featuring an Atomic swap technological solution to a Beta stage and it has no central governing entity, which means that assets are not controllable by anyone except their rightful owner.
Steve McCullah, Apollo's director of business development stated:
"Apollo DEX is one of the safest ways on Earth to trade crypto. Unlike nearly all 'decentralized' exchange platforms that still can freeze assets, take funds and implement KYC, the Apollo DEX has no governing entity. Trades are accomplished through atomic swaps and do not require a central entity. The Apollo Foundation does not keep it running, regulate it, control it or profit from it in any way. Apollo DEX is hosted and powered by its users, designed by its users and only its users (forgers) will profit."

While lots of projects have Napoleonic plans to disrupt the industry and spend years on creating concepts, the Apollo team has already deployed many of the things that until now were just considered theories. The DEX is already in Beta stage, as the team has decided to test drive their product in a real-life condition, once again leading the progress of the industry.
Apollo Foundation in 2020
The "fastest" – doesn't mean that it is as fast as it could be. That seems to be the general feeling at Apollo HQ at least before announcing their work on ARK consensus with an estimated 1 MILLION + TPS.
Steve McCullah, director of business development, describes the ambitious nature of Apollos 2020 vision, stating:
"Apollo's 2020 vision is to become a next-generation, post-blockchain cryptocurrency. We're architecting a post-blockchain distributed ledger technology (DLT) based on the advanced principles of DAG (directed acyclic graph) consensus,"

Steve Continues:
"This technology will put Apollo's features above the competition. With an expected TPS (transactions per second) of at least one million, Apollo will offer capabilities surpassing anything on the market today."
Apollo strategy for 2020 features also building a decentralized ecosystem of connected products and technologies that will be operated through Apollo blockchain and APL Coin:
– Apollo Cloud
– DEX production release
– ARKNet (an infrastructure for decentralized applications
What is even more important, the team understands the necessity of building trust and adoption along with technology. Between plans for the most powerful decentralized application infrastructure (a decentralized Internet) and the only decentralized file storage service with reasonable fees and no limitations a file size, Apollo's vision does not disappoint and their past accomplishments certainly suggest that its team has the experience necessary to pull it all off.
National Currency Initiative
Apollo Blockchain has an unwavering focus on achieving true mass adoption via its Mass adoption initiative. The initial target is the continent of Africa, where the foundation has partnered with the ADF group to pitch to all 54 nations on the continent of 1.2 billion. The Apollo team is currently in discussions with the governments of at least three nations and has multiple "Apollo Banks" already open.
On top of this foundation is developing tools for mass adoption, including a lite wallet app. The mobile app will have a QR code, as well as merchant features. This will help Apollo to gain merchant adoption globally.
Apollo Coin
the main currency of the blockchain already shows reliable growth liquidity and can be purchased at Bitmart and IDAX. The team's approach stands for the development of the complete infrastructure which makes APL a good asset to hold and use shortly. That is what happens when the passion to create and professional approach to meet each other in one team.
Learn more about Apollo Coin – https://apollocurrency.com/en/
Find Apollo Coin on Facebook – https://www.facebook.com/Apolloprivacycoin
Follow Apollo Coin on Twitter – https://twitter.com/ApolloCurrency
Apollo Coin on Github – http://bit.ly/aplpubgit
Join Apollo Coin on Instagram – https://www.instagram.com/apollocurrency/?hl=en
Media Contact Details
Contact Name: Steve Mcculah
Contact Email: [email protected]
Apollo Coin is the source of this content. Virtual currency is not legal tender, is not backed by the government, and accounts and value balances are not subject to consumer protections. Cryptocurrencies and tokens are extremely volatile. There is no guarantee of a stable value or value at all. This press release is for informational purposes only. The information does not constitute investment advice or an offer to invest.