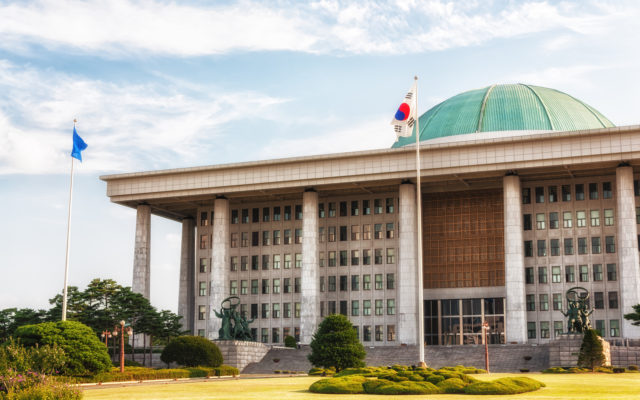 The Korean government is preparing legal tools to tax capital gains from the sale of crypto assets. Specialized legislation to target digital asset deals is expected to arrive from the tax season for 2020.
---
Korean Authorities Hope to Tax Crypto Capital Gains
Until recently, Korea was one of the most active markets for crypto speculation. But there was no direct framework to tax capital gains from the sale of digital assets, reported The Korea Times. The Ministry of Economy and Finance is working on building the measure that will become a tax bill from next year.
"Related discussions have been taking place," an official from the Economic Ministry said. "The revised bill will be drawn up by the first half of next year."
The Korean National Assembly has also been working on a crypto taxation bill. An eventual bill would increase the transparency on all parts of the process of trading digital coins. But for sure, Korea will try to tax capital gains from the sale of digital assets.
If the legislation follows the usual approach to taxing capital gains, Koreans may have to supply a detailed history of crypto trading deals. Virtual currency exchanges will also have to keep separate records for each user, as well as detailed personal information.
Anonymous Trading No Longer an Option
Most crypto exchanges already have a KYC procedure for any significant amount of coins traded. Korean trades also link their accounts to bank accounts and trade directly in Korean won. Beyond decentralized exchanges or obscure markets, it is almost impossible to trade anonymously in 2019.
The taxing of Bitcoin (BTC) and other digital coins is going counter to the spirit of cryptocurrencies, which are seen as existing beyond government-backed fiat. However, the sale of a virtual coin generates fiat gains and is deemed taxable.
But the idea of collecting a database of transactions and crypto ownership also looks like another attempt to control Bitcoin.
The only reason more people aren't using Bitcoin as money is because our overlords want to tax and surveil every single transaction you ever make.

— Ryan Selkis (@twobitidiot) December 7, 2019
Korean interest in crypto trading has diminished in 2019, with a smaller share of Korean won pairs. Part of the slide comes from the lowered activity on altcoin markets. But BTC remains attractive and remains one of the chief sources of gains in 2019.
The Korean won currently takes up just 0.84 percent of all BTC trades, significantly down since peak trading activity. Still, the last month saw temporary spikes in trading, potentially handing over material to the local taxman.
Korea joins a long list of countries that have turned to track crypto transactions and trading. The regulations follow a more hawkish approach by the US IRS, as well as other governments.
What do you think about the Korean government's approach to crypto-assets? Share your thoughts in the comments section below!
---
Images via Shutterstock, Twitter: @twobitidiot
The post Korean Government to Tax Crypto Capital Gains from 2020 appeared first on Bitcoinist.com.
Bitcoinist.com is author of this content, TheBitcoinNews.com is is not responsible for the content of external sites.