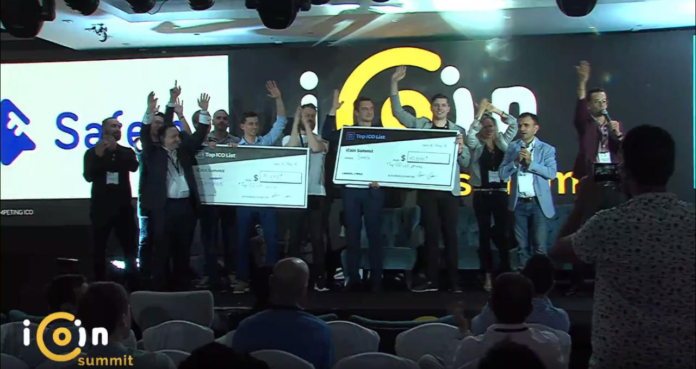 Bitcoin Press Release: Safein co-founders Vladas and Lukas have just attended the iCoinSummit in Cyprus where pitch battles between 18 token event projects took place. Safein CEO Vladas pitched the Safein product 4 times to the crowd and the jury, ultimately winning the competition for $250,000 worth of prizes!

May 15th, 2018, Vilnius, Lithuania: Hundreds of people gathered in Limassol, Cyprus for the great quality programme and networking events. Among the audience were startup founders, experts from a range of industries as well as prominent investors in the sphere. iCoinSummit organised a pitch battle where 18 select token events were able to present their projects to the audience and the jury, and Safein was one of them.
Following the first day battles where each of the 18 project founders took the stage for 5 minutes for a concise overview of what their projects are aiming to deliver, Vladas secured Safein a confident 2nd place. The next day, an intense series of pitches took place, whereby the founders had the opportunity to present in more depth their vision and ambitions, token metrics and utility, and further delve into product peculiarities to win the confidence of the audience.
The Final Eight
Already in the round of Final 8, which was primarily about product roadmaps of the participating projects, Safein where quite sure Vladas would take the platform to the very end of the battles. Indeed, during the pitch it really showed that Safein CEO knew exactly where he is planning on taking Safein, and that reflected in the pitch result – Safein was number one.
Safein In the Semi-finals
Safein then moved on to the semi-finals where 1-on-1 battles took place, and the focus points were the current state of the product and token metrics. Safein were one of the only competitors to have an already developed Minimal Viable Product, Safein confidently progressed to the final round securing 65% of the votes.
The Final Round
The finals were quite informal and did not have a specific theme to cover, but the final round opponent was a really capable contender with a great vision, and they also beat us by 1% in round 1 – a shout-out to Grapevine! Ultimately, however Safein identity management solution emerged victorious over Grapevine's healthcare data sharing platform!
Following the battles, Vladas and Lukas had the chance to meet with a number of investors from iCoinSummit's so-called Shark Tank. Safein where awarded with $250,000 worth of marketing services, and we will surely make good use of them with our upcoming token sale!
The Safein Token Sale Continued
The Safein main event will begin on the 31st of May and end on the 30th of June. Safein intends to raise $3.000.000 (Softcap) for their software and IT infrastructure development. A total of $21.000.000 value of SFN tokens will be issued, most of which will be used for business development and expansion.
Visit the Website: https://www.Safein.com
Read the Whitepaper: https://www.Safein.com/summary/Safein_whitepaper.pdf
Chat on Telegram: https://t.me/safeincom
Medium: https://medium.com/Safeincom
LinkedIn: https://www.linkedin.com/company/Safeincom
Join on Facebook: https://www.facebook.com/Safeincom/
Follow on Twitter: https://twitter.com/Safeincom
Subscribe on YouTube: https://www.youtube.com/channel/UCErwG8SaM-_Pb3Y6A-ZvV9A
Media Contact
Name: Vladas Jurkevičius
Location: Lithuania
Email: [email protected]
Safein is the source of this content. Virtual currency is not legal tender, is not backed by the government, and accounts and value balances are not subject to consumer protections. Cryptocurrencies and tokens are extremely volatile. There is no guarantee of a stable value, or of any value at all. Token sales are only suitable for individuals with a high risk tolerance. Only participate in a token event with what you can afford to lose.
This press release is for informational purposes only. The information does not constitute investment advice or an offer to invest. The Safein token sale is closed to US participants and participants of all countries in which ICOs are illegal.